Description
Join us for the annual Larimer County Republicans Lincoln Day Gala. Share an exciting evening with 3 strong active congressmen, Rod Blum of Iowa, Andy Biggs of Arizona and Ken Buck of Colorado.
Come enjoy a great dinner and spend the event with these brilliant, active and courageous representatives.
Enjoy a Silent Auction with fabulous items and have fun participating with our Lively LIVE Auction.
WHAT AN EVENING IT WILL BE…SO DON'T MISS OUT!
With Special Guests: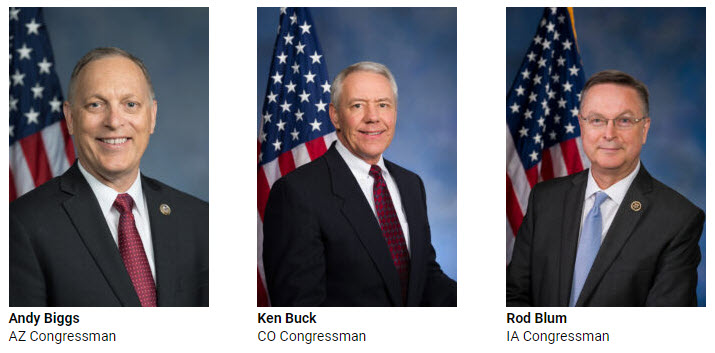 June 15, 2019. 6:00 PM – 9:30 PM
Embassy Suites, Loveland
LDDE@larimergop.org
(970) 690-7075
Agenda
4:00 – 5:15 PM VIP Reception
5:00 PM Doors open to ballroom
5:00 PM Silent Auction begins
6:00 PM Dinner and Program
May GOD Bless America!