Description
Come for the people and programs. Stay for a beer. Leave with your next big breakthrough.
LaunchBio's Larger Than Life Science is a free event series open to everyone interested in building a strong support network for life science and healthcare innovators. Join us at BioLabs at LA BioMed for an evening of unconventional conversation.
---
This month's theme: Scaling Up

Join BioLabs LA BioMed for a late summer luau, complete with tropical refreshments, music and hula! Larger Than Life Science is a free event open to the life sciences community – startups, industry, investors, researchers and more – with networking, educational programs, and some fun activities to encourage new connections and inspiring conversation. We're offering a first look at the new BioLabs LA BioMed coworking space, designed to help companies start, scale and grow.
4:15-5:15pm
Scaling Up Your Lab
Going from the Basics to Bioprocessing
Scientific founders have a lot of decisions to make, from setting up a lab to hiring and training a team. The questions change at each stage of discovery as entrepreneurs ask, "How do I get the job done now?" Join Eppendorf for an interactive discussion of the scientific founder's journey from early stage research and production to automation and bioprocessing and learn from others who have taken a lab from startup to scale-up.


5:30-6:15pm



One Giant Leap
The Next Steps to Success
There's no blueprint for starting a life sciences company, but there are some steps a founder can take to improve the odds of success. Larta Institute has helped more than 10,000 companies turn ideas into commercialized innovations that feed, fuel and heal the world, and they have some best practices to share. Larta Institute's CEO Rohit Shukla leads a discussion with life sciences entrepreneurs who have achieved proof of concept and are working both to advance the science and build a business.
4:30pm - Every 30 Min

BioLabs Tour: Get the Inside scoop
The newest location in the national BioLabs network is open for business! BioLabs LA BioMed offers 18,000 square feet of flexible state-of-the-art coworking lab and office space. Members have access to the amenities and resources of the entire LA BioMed campus. Join a tour to see how startups can test, develop and grow their game-changing ideas.
Ongoing
Eppendorf Equipment Demonstration
epMotion 5070 (Liquid Handling Automation), Bioflo 120 (Bioprocessing), Microcentrifuge


Microplate Bingo!
Are you feeling lucky? Try your hand at a new spin on an old game, as Eppendorf challenges players to compete for bragging rights in this ice-breaking activity.
Pipette Races
Speed and accuracy count in this contest combining precision lab skills and fancy footwork. Join as a participant, or cheer along from the sidelines.


Meet Brex

Brex bills itself as the Smartest Corporate Card for Life Sciences. They provide startup-friendly features such as instant approval cards, no personal guarantee, the highest rewards in the industry, and a built-in expense management platform. Stop by to say hello, and sign up for a raffle for an iPad mini!
---
HOSTED BY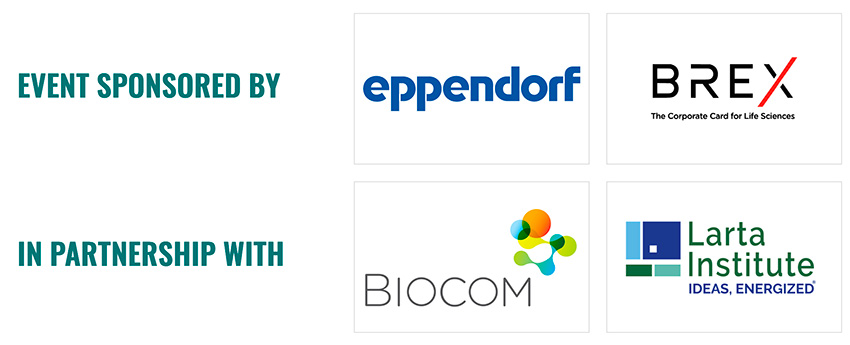 SPONSORED BY