Join the Los Angeles Regional Collaborative for Climate Action and Sustainability for our bi-monthly member meetings.
About this event
Come connect with climate leaders from across Los Angeles.
AGENDA for December 2, 2021
10:00 Welcome & LARC Updates
10:10 Network Updates: Participants share top project, initiative, or ask peers for advice
10:50 Wrap up
11:00 Adjourn
Who should attend? City staff, climate professionals, NGO leaders, and academics focused on Los Angeles will get the most out of our meetings. This is a network meeting for LA sustainability leaders to share ideas and current projects with a supportive community of peers. The group promotes climate-related knowledge exchange and cross-jurisdictional collaboration.
Can I register for free? LARC relies on our supporting members to hold events like these. If your organization is not listed below, please become an individual member or make a small donation today. If your organization is interested in becoming a supporting member, we have a sliding scale of dues. Equity-focused orgs and tribal nations can become full members for free.
Additional questions? Please contact Erin Coutts at ecoutts@ucla.edu.
Supporting Members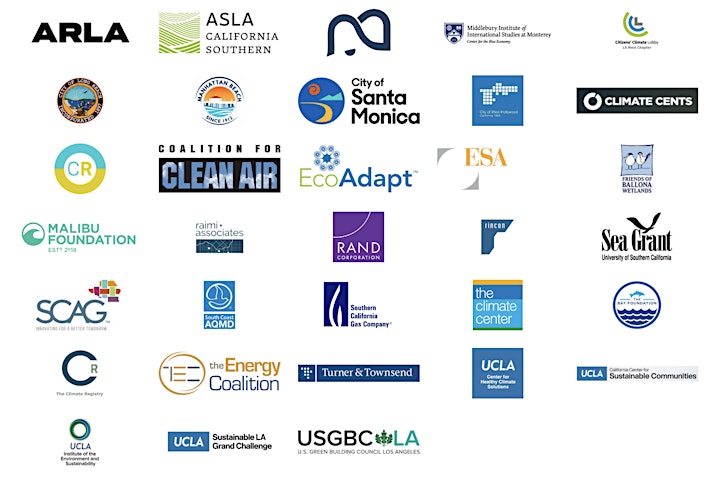 Organizer of LARC Member Meeting
The Los Angeles Regional Collaborative for Climate Action and Sustainability (LARC) is a collaborative network that fosters greater coordination and cooperation at local and regional levels by bringing together leadership from municipalities, regional agencies, academic institutions, businesses, and professional organizations. LARC's diverse programs emphasize the development of system-wide strategies to address climate change. Through a combination of coordinated planning, critical research, outreach, and information sharing LARC seeks to grow the capacity of cities, agencies, and organizations throughout greater Los Angeles. It is one of seven regional collaboratives in California supporting climate change science, policy, and planning efforts across sectors.