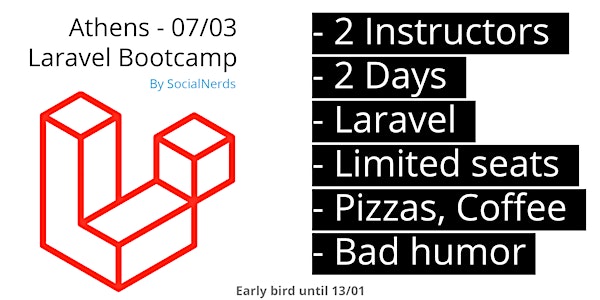 Laravel Bootcamp - SocialNerds
Become a Laravel Professional Web Developer by attending our 2 day workshop.
When and where
Location
Human Factor 32 Evaggelikis Scholis 162 32 Vyronas Greece
About this event
Laravel is the dominant PHP framework right now. Attend our 2 day workshop and learn how to use all the capabilities offered by Laravel.
No previous Laravel experience is required in order to take part in our Laravel workshop. This workshop is designed to teach you how to write, from scratch, efficient and well structured web applications.
In case you already use Laravel, this is a good opportunity to revisit things you may have skipped.
During the course, you will solve a lot of assignments in order to get better understanding of the lectures. The difficulty of exercises will escalate progressively as the courses continue.
By the end of this workshop, you will have built a fully fledged ticketing system.
You will learn:
MVC architectural pattern
Routing
Blade templates
Database design using migrations, seeds and factories
Eloquent ORM
Authentication and authorization
Forms
Dependency injection and Inversion of Control
Deployment
You need:
Basic PHP understanding
Basic SQL understanding
Bring your own laptop
We provide:
Our full attention since our workshops have very limited seating
Food, coffee, tea, beer
Access to our private Slack Channel
Lots and lots of bad humor (guaranteed)
Instructors:
Thanos Korakas (https://www.linkedin.com/in/tkorakas)
Thanos Nokas (https://www.linkedin.com/in/thanosnokas)
Extra details
The workshop will be in Greek