Description
We are excited to open our
2019-2020
membership drive for the Louisiana Association of Public, Community and Adult Education (LAPCAE).
LAPCAE membership is open to anyone interested in growth, advocacy, and/or leadership in the fields of adult and community education.
LAPCAE's goal is to create a meaningful network of dedicated professionals who work to promote adult and community education across Louisiana and strive to help our citizens improve lives for themselves, their families and their communities.
You can join now, and your membership will officially begin on September 1, 2019 and will end on August 31, 2020.
**Please note - all memberships will expire on August 31, 2020 regardless of start date.
You will receive COABE benefits in the interim between your membership payment and
September 1
when this membership officially begins.
New Membership Fee Structure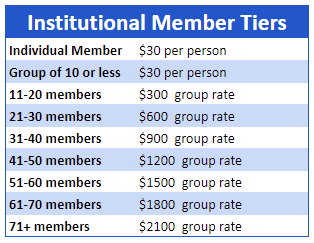 Do You have QUESTIONS?
If so please contact Kaye Sharbono, LAPCAE Executive Director at
director@lapcae.org
or by text or phone at 318-348-4221.
Date and Time
Refund Policy