Laos In The House Closing Ceremonies Performance Showcase

Saturday, May 2, 2015 from 8:00 PM to 10:00 PM (EDT)
Event Details
Laos in the House proudly presents a showcase of talented Lao American performers from all over the country under one roof on the same night. Join us in this exciting celebration as Lao artists set to entertain, inform, and excite the crowd for the first time in Philadelphia through storytelling, music, and theatre performances. The inspiration stems from the Lao community recognizing their shared journeys as refugees from Laos and progression that has transpired throughout the past 40 years, in the hopes of beginning the process of regular intercultural, intergenerational exchanges. This wonderful showcase will serve as the closing ceremony to our first gallery exhibit, "Laos in the House: Voices from Four Decades of the Lao Diaspora", closing on Friday May 1, 2015 (at Asian Arts Initiative) and a series of morning workshops (also taking place at AAI) on Saturday May 2, 2015.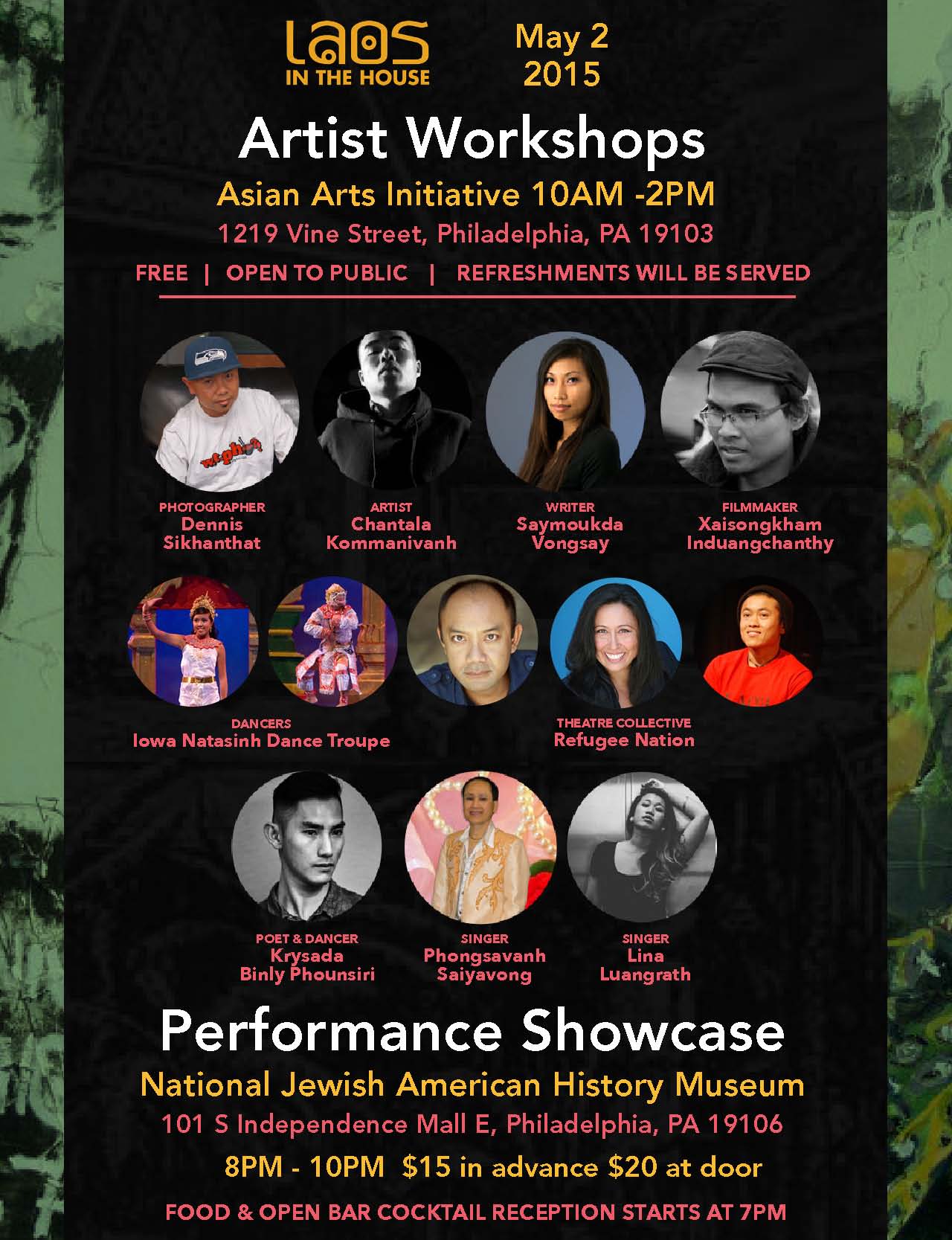 This national line-up of artists includues:
-Writer Kao Khue (Philadelphia, PA)
-Neo-expressionist painter Chantala Kommanivanh (Chicago, IL)
-Photographer Dennis Sikhanthat (Seattle, WA)
-Filmmaker Xaisongkham Induanchanthy (Savvankhet, Laos)
-Playwright and Poet Saymoukda Vongsay (Minneapolis, MN)
-Theatre collective Refugee Nation (Los Angeles, CA)
-Singer Lina Luangrath (Chicago, IL)
-Natasinh Dance Troupe (Des Moine, IO)
-Singer Phongsavanh Saiyavong (Montgomery, AL)
-Dancer and Poet Krysada Binly Phounsiri (San Diego, CA)
Join us for this wonderful celebration and be part of the excitement, with complimentary food and open bar cocktail reception starting at 7PM! Hurry and get your tickets now!

When & Where

National Museum of American Jewish History
101 South Independence Mall East
Philadelphia, PA 19106


Saturday, May 2, 2015 from 8:00 PM to 10:00 PM (EDT)
Add to my calendar
Organizer
Laos In The House is project bringing together Lao Americans in continuing their cultural legacy through storytelling and the arts. For more info visit laosinthehouse.com.