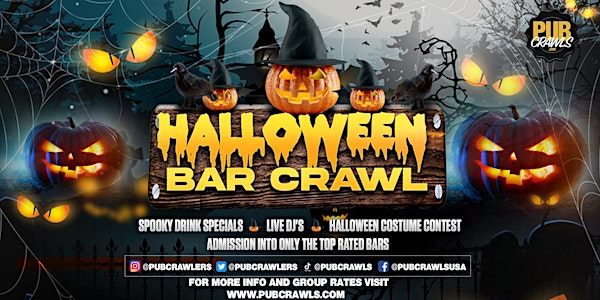 Lansing Official Halloween Bar Crawl
Happy Haunting all my creepy crawlers. Are you ready to have a fang-tastic night? Join us this October for a spooktacular time.
Date and time
Saturday, October 28 · 4 - 10pm EDT
Location
Lansing (Various Venues) BEST BARS IN LANSING Lansing, MI 48906
Refund Policy
Contact the organizer to request a refund.
About this event
Lansing Official Halloween Bar Crawl🎃
Come one, come all to the spookiest and craziest Halloween event of the season October 28th, 2023! Our Halloween extravaganza is sure to delight and fright all who attend. With a variety of spine-tingling activities, there's something for everyone at our haunted celebration.
But that's not all – Our Halloween bar crawl also includes food, drinks, good times, and plenty of opportunities for trick-or-treating the night away, bar to bar of course. With the atmosphere electrifying at each venue, you won't want to miss out on this haunted trail.
One of the best parts of our Halloween event is the costume contest. Creep Crawlers come dressed in their scariest or most creative costumes, from zombies to ghastly ghosts, and the winner receives a prize. It's always great to see what people come up with, what will you be crawling in?!
But it's not all scares and frights for the night. Our Official Halloween Bar Crawl also offers plenty of creepy crawly fun, with trick-or-treating from bar to bar, spooky decorations, and plenty of Halloween music you'll be dancing the night away amidst the eerie atmosphere.
This October our Halloween Bar Crawl is a must go, and a unique Halloween event that combines drinking, costumes, and spooky fun. What better than a way to explore the city, meet new people, and experience Halloween with the best atmosphere in the city. Whether you're a vet Halloween creepy crawler, or just looking for a fun night out, our Official Halloween Bar Crawl is sure to be a memorable experience.
Have you hit the checkout button yet, what are you waiting for a full moon? Join us for a night of frights and fun and make this Halloween one to remember. Our Halloween bar crawl is a must-see horror action, so, get your tickets now and be prepared for a night of terror!
What To Expect
Getting a ticket to this year's Lansing Halloween Bar Crawl Festivities is quite simple, all you must do is go to Pubcrawls.com and you can purchase your ticket today! If you and your friends want to make sure you are at the number one bar crawl in the world, then make sure you buy your ticket in advance so you can select a fabulous costume and crawl in style. We cannot wait to see you at this year's Halloween Bar Crawl in Lansing on October 28th, 2023.
Important Event Information
click HERE for more information more about Lansing Events
WHEN:
Saturday, October 28th, 2023
WHERE:
Lansing, Michigan
Costume Contest 🚨
Prizes will be given away at Lansing's HALLOWEEN BAR CRAWL!
Be sure to tag @PUBCRAWLERS throughout the night, as we will be hand picking winners and messaging them.
What do we look for to win? Originality. Every winner so far has custom made and designed the creepiest and most ghoulish costumes on the crawl. We are also cool with group costumes, so grab your creepiest friends and get in on the contest and who knows, your group may be able to split the pot.
The Hook Up 🚨
Pubcrawls.com Wristband
FREE entry to the best venues
Exclusive Drink Specials
Select Food Special
Costume Contest
Look out for a feature on our social media!
DJs at Select Venues
Digital Bar List
On-Site Staff
Cancellations & Refunds Information
The event is for 21+ only
In the event of cancellation, for any reason, all ticket holders will be contacted.
There is a strict "no refunds" policy
If you are unable to make it to the event, you can receive a credit toward a future event.
Please drink responsibly and never drink and drive!
Questions check out our FAQs page https://pubcrawls.com/faq/
CONTACT US
We have a dedicated customer service team working around the clock to answer all of the inquiries that are sent to our desk around the nation. Whether it's an issue with tickets, or confusion regarding an event, please contact us and we'll gladly tend to every question that you have. We have members of our staff constantly waiting to help, so rest assured that your question will be answered in a timely manner.
Contact Email: Info@pubcrawls.com
Frequently asked questions
What Is A Bar Crawl Or Pub Crawl?
How Old Do I Have To Be To Attend?
How Does A Bar Crawl Work?
What If I Cannot Attend The Event Or Want A Refund?
About the organizer
Producing fun, safe, and social drinking environments for over a decade - including top nightlife holiday events such as Halloween, Cinco de Mayo, St. Patrick's Day, New Year's Eve and countless others. Explore the hundreds of annual events organized every year!
Must be at least 21 years old to participate; valid state ID required. Advertised drink specials, participating venues, and advertised times are subject to change and may vary. PubCrawls.com promotes safety and urges all participants to drink responsibly. If a venue is at capacity, we kindly ask that you either wait or proceed to another venue on the crawl. Participants must bring their print-at-home ticket to the registration venue in order to retrieve the their wristband and map. If there are multiple starting locations (registration venues), you only need to choose one (1). At each of the registration venues, our event staff distribute the same PubCrawls.com wristband(s) and customized map(s) that will allow you to access the entire crawl and take advantage of the drink specials throughout the city. Prices may vary by registration venues due to the popularity of the starting location. You will receive the exact same wristband and map at any of the registration venues. No refunds. All sales are final. Prices are subject to change while supplies last.