About this Event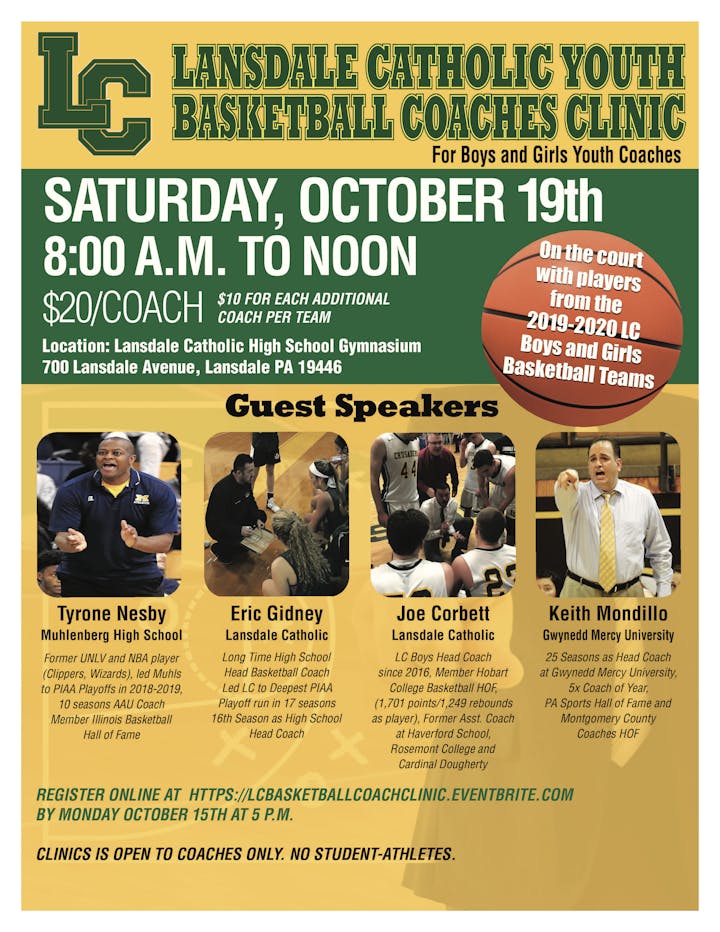 Guest speakers include:
Tyrone Nesby- Head Boys Basketball Coach, Muhlenberg High School. Former UNLV and NBA Players (Clippers, Wizards) and long time AAU Basketball Coach
Eric Gidney - Head Girls Basketball Coach, Lansdale Catholic High School. Entering 16th season as High School Head Coach. Led LC to deepest PIAA State Playoff run in over 17 seasons. Former Staff Director Future Stars Basketball.
Joe Corbett- Head Mens Basketball Coach, Lansdale Catholic High School. Member Hobart College Basketball Hall of Fame (1,701 points/1,249 rebounds as player), Former Assistant Coach at Haverford School, Rosemont College and Cardinal Dougherty.
Keith Mondillo- Head Womens Basketball Coach, Gwynedd Mercy University. 25 seaons as Head Coach at GMU. 5x Coach of the Year. PA Sports Hall of Fame and Montgomery County Coaches HOF.
Guest speakers will be on the court with member sof the 2019-2020 LC Boys and Girls Basketball Teams and all sessions are geared towards youth basketball grades 3-8. Clinic is open to coaches only, no student-athletes.