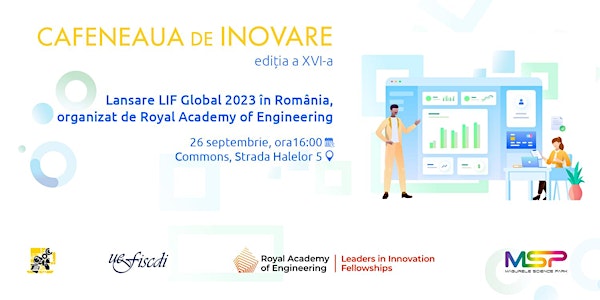 Lansare Oficială LIF Global 2023 în România
Cafeneaua de Inovare, Ediția a XVI-a - Lansare Oficială LIF Global 2023 în România
When and where
Location
Commons Accel 5 Strada Halelor 030167 București Romania
About this event
Cea de-a XVI-a ediție a Cafenelei de Inovare aduce laolaltă reprezentanți ai ecosistemului de inovare din România pentru a le prezenta noua ediție a programului LIF Global 2023, organizat de Royal Academy of Engineering. Partener al programului încă din 2022, UEFISCDI a facilitat atragerea de participanți români în program, astfel, în 2022, România a devenit prima țară europeană participantă în program.
LIF este un program de formare și mentorat care oferă sprijin equity-free antreprenorilor din întreaga lume. LIF își propune să sprijine antreprenori care proiectează soluții locale pentru unele dintre cele mai mari provocări ale umanității, care le transpun în soluții sociale și care creează oportunități economice pentru comunitățile lor. În cele șase luni de program, întreaga cohortă LIF Global a beneficiat de instruire intensivă, inclusiv evenimente online și offline atât în țara de origine, cât și în Marea Britanie. Antreprenorii au putut să se conecteze cu diverse rețele locale de inovare și cu colegii LIF și să primească mentorat personalizat, dublat de o serie de întâlniri unu-la-unu, oferite prin Shine, un consorțiu de parteneri format din Universitatea din Suffolk, ChangeSchool și Mowgli Mentoring. Programul s-a încheiat cu acces exclusiv la comunitatea unică de absolvenți online a LIF, cu sprijin continuu pentru anii următori.
Cu ocazia celei de-a XVI-a editii a Cafenelei de Inovare, reprezentantii Royal Academy of Engineering vin în România pentru a lansa o nouă ediție a LIF Global, iar lor lis e vor alătura participanții români din cohorta anterioară pentru a povesti despre experiența și parcursul lor.