About this Event
This is a seated show with general admission, first-come-first-served seating. The Cedar is happy to reserve seats for patrons who are in wheelchairs or who require special seating accommodations. To request seating or other access accommodations, please go to our Access page.
Tickets are free and can be reserved online.
The Cedar Cultural Center kicks off its 31st season this fall at the Global Roots Festival taking place September 23-25 2019. Over the last ten years, The Cedar's signature Global Roots Festival has offered Twin Cities audiences free, in-depth access to new artistic voices from around the world, fulfilling The Cedar's mission to promote intercultural appreciation and understanding through global music.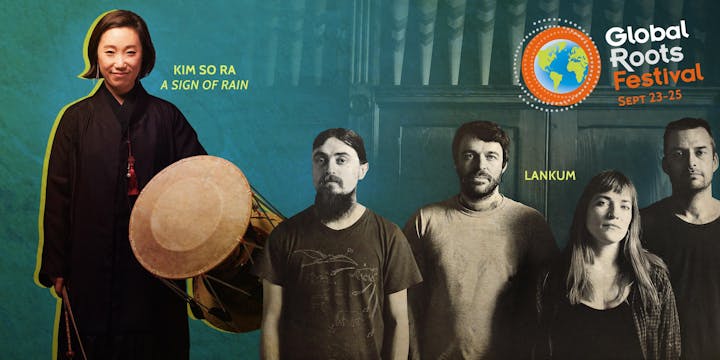 Kim So Ra: A Sign Of Rain - 7:30pm
Multi-award winning Korean percussionist and composer Kim So Ra is one of the most skilled and prominent janggu (Korean double-headed drum) players in the world. Inspired by nature, her creative, charismatic and modern performances are rooted in traditional Honam Province Jeongeup folk music. In "A Sign Of Rain," she tries to capture the sound of rain with her ensemble, creating a spectrum of emotions through the interplay of percussion, wind instruments, Korean zither, and projections.
Lankum - 8:30pm
Lankum are a four-piece group from Dublin, Ireland with an alchemical ability to combine traditional folk roots and contemporary undercurrents, forging music that is dark, mysterious and transcendental. Born of years criss-crossing Dublin's folk, squat and experimental scenes, their close vocal harmonies, instrumental interplay and dramatic storytelling pin you to the seat and revive the spirit. It's folk music that's angry, progressive, and full of vital force, all supported by the eternal drone of the uilleann pipes.
Thanks to our funders and supporters for making the 2019 Global Roots Festival possible!