Catch Korean percussion from Kim So Ra and Dublin folk miscreants Lankum at night two of The Cedar's free 2019 Global Roots Festival!
About this Event
Due to extremely high demand for the second night of The Cedar's free Global Roots Festival, we are no longer able to accept ticket reservations for Lankum and Kim So Ra .
IF YOU ALREADY HAVE A RESERVATION: To claim your reserved ticket, arrive at The Cedar before 7:20pm on Tuesday, September 24th. At 7:25pm, all unclaimed ticket reservations will be released and made available to walk-up patrons. If you arrive after 7:25, The Cedar cannot guarantee your admittance - at that point, all patrons will be allowed into the show on a first-come, first-served basis until the venue reaches capacity.
IF YOU DO NOT HAVE A RESERVATION: If you'd like to attend this event, but don't have a ticket reservation, it still may be possible to see the show. The Cedar will be releasing all unclaimed ticket reservations to walk-up patrons on a first-come, first-served basis at 7:25pm until the venue reaches capacity.
Questions? Contact The Cedar at info@thecedar.org.
This is a seated show with general admission, first-come-first-served seating. The Cedar is happy to reserve seats for patrons who are in wheelchairs or who require special seating accommodations. To request seating or other access accommodations, please go to our Access page.
The Cedar Cultural Center kicks off its 31st season this fall at the Global Roots Festival taking place September 23-25 2019. Over the last ten years, The Cedar's signature Global Roots Festival has offered Twin Cities audiences free, in-depth access to new artistic voices from around the world, fulfilling The Cedar's mission to promote intercultural appreciation and understanding through global music.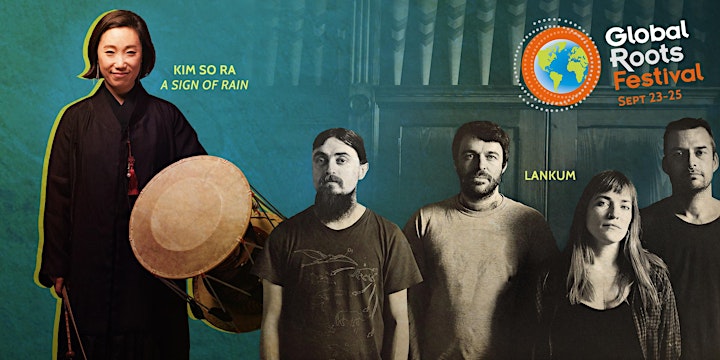 Kim So Ra: A Sign Of Rain - 7:30pm
Multi-award winning Korean percussionist and composer Kim So Ra is one of the most skilled and prominent janggu (Korean double-headed drum) players in the world. Inspired by nature, her creative, charismatic and modern performances are rooted in traditional Honam Province Jeongeup folk music. In "A Sign Of Rain," she tries to capture the sound of rain with her ensemble, creating a spectrum of emotions through the interplay of percussion, wind instruments, Korean zither, and projections.
Lankum - 8:30pm
Lankum have an alchemical ability to combine traditional folk roots with contemporary undercurrents to forge music that is dark, mysterious and transcendental.
Comprising brothers Ian Lynch (uillean pipes, tin whistle, vocals), Daragh Lynch (vocals, guitar) alongside Cormac Mac Diarmada (fiddle) and Radie Peat (harmonium, accordion, vocals), Lankum channel a diverse set of influences and histories to create a beautifully rare thing: a songbook from and for the people.
New album The Livelong Day, released on 25 October 2019 on Rough Trade Records, blends alternative folk and psychedelia to cement their reputation as one of the most talked about groups to emerge from Ireland in decades.
Born of years criss-crossing Dublin's folk and experimental scenes, their previous two albums Cold Old Fire (2013, recorded under former name Lynched) and Rough Trade debut Between The Earth and Sky (2017) breathed new life into ancient/modern rituals with urban punk fervour, rural psycho-geography and, underpinning it all, the eternal drone of the uilleann pipes.
Thanks to our funders and supporters for making the 2019 Global Roots Festival possible!