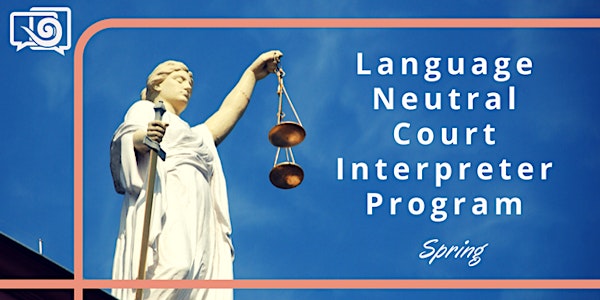 Language Neutral and Russian Skill Building Courses
Refund Policy
Contact the organizer to request a refund.
Description
FOR SPEAKERS OF ALL LANGUAGES
DE LA MORA's Signature Court Interpreter program helps prepare future court interpreters for the State Oral Exam. Learn the core methods and practice that have made us a nationally recognized interpreter training company. The short program is divided into 6 sessions lasting an hour and a half each. The short program is highlighted by intentional exercises learned through the practical lens of the Weightlifting Methods.
Students will be able to interact with their teacher and classmates in an online environment via a user-friendly software. All classes will be recorded and made available to the students within 24 hours as a reviewing resource for catching up or self-study sessions. If you have never taken an online class before, don't worry! We host a separate orientation to make sure everyone is comfortable with accessing the course and to answer any questions.
The simple but impactful lesson plan is broken down as follows:
Class 1: Intro to Court Interpretation and De La Mora's 'Weightlifting Methods'
Class 2: Intro to Court Interpretation and De La Mora's 'Weightlifting Methods'
Class 3: Practical Consecutive Interpretation
Class 4: Practical Consecutive Interpretation
Class 5: Sight Translation
Class 6: Simultaneous Interpretation
ADD THE RUSSIAN SPECIFIC SKILL BUILDING TO COMPLEMENT THIS LANGUAGE NEUTRAL COURSE FOR A DISCOUNTED RATE.

About the Russian Skill Building:
The perfect follow up to the Language Neutral Skill building. This Russian skill building is a deep practice for sight, consecutive and simultaneous interpretation with a qualified Russian instructor. You can enroll for this skill building alone or add it to the langue neutral option for a discounted price.
Included in both courses:
- All lesson materials and homework
- Access to class recordings and resources for up to 6 weeks after the last session
- Access to our premium membership site for 1 month FREE, which includes past video libraries, an interpreter forum, and monthly webinars by recognized instructors. This is a great opportunity to meet and learn from professional interpreters in the field.
Don't miss this opportunity to learn the methods that have made us a nationally-recognized name in interpreter training!
Continuing Education Credits by state (If your state is not currently listed- call us!): TBA
Class Schedule:

Langauge Neutral: February 26, 28, March 5, 7, 12, 14
Russian Skill Building: March 27, 29, April 3, 5

MANDATORY ORIENTATION:
Language Neutral: February 21, 8:00pm

Russian Skill Building only: March 22, 8:00pm
Time for all classes: 8pm – 9:30pm ET
Format: LIVE online class
Price:

Language Neutral: $298
Russian Skill building Add-On: $158
Russian Skill Building alone: $248
Languages: Language Neutral and Russian

Questions? Call us: (407) 677-4155 or E-mail: info@delamoratraining.com
About your instructor:
Language Neutral-
Claudia E. Villalba, a graduate of Kean University, taught court interpretation at Rutgers University and Brookdale CC in the State of New Jersey where she worked for 10 years for the New Jersey Judiciary as a staff interpreter, and subsequently as the supervising court interpreter for the County of Middlesex where she also trained court interpreters. She has worked with the NCSC as a subject matter expert for over five years. She is currently the supervising court interpreter for the 7th Judicial Circuit in the State of Florida. She is certified by the Administrative Office of the United States Courts as a Federally Certified Court Interpreter. She is also a Certified Court interpreter by the Florida Court Interpreter Certification Board.
Language Neutral:

Russian Skill-Building: