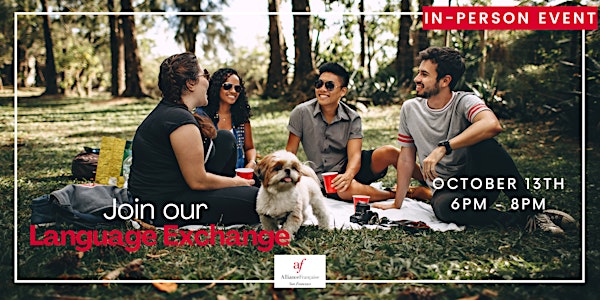 Language Exchange by AFSF
The Language Exchange is back! Come enjoy this little gathering of all levels in all languages to practice your new language!
When and where
Location
Little Baobab SF 3388 19th St, San Francisco, CA 94110 San Francisco, CA 94110
About this event
✨ FREE IN-PERSON LANGUAGE EXCHANGE✨
🇫🇷 🇲🇽 🇬🇧 🇪🇸 🇩🇪 🇯🇵 🇺🇸 🇨🇳 🇮🇹
Because you loved it the first times... The Language Exchange is back! ⠀⠀⠀⠀⠀⠀⠀
Come practice your new language with new people at our next Language Exchange. ALL languages, ALL levels and ALL personalities are welcome! ⠀⠀
We are there to practice and have fun first and foremost.
📆 When ? October13th, 6:00 pm
📍 Where ? Little Baobab: 3388 19th St, San Francisco, CA 94110!
👨‍👩‍👧 Who ? Whatever your level, or language, please join! Plus on est de fous, plus on rit!
💵 How much? Nothing. Zero. Nada. Rien du tout!
😷 How ? We are practicing social distancing and wearing our masks while not eating or drinking. Safe partying is the best kind of partying!
Reduced capacity event! If you have a last minute impediment, please inform us directly by email (louise@afsf.com), so that we can give your place to others who could not register.
E-mail Louise@afsf.com for any questions.