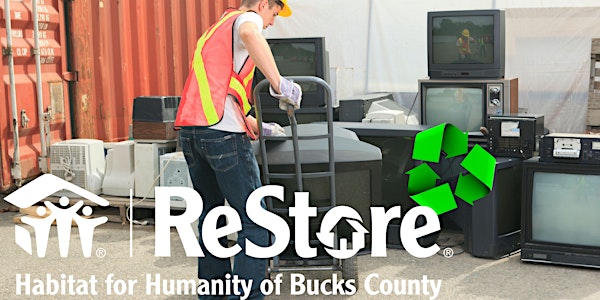 Multiple dates
Langhorne Free TV & Electronic Recycling
Schedule your FREE Drop off of your working and/or Non-Working TV's & Tech for FREE recycling through Habitat for Humanity of Bucks County.
By Habitat for Humanity of Bucks County ReStore
Date and time
July 15, 2021 · 10:30am - November 30, 2026 · 5:30pm EDT
Location
Habitat for Humanity ReStore 1377 East Lincoln Highway Levittown, PA 19056
About this event
After a brief halt due to our previous partner recycling company closing their local facility at the end of 2021, Habitat for Humanity of Bucks County ReStore is proud to reintroduce this free service to the community. The ONLY local FREE option for responsibly recycling TV's & E-waste. Through this innovative partnership with MRM, ECOvanta, and the Covered Device Recycling Act (CDRA) Habitat Bucks is now designated as a recycling collection center for TV's, computer monitors, printers, computer towers, laptops, tablets, and other household misc. electronics (Working & Non-working).
Due to the extremely high demand for this service we are limiting the flow of drop off's to 10 scheduled customers per day on a first come, first serve basis. This will help ensure that our team can properly manage inventory and logistics. We hope to increase this limit as we continue to learn the process, and also hope to incorporate and host collection's in future community events. To inquire more about this new service please contact BJ Breish, BJ.Breish@habitatbucks.org, ReStore Director.
10 free "tickets" are available Tue-Sat 10-5:30pm. If you reserve 1 of those tickets you may drop off on that particular day any time during those hours. Please only reserve one if you can use it.
When scheduling a drop off you understand that All TV's, Computers, and other misc. household electronics will be accepted for free.
For general appointments please limit TV's/Monitors to 3 per scheduled appointment, and 2-3 boxes of misc. Electronics.
For larger/bulk drop off's please contact us prior to scheduling and delivery 215-822-2708 x1
At this time, no collections will be accepted without an appointment.
We encourage you to load up your vehicle with other household donations to bring with you during your appointment. Donations of gently used household goods and furniture help fund the Mission of Habitat for Humanity of Bucks County.
We encourage you to shop the ReStore after you unload your vehicle. Your purchases help fund the Mission of Habitat for Humanity of Bucks County.
About CDRA:
The Covered Device Recycling Act (CDRA) requires manufacturers to provide recycling programs for televisions, desktop and laptop computers, and computer monitors and peripherals sold to consumers in Pennsylvania.
These manufacturers work with permitted and certified recyclers like ECOvanta to provide free electronics recycling to residents of PA
In turn, ECOvanta works with organizations like Habitat for Humanity to provide no cost collection to consumer/resident service
About MRM:
MRM was founded in 2007 by electronics manufacturers for electronics manufacturers. MRM's mission is to bring manufacturers together to help provide convenient, environmentally responsible recycling opportunities to consumers nationwide.
About ECOvanta:
Every year, Covanta Environmental Solutions, through its ECOvanta business line, works with businesses and communities to manage more than 15 million pounds of electronic waste destined for landfills and instead put their resources to good use. Through our services we:
Recycle or reuse approximately 95 percent of electronic waste materials, including plastics and metals
Manage and securely destroy sensitive and high-risk materials through mechanical shredding that renders them completely unrecoverable
Prevent toxic components such as mercury, lead, cadmium, barium and lithium from entering the environment through landfills where they can harm human and animal health
To learn more about Habitat for Humanity of Bucks County, please visit https://www.habitatbucks.org/