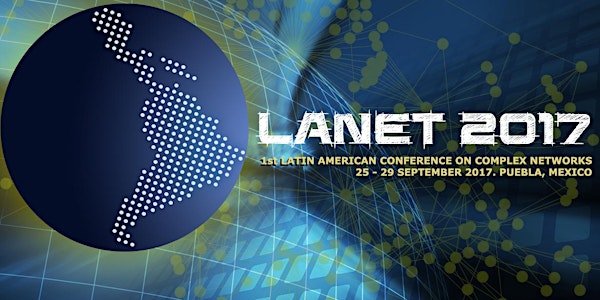 LANET INTERNATIONAL SCHOOL ON FUNDAMENTALS AND APPLICATIONS OF NETWORK SCIE...
Location
Puebla
Edificio Carolino
Calle 3 Ote., Centro
Puebla, Pue 72000
Mexico
Description
We have taken the advantage of having together the best scientists working on Network Science at the LANET 2017 and organized a one-day School on Fundamentals and Applications of Network Science. The school will be held at the Conference location on September 25th. If you want to attend the School, please, register here before 9th September (extended deadline). Also note that an additional registration fee of 75 dollars applies to students taking part of the School (again, a short number of waivers will be given ). Important: Note that Eventbrite only allows to make a reservation to attend the School. Due to the reduced number of vacancies (50), the Organizing Committee will select the final list of accepted students between all applications. The payment of the School fees will be done directly at the Registration desk (in cash or credit card) the day the School starts.
LECTURERS:
Alex Arenas (Universitat Rovira i Virgili, Spain)
Javier M. Buldú (Center Biomedical Technology & URJC, Spain)
Ernesto Estrada (University of Strathclyde, U.K.)
Jesús Gómez-Gardeñes (Universidad de Zaragoza, Spain)