Lane Tech Teachers and Alumni bring us together for a night of live performances in a virtual platform from the comfort of your home.
About this Event
Join us for this special evening to celebrate music at Lane! All ages will enjoy this concert featuring your favorite Lane Tech teachers with special guest appearances from some insanely talented alumni!
Emcee'd by beloved Lane Tech Music Teachers
* Mark Carrera * Paul Carrera * Miles Comiskey * Reed Flygt *
* Devon Morales * Dion Morales ('06 ) * Ben Saltz * Sam Veren *
Featuring... Lane Tech Alumni Grammy Award Winning and Nominated Performing Artists
Paul Carrera ('87 and current LT choir instructor)
George Fludas ('84) with Victor Garcia ('01) and Chris Clemente ('82)
Rajiv Halim ('08)
Elaina Huang ('19)
Joe Lill ('73) with Daniel Dardon ('19), Sam Veren (LT band instructor), and Matt Martin (LT trombone instructor)
Joe Powers ('19)
James Sanders ('87)
Along with some special recorded performance surprises!
Suggested Donation:
$30 per family, but we welcome any amount you wish to give. All proceeds will directly benefit the Lane Tech Music Program. Registration will be limited to one nonshareble link. The link will be emailed to each registered party. Questions and more information email info.fol@friendsoflane.org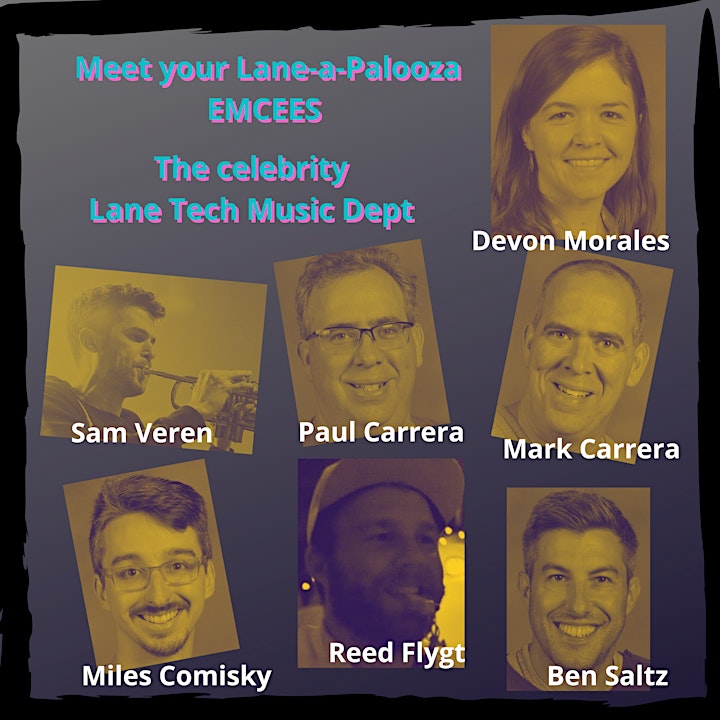 Performer bios
Puerto Rican-American soprano, Sophia Burgos ('08) is a passionate interpreter of vocal works ranging from concert repertoire and chamber music to opera. Sophia's earliest musical influences were the songs, rhythms, and dances of bachata, merengue, and salsa. Her studies in vocal performance were at the Eastman School of Music and Bard College Conservatory. She currently lives in Cologne, Germany with her amazing partner, composer Andrew Haig.
Chris Clemente ('82) is an electric and acoustic bassist. Chris released a CD debuting his own band "Kick the Cat" featuring his contemporary jazz compositions and bass playing. Their first CD was lauded in Bass Frontiers Magazine as "…spirited and fresh". "Bassist Clemente funks, swings, and solos with style and ease…" Chris is a Host/Producer for vocalo,org 89.5 fm, Chesterton, a new cutting edge radio station. He is a ontributing music composer to Harpo Studio for the Oprah Winfrey has toured in Scandinavia and Asia.
Chicago drummer George Fludas (84') has powered bands large and small with a razor sharp technique and relentless rhythmic drive… a swing master. George has performed at numerous jazz venues in the U.S. as well as many international Jazz Festivals. The Chicago Reader notes "George Fludas is one of the greatest drummers ever to come out of Chicago, an impeccable swinger with imagination, class, moxie, and a clear sense of the full span of jazz tradition."
Victor Garcia (01') has recorded on dozens of albums, three of them Grammy-nominated. He's currently on tour with The Isley Brothers and released his debut album, The Grind/The Groove, in 2018. His trumpet talent heralds his international acclaim. He also sings and plays percussion. His songwriting, arrangements and charts have led him to professorial positions at Roosevelt University, Loyola University and the University of Illinois in Chicago.
Rajiv Halim ('08) - Saxophonist, composer, and educator and international performing artist from Chicago, IL. In 2016 when he contributed saxophone parts to the composition "Finish Line" by Chance the Rapper for his project "Coloring Book", which won the 2017 Grammy Award for "Best Rap Album". The Rajiv Halim Quintet performs regularly in the greater Chicagoland area.
James Sanders ('87) confidently crosses stylistic borders yet stays true to both the jazz violin legacy and his rigorous classical training, creating music that transcends category yet remains faithful to its multiple inspirations. Drawing on his Dominican heritage, Sanders formed the Latin jazz ensemble James Sanders' Conjunto in 2001. The band plays frequently at clubs and festivals around Chicago and performed before nearly 10,000 people at the Pritzker Pavilion in Chicago's Millennium Park in 2011. James also teaches and coordinates the string program for the Arlington Heights, IL school district. He is on the faculty of the Music Institute of Chicago.
Christine Steyer - As a performer, the soprano has distinguished herself as an artist of great versatility. In addition to being the recipient of national awards such as the 2020 Honored Artist of The American Prize for outstanding contributions to the arts, and the Johnny Mercer Award, Steyer has received acclaim for her portrayals of the title role in Madama Butterfly and Violetta in La Traviata. Since 2000, she has sung as a chorister and in several small roles in over 40 productions at Lyric Opera of Chicago.
Elaina Huang - ('19) - is currently studying music at North Park University. They are an active chamber musician and currently play viola with the Pour Clara Quintet and The Hi-C's (viola/cello duo). While viola is Elaina's primary instrument, she also has a deep love for ukulele and classical guitar. They are also a collaborator and musician for the Human Values Club, whose work is centered around social justice, anti-racism, community outreach, and student mentorship. Elaina dreams of opening their own music school someday and teaching free music classes for both adults and children. As an alumnus of The People's Music School and the Chicago Metamorphosis Orchestra Project, who provide free music education to communities all over Chicago, Elaina desires to expand this model of community-centered music education and be of service to their community and city.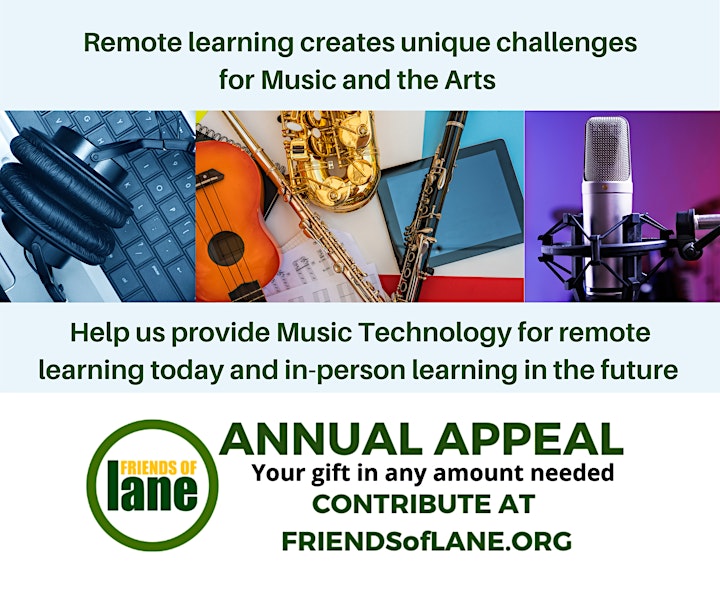 Help us give the Lane Tech music program a big boost by upgrading their technology.
New technology through advanced video and audio systems, software, electronic instruments and digital editing programs make virtual collaboration and music advancement possible and will help bridge the economic gap created by remote instruction for our diverse student base from every zip code in Chicago.