Description
With his 'This Never Happened' concept becoming one of dance music's word-of-mouth success stories, Lane 8 aka Daniel Goldstein proudly announces his second artist album, 'Little By Little', on his own This Never Happened label.
Due for release in January 2018, 'Little By Little' distills Lane 8's unique flair for melodic, heart-warming electronics, traversing reflective electronica, instrumental club epics and left-field pop moments alike.
The album tour will see Lane 8 DJ tracks from across the album and his rich discography - including new edits, club mixes and remixes.
As This Never Happened shows, Lane 8 will again ask all in attendance to connect with each other and the music in the purest possible way. As such, no phone cameras or filming will be allowed on the dancefloor.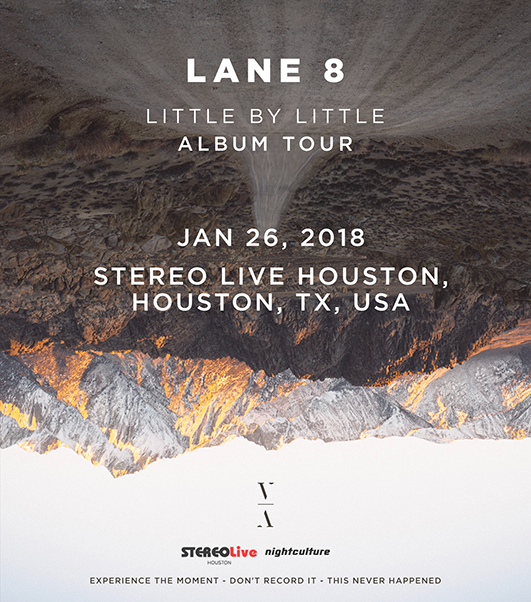 Leave your phone. Experience the moment. This Never Happened.
AGES 18+ ONLY WITH VALID ID
Tickets: After completing your purchase on Eventbrite, you will receive an email confirmation with your attached PDF ticket(s). You MUST print and bring your PDF tickets AND VALID PHOTO IDENTIFICATION to be admitted for the event. You may download the Eventbrite app and show your ticket on your mobile device for entry in lieu of printing.
NightCulture Ticketing Policy: Tickets can be transferred between patrons at their own risk. If a transferred ticket does not scan, proof of purchase will be required to redeem the ticket. Acceptable Proof forms: Legal, Valid Government ID. NightCulture cannot be held responsible for any issues that arise with a transferred ticket.
Ticketing Related Issues can be directed to: Tickets@NightCulture.com
TICKET REMINDER: To ensure your satisfaction, NightCulture cannot guarantee tickets purchased from un-authorized 3rd party resellers (individuals or brokers). We recommend that you purchase tickets directly through Nightculture.com, eventbrite.com, our authorized partners, and the venue box offices. Questions: tickets@nightculture.com
For more information visit nightculture.com