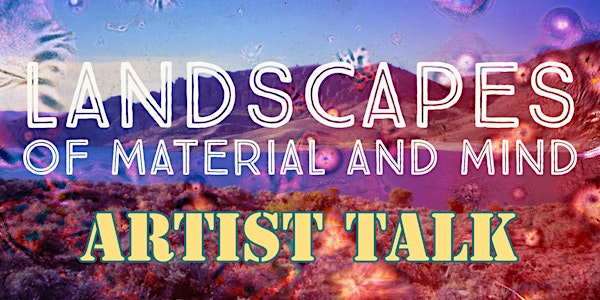 "Landscapes of Material and Mind" Curator/Artist Talk
Join us for a talk by the curator and participating artists in "Landscapes of Material and Mind"
About this event
Join us virtually for an afternoon with curator Tarah Rhoda and participating artists in "Landscapes of Material and Mind," a SciArt Initiative exhibit at the New York Hall of Science, on view February 19 - April 24, 2022.
This event will be a guided visual tour through the work in this show via Zoom Webinar. We will spend time hearing from participating artists on how their practice and process is influenced and inspired by the themes of this show.
About the exhibit:
The notion of boundary between the interior and exterior permeates many aspects of life. With the threshold of inside versus outside governing much of how we understand the world, our basic reality is characterized by a construct of separateness and the vital comfort of the contained self. From every angle, unwanted exposure counters deliberate connection as a constant force of push and pull. From inside the body to the great outdoors, from the level of bacteria to that of the psychological, how tangled are the landscapes we are composed of and live within? The artwork in this exhibition explores these questions from the personal, scientific, and artistic points of view.
- Tarah Rhoda, Guest Curator
Artists in this exhibit include Adriano Marinazzo, Darya Warner, Elena Soterakis, Francois-Joseph Lapointe, Heather Parrish & Elizabeth Hnaff & Leo Roussel, Heide Hatry, Ibuki Kuramochi​, Jennifer Willet, Laura Murray, Laura Stack, Liz Hickok, Michelle Robinson, Ramey Newell, Rian Hotton, Shanna Merola, Susan Hoffman Fishman, and Yujia Bian.
Learn more about this show here: http://www.sciartinitiative.org/landscapes-of-material-and-mind.html
Physical exhibit visitation will follow the current hours listed at the museum: www.nysci.org