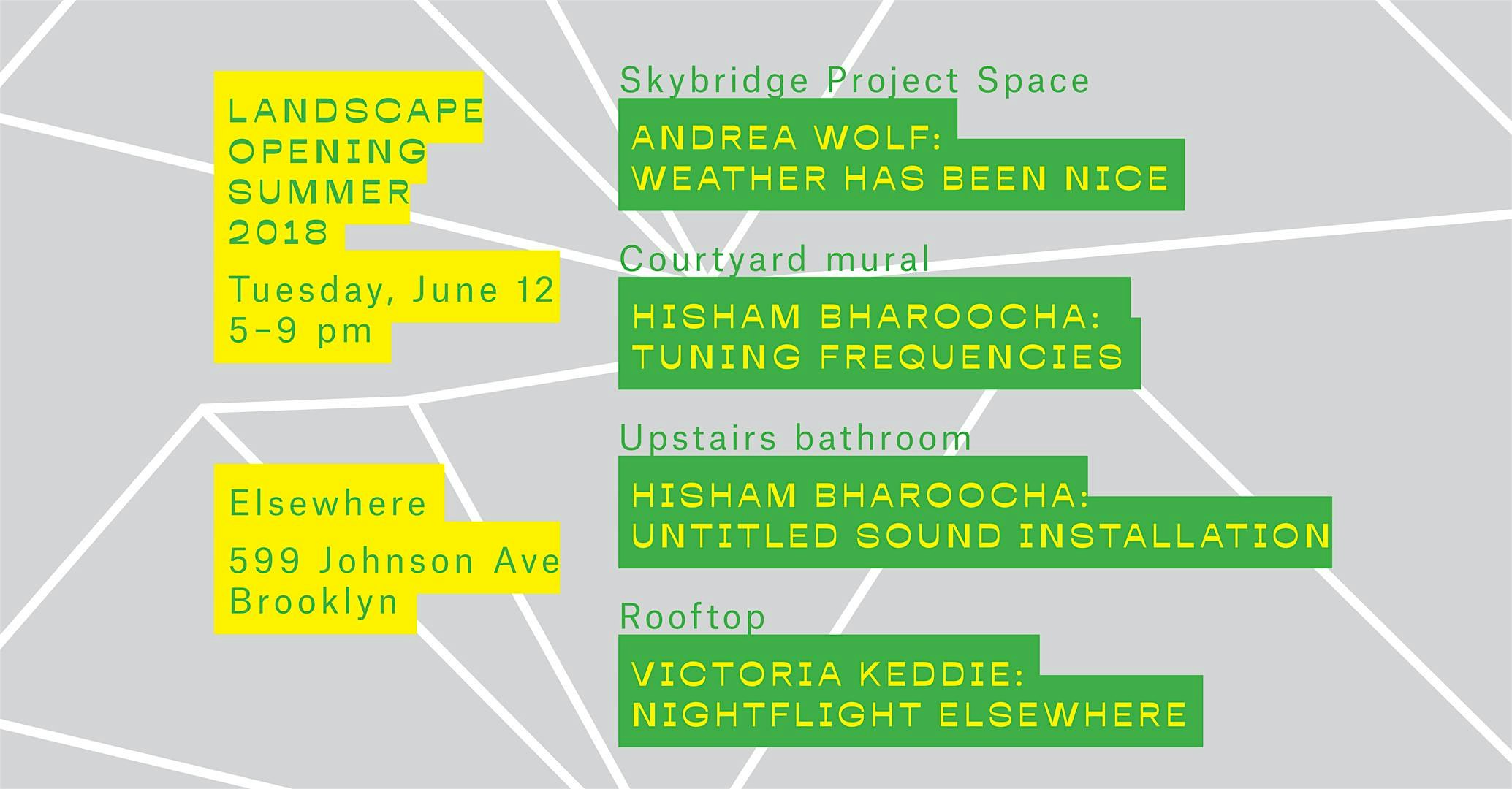 About this Event
⟁ LANDSCAPE: SUMMER 2018! ⟁
Elsewhere is pleased to present the rotating arts initiative, Landscape, under the leadership of our new Art Director Molly Surno. Landscape, housed within Bushwick's new music venue Elsewhere, bridges the gap between visual art, music, and technology. Through installations, performances, commissions, and community events, Landscape builds on Elsewhere's mission to place artists first, encouraging multi-disciplinary collaboration and experimentation. In an effort to create a sustainable platform the art program is funded by a portion of all Elsewhere tickets. By coming to a show or party at Elsewhere, our community is directly funding art commissions and installations.
⟁ SEASON OPENING & EVENTS ⟁
On June 12th Surno opens her first Landscape program at Elsewhere. Three artists will kick off the season with a series of interventions throughout the building.
For the remainder of the summer, Landscape will showcase cultural programming every 2nd Tuesday of the month on the Elsewhere rooftop. Please sign up to our mailing list for future notifications and RSVP. 
⟁ SUMMER EXHIBITIONS ⟁
In the Skybridge, Chilean artist Andrea Wolf will present her video and sound installation the Weather Has Been Nice, a series of generative videos in which vintage found postcards are slowly broken down into their basic elements. Mailed from around the world, these commoditized stereotypical landscapes are non-places – at the same time unknown and familiar. A pixel sorting algorithm manipulates the postcards, lunging them into movement, and generating a dynamic glitch that slowly decomposes into the dominant colors. 
Hisham Akira Bharoocha showcases his courtyard mural, Tuning Frequencies, and his Untitled sound installation in the upstairs bathroom. Tuning Frequencies acts as a visual representation of sounds finding their place in a composition, enjoying casual conversations as they dance along, until each sound finds the right frequencies to dance with, to carry on with until the next song or piece comes along. Tuning Frequencies can be seen as an analogy to one's experience in a music venue. Meanwhile, the Untitled Sound piece is a 30 minute loop created as another voice to bounce your thoughts off of while in a space of contemplation. 
Nightflight Elsewhere, a site specific rooftop video installation by Victoria Keddie will map the sky above coordinates of the building. Keddie uses the coordinates of Elsewhere at 599 Johnson, Brooklyn NY (Latitude: 40.709411, Longitude: -73.923169) as the center or base to record a real time mapping of satellite and space debris. These live tracked "sky sessions" have been recorded in real time over the course of a week between 10 pm and midnight, and will be projected back via two triangular banners installed on the rooftop at Elsewhere. Additionally, Keddie will perform a one night live electronic score, composed from a real time visual and sonic mapping of satellite and space debris in orbit over Elsewhere.
---
5PM - 9PM, 16+
Swing by the Rooftop early at 5PM for our Summer happy hour, featuring sunshine, slushies, and the spectacular skyline!