LANDLORD & Real Estate Investor Training - 3 Day LIVE Certification

Friday, January 25, 2013 at 8:30 AM

-

Sunday, January 27, 2013 at 4:30 PM (EST)
Event Details
Hurry! Class Size is Limited!
We Can NOT Get a Larger Room
Advance Priority & Early Bird Registration Discounts!
discount codes expire Jan 14th
SAVE $300 NOW!
enter code
"save300cp"

 Advance Priority Registration AND


  You MUST Bunk at the Crowne Plaza Airport

Only $199




  Jan. 24th - 26th (3 nights) at discount room rate of $99 night




              use Crowne Plaza promo code: "MikeButler"

SAVE $200 NOW!




enter code




"save200"

 Advance Priority Registration

Only $299
Got a Question? Call Melissa at 502-438-8243
Alumni Repeater Click Here Only $99
Active GOLD Members Only $49
Not a Gold Member? Join Now


First Graduating Class - January 2012
Mark Your Calendar Now and Join Us
Jan 25-27th, 2013
Early Bird Discounts Below

Crowne Plaza Louisville Airport Resort Hotel and Conference Center
Hurry! Class Size Is Limited!
This Event Will Sell Out! 
Reserve Your Hotel Room Now & Save $100!
Doors Open: 8am
Class: 8:30 - 4:30pm
3 Day LIVE Training
"Certified Residential Property Manager Professional" Course
CRPMP™ training sessions begin promptly at 8:30am est  (Doors Open 8am) 
---
Let's Face It...
We are in the greatest business in the world, but times are a changing.
And this is nothing new.
With all of the new technology available for you today, and most of it is free, you have a golden opportunity to SLASH your expenses, turbo-charge your income and profit, all while saving your precious and valuable time!
Are you going to get left behind in 2013 while your friendly competition in your town "flips a switch" to immediately implement:
how to "pre-screen" prospects BEFORE they submit a rental application

How to Get Paid OVER 100% of Your Rents Consistently, month after month

Get Tenants to Really Pay YOU for Tenant Chargeable Repairs... seriously

Get Great Tenants to BEG You to Stay 3 Years or Longer!

Tenant Turnovers - Imagine Your Tenant Moving Out Getting It Ready to Rent while they pay rent to you doing it!

159 point Rent Ready Checklist with photos, videos, and more is used Just Like an Airplane Pilot has a checklist. It Works!

NEVER Disqualify another Rental Application - eliminates your frustrating headaches, letters, phone calls, explaining why they did not qualify.

How to Fill Your Vacancies Yesterday. In fact, most of tenant turnovers are rented BEFORE the tenant moves out. Learn how you can do this too.

Rock solid, proven 6 point scoring matrix system allows you to process rental applications in 15 minutes or less... consistently, fairly, every time, plus you have a "system" you use on every rental application. 

Use Mike's "Crystal Ball" technique allows you to see your rental property condition 6 months in the future. 

"Resident Rewards Program" works and keeps your great tenants longer. Don't laugh, think about all of the companies in USA using their version of a Rewards Program.

How to Take Photos and Videos properly to document property condition, repairs, and use in your advertising. 

The Move In Process and Move Out Process covers your butt on both ends. If you ever expect to get tenants to pay for property damage, you must have these nailed down solid. 

New Tenant and Renewal Resident Orientation and Training BEFORE signing any lease papers or giving them any keys.

Brand New Tool gets you Extra Money and Income every month. (one piece of paper)

Panel of Experts Question and Answer Sessions with licensed plumbers, heating and air, carpet, windows and doors, roofs, and more.

Boatloads of free resources giving your more income every month. Most of them you do absolutely nothing!
---
Your Your 3 Day LIVE Training will Follow:
"Life Cycle of Your Tenant from A to Z"
"A" is NOT the Application from a new prospect
"A" starts when your current Tenant gives you notice they are moving... think about it, this is true because this marks the starting point of your next new tenant. This is "A."
"Z" is NOT when your Tenant moves out
"Z" could be collections and receiving payments after they have moved out. You might think it should end when they move out, but in many cases, you will find the tenant who moved out still owes you money... therefore, getting money from them after they have moved out is actually your "Z."
---
In This Certification Training, You and Your Staff will Learn How To:
Get Over 100% of Your Rents Paid Month after Mo

nth

Make January your Best Month


                         for Getting Paid Early instead of your worst month

Get PAID

for Tenant Chargeable Repairs

Get Applicants to BEG YOU

to let them stay for over 3 Years!

Get Your

Moving Out Tenant to continue paying you rent while they get your unit ready to rent!

159 point Rent Ready Checklist explained in

detail

NEVER

Disqualify An Applicant Again!

Get Your Vacancies Filled Yesterday!

Screen Tenants in 15 minutes or less with 6 point Applicant Scoring Matr

ix

Use Mike's Crystal Ball - See what your unit will look l

ike in 6 months



Resident Rewards Program is a mus

t for your business

Take Photos and Videos the Right Way, NOT the wrong way

Move In Process made Simple

New Tenant Or

ientation and Training BEFORE signing any papers

Tenant Repair Requests and Maintenance made easy with extra

income

Move Out Process in 3 powerful, proven, money making step

s

Get Tenants to Make Your Rental Rent Ready while they are paying rent

TOP SECRET Form delivers EXTRA inc

ome every month

Make EXTRA Income with Musical Locks System

Take Advantage of the Many FREE Resources to make 
Hundreds of Tips, Strategies and Techniques for you to "Flip the Switch" now for extra income, slash expenses, increase profit and cash flow while giving you

more time to do what you want in life.... Work Smarter, NOT Harder

100% All Meat and Potatoes, Real World, Roll Up Your Sleeves Training! 

This is NOT a Parade of Speakers selling books and tapes! 
---
PLUS you get Intense Hands On Training on:

Fair Housing & Ethics Federal, State, and Local. Housing in U.S.A. is very precious and has very strict laws which are aggressively enforced by HUD. Learn the Do's and Don'ts and big mistakes made by landlords. Discover How to Protect Yourself when others market your rentals.  HUD's 3 Sneaky Tactics to Catch YOU.

Landlord Tenant Laws are not to be confused with Fair Housing. Most states and many local government have specific laws and regulations regarding security deposits, late charges, and stricter fair housing laws. Common sense is not allowed.
Marketing & Advertising is your real business… seriously. You are in the business of marketing your rentals to stay 100% full. New technology and resources today allow you to slash your advertising costs while turning on extra secret hidden incomes for your business. It works.
Tenant Selection "hands on' interactive workshop processing real applications using the Application Worksheet Matrix to "score" each application. You will learn how to screen tenants in 15 minutes or less and NEVER Disqualify another applicant.
Tenant Training is your first step in making your life easier and more profitable!
Office Operations & Staffing the foundation for your good life!
Routine & Preventative Maintenance Discover how to reduce costs, create extra income, and make your rentals more profitable.
Evictions can be controlled and prevented along with collections!
Environmental Concerns will never go away.
Learn how to properly diffuse these very sensitive issues because most insurance companies do not cover environmental hazards.
Insurance your first line of defense, Renter's Insurance and Your Insurance
Taxes and Risk Management when should you start your own property management company? How many units? When? How?
You will be tested following each CRPMP training session
to receive your Certification with Graduation Photo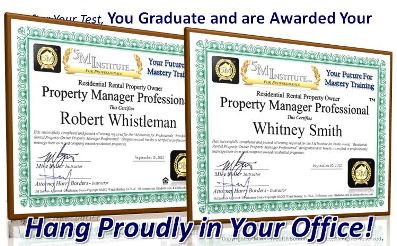 ---
 ADVANCED Training Sessions
Extra Income Money Makers
Plus Opportunity to Enroll in Mike Butler's Inner Circle
 ---------------------------------------------------------------------------------------------------------------------
Should YOU Attend? is this training for You?
This Landlord Certification Training is designed for:
New Investors & Landlords

Veteran, Seasoned, Landlords

Real Estate Investors - 

in the real world, many wholesales and retailers have ended up rental property when their original objective of selling fast for cash turns into a tenant / buyer.

Realtors -

the one on one communication skills will set you apart from all of your competition



Small Business Owners

can benefit by discovering how to get great new customers and keeping current customers loyal for decades!

Part Time Investors -

these powerful and proven techniques work in all size investor programs, from the "mom & pop" getting starting to the experienced old pro with hundreds of properties.

Property Managers and Property Management Companies -

will discover how to slash expenses, turn on new resources to make more money while giving you more time for your life.

Investors Who HATE Landlording, Tenants, & Toilets





Ask Yourself:

"What Would Your Life Be Like
          with 20 Nice Rentals PAID FOR?"






  

if you are like 97% of real estate investors, especially those getting started, you will say "My Life Would Be Awesome!"
Well, guess what?
You will NEVER get there without starting with one rental house
If you are serious about your future and true financial freedom, this 3 day LIVE certification is an absolute must attend event.
Not only must YOU attend, but bring your partner, spouse, office manager, maintenance manager, leasing agent, bookkeeper and more. Bring your entire team to get the most comprehensive, down-to-earth, "REAL WORLD" training using PROVEN strategies and techniques and NOT pie-in-the-sky theories and concepts from a wanna-be guru. 
-------------------------------------------------------------------------------------------------
Meet Your 5M Institute for Professionals CRPMP™ Instructors
Mike's Promise To YOU - NO SPEAKER Parade Selling, Selling, Selling!
You GetMike Butler and his Staff for 3 Full Days!

 
 
 

Mike Butler
Authored #1 Best Seller
"Landlording On AutoPilot"
Featured in Money Magazine
National Speaker & Consultant

Attorney Harry Borders

Borders & Borders Attorneys
KAR Certified Instructor
Real Estate Legal Issues
Asset Protection for Real Estate Professionals
http://AskHarryBorders.com 

J. Michael Grinnan CPA
 Real Estate Investor 
Tax Strategies for Real Estate Professionals
Tax Updates on Real Estate Professionals 
---
Mike,
I have put your system to work over the last 5 months, and it works
GREAT. It took me a while to get into it, but I'm glad I there. I have hired and trained 2 other persons to work it for us.
Have questions about LANDLORD & Real Estate Investor Training - 3 Day LIVE Certification?
Contact Mike Butler
When & Where

Crowne Plaza Hotel
830 Phillips Ln
Louisville, KY 40209


Friday, January 25, 2013 at 8:30 AM

-

Sunday, January 27, 2013 at 4:30 PM (EST)
Add to my calendar
Organizer
Mike Butler
Got a Question or Two?
For More Information
Please Contact Melissa!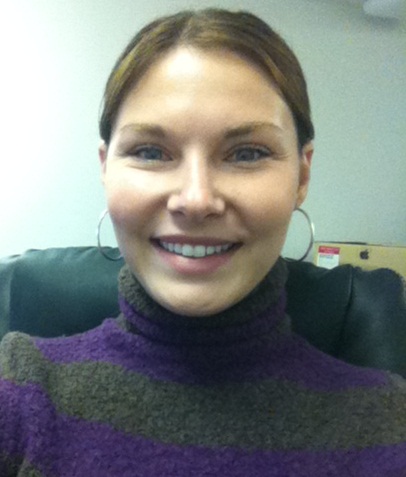 Melissa Phillips
LANDLORD & Real Estate Investor Training - 3 Day LIVE Certification