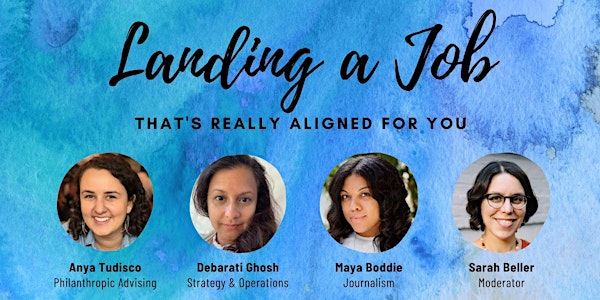 Landing a Job that's Really Aligned for You
Searching for a new job, or think you might start soon? Come hear from purpose-centered women who recently landed aligned roles.
By Realize Change (realizechange.org)
When and where
Date and time
Wednesday, March 15 · 9 - 10:15am PDT
About this event
Whether you're seeking a new job by choice or by necessity, it can be a daunting process to search and apply for jobs.
Some of these questions might be running through your mind:
How can I make sure my next job has a supportive workplace culture?
Will I have to sacrifice mission for money, or vice versa?
What kinds of roles will I actually enjoy?
How do I get a foot in the door?
I'm getting lost in the listings — what do I really want?!
Join three women who have asked these questions too — and have recently landed new jobs that are well aligned with their interests, needs, strengths, and sense of purpose. (Of course no job is perfect, but some are a better fit than others!)
Find out how they did it, and come away with practical tips for the inner and outer work of landing a job where you can really make a difference, and feel good in the process.
Panelists
Maya Boddie (Journalism) is a writer and editor committed to thoughtful journalism and the fight for justice. Raised in both Virginia and Georgia, Maya proudly claims the South as home. She aspires to live her life as radically and unapologetically as her namesake, Dr. Maya Angelou, and on any day of the week, she can be found looking for the best iced chai latte in D.C.
Debarati Ghosh (Strategy & Operations) is dedicated to catalyzing people and processes for positive social impact, particularly in the economic policy think tank space. She is a first generation immigrant from Kolkata, India. She loves traveling and reading novels in cozy cafes, and has grown roots in Brooklyn with her husband and daughter.
Anya Tudisco (Philanthropic Advising) brings an interdisciplinary, intersectional approach to deepening the impact of social change organizations and leaders. She has woven a path through the nonprofit, government, and social enterprise sectors, and currently works at a philanthropic advising firm. Anya derives joy from music, nature and people-watching — around the neighborhood in Brooklyn and around the world.
Moderator
Sarah Beller, founder and coach at Realize Change, helps women and others navigate wholeheartedly to fulfillment and positive impact in the world. Sarah is a certified coach and co-founder of SongRise, an acclaimed women's social justice a cappella group. She gets her best ideas while hiking in the woods.
About Realize Change
The mission of Realize Change is to unleash the power of women and non-binary folks to create a more just world. We do this by helping you navigate wholeheartedly to fulfillment and positive impact in ways that are truly aligned for you. Through individual coaching, group circles, workshops and events, we create a space for you to get clear on your life's work AND make it happen.
Our Commitment to Justice & Inclusion
Realize Change is committed to being part of what the honorable late Rep. John Lewis called "the Spirit of History." This includes:
Being part of bending the arc of history toward justice… toward a world where everyone can meet their basic needs, access opportunity, and realize their potential no matter their race, nationality, sex, gender identity, sexual orientation, abilities, class, religion, or other facets of their social identity.
Striving pro-actively to build communities, relationships, and spaces where everyone who feels called to be there can access the opportunity, show up as their full selves, and thrive.
Nurturing individuals to develop as social justice leaders who bring compassionate, courageous, welcoming spirits to their life's work, and who catalyze meaningful, strategic, and effective change in a world that desperately needs it.
Standing up and taking action together as the Realize Change community — following the lead of values-aligned partners — to do our part in making systems change.
Hope you'll join us!
Accessibility Notes
Automated live transcription will be enabled through Zoom.
If you have other accessibility needs in order to participate, please email sarah at realizechange dot org.