Description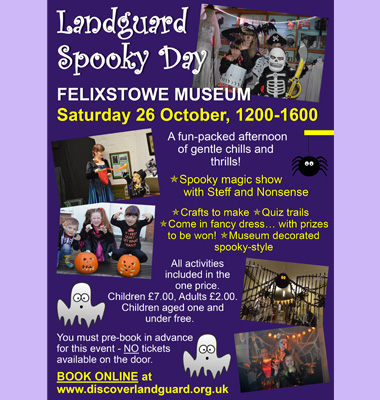 A fun-packed afternoon of gentle chills and thrills!
- Spooky magic show with Steff and Nonsense.
- Crafts to make and colouring-in.
- Quiz trails.
- Come in fancy dress... with prizes to be won!
- Museum decorated spooky-style.
Please note: the spooky magic shows will run from 1230-1315 and 1400-1445. On arrival attendees will be given a coloured sticker to indicate which show they are attending.

-------------------------------------------------
- This event is suitable for children aged 2-12 years.
- Younger or older children may attend at parent's discretion.
- Children aged one and under free.
- All children must be accompanied by an adult.
- All activities included in the one price.
You must pre-book in advance for this event - NO tickets available on the door.

-------------------------------------------------
Disclaimer - please read this information carefully
- Attendance is at your own risk.
- Children may come in fancy dress.
- Although we have done everything to ensure your safety whilst attending this event, historic properties can be hazardous so please take care and ensure children in your care are supervised at all times.
- Parents/guardians are responsible for ensuring children in their care are not exposed to experiences that are upsetting or harmful to the child.
- There are no refunds for persons wishing to cancel or leave the event early.