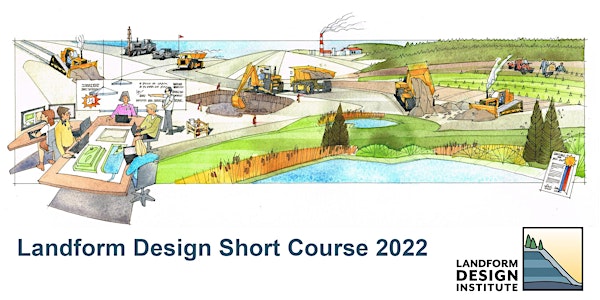 Landform Design Short Course 2022
Landform design is "mining with the end in mind." Learn how to use landform design to build reclaimed mining landscapes acceptable to all.
When and where
Location
Calgary Marriott Downtown Hotel 110 9 Avenue Southeast Calgary, AB T2G 5A6 Canada
About this event
Landform Design for Sustainable Mining: 3-day short course offered by the Landform Design Institute
Calgary Marriott Downtown Hotel (110 — 9th Ave SE, Calgary, AB Canada)
*** TICKETS SELLING QUICKLY -- RESERVE YOUR SPOT TODAY: SIGN UP BY OCTOBER 25 ***
The Landform Design Institute is pleased to be hosting its second in-person landform design short course, which will take place in Calgary, Alberta, Canada, November 2–4, 2022. You and your team are invited to attend this three-day course, which will be taught by LDI Chair Gord McKenna and Technical Advisory Panel Chair Mike O'Kane. Both are seasoned landform design professionals and have lectured many times on landform design and related topics in Canada and abroad (see their biographies below). The course will also welcome special guest lectures given by other experienced experts.
Landform design is an emerging process used to reconstruct mine lands in a more responsible and sustainable manner. It is both a "thought process" and a set of tools, which allows industry, regulators, and communities to work together to minimize residual risks, optimize opportunities, and reduce the costs required to achieve progressively reclaimed landscapes with confidence and pride. Done well, landform design leads to a positive mining legacy — it is a pillar of sustainable mining. It allows mines to meet their commitments and earn the trust of regulators and local communities. Landform design "begins with the end in mind," resulting in the highest industrial and ecological value for current and future land uses.
The course consists of a series of lectures and exercises. Case histories will be presented and analyzed to provide real-word examples of landform design application for sites using a wide range of resource types and climatic settings. The course is focused on providing practical "how-to" advice to design, build, reclaim, and monitor mining landforms and landscapes that reliably meet declared land uses, goals, design objectives, and design criteria. In addition, the "how-to" is presented within the broader strategic thought process that guides landform design.
The short course fee is CDN $1895 (+5% GST) per person. Corporate, individual, and student members of the Landform Design Institute receive a 20% discount. Student and individual memberships are available at landformdesign.com. The fee covers three days of instruction, breakfast, lunch, and morning and afternoon coffee, and electronic versions of course materials. (Fees do not include dinners or accommodations.)
To learn more about landform design, listen to Gord and Mike's insightful conversation in the Getting Closure podcast (landformdesign.com/pod.html), which Mike hosts. The next podcast episode will focus on the ways corporations have been implementing the philosophies and methods of landform design. We will send out a reminder when that episode is posted.
For more information, contact us at admin@landformdesign.com or give us a call at: +1 (604) 838-6773.
The Lecturers ...
Gord McKenna PhD, PEng, PGeol is a geotechnical engineer and geologist who builds mining landforms. He brings 35 years experience in mine operations and international consulting for metal, oil sands, coal, potash, and diamond mines. He provides independent geotechnical review, design, and advice to mines, regulators, and communities. Gord sits on ten geotechnical review boards, is an adjunct professor at the University of Alberta, and chairs the Landform Design Institute.
Gord is a builder. He and his teams have designed and built 26 reclaimed watersheds that cover 54 square kilometers and host 38 wetlands and 119 kilometers of streams. He has co-authored 100 technical papers and book chapters and led 40 landform design courses. His specialties include mining geotechnique, tailings dams, soft tailings capping, and landform design. He has a BASc in Geological Engineering from the University of British Columbia and a PhD in Geotechnical Engineering from the University of Alberta.
Mike O'Kane MSc, PEng, MAusIMM, GCBD, founder of Okane Consultants. Mike works with the company as a senior technical advisor applying technical expertise and knowledge on risk management best practices as tools for development and communication of project objectives and designs. He provides peer review for numerous government and private agencies while also being a member of multiple advisory panels. Mike serves as a director of the Landform Design Institute and chair of its Technical Advisory Panel. He holds a Global ESG Competence Boards Designation. In 2014 Mike received the University of Saskatchewan Alumni Achievement Award for "Global Development of his Business and Corporation, and Philanthropy."
Also presenting in person:
Justin Straker, MSc PAg, Forest Ecologist and President, Integral Ecology Group
Lois Boxill, PhD PEng PE, Freelance Land Reclamation and Direct Impact Specialist
Jerry Vandenberg, MSc PChem, Environmental Chemist, Vandenberg Water Science
For more information, visit our website: www.landformdesign.com or contact us at admin@landformdesign.com or by phone at +1 (604) 838-6773.
PS Don't forget to include these 24 hours of instruction in your professional development hours!