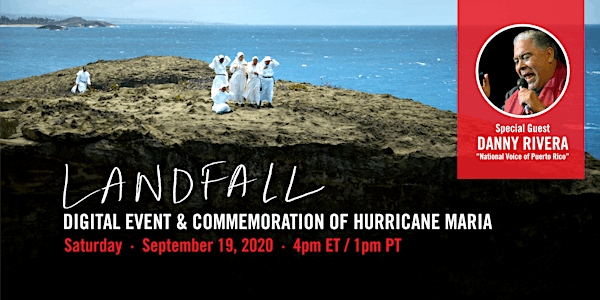 LANDFALL DIGITAL EVENT & COMMEMORATION OF HURRICANE MARIA.
EVENTO DIGITAL CONMEMORANDO EL ANIVERSARIO DEL HURACÁN MARÍA Y SU IMPACTO SOSTENIDO EN PUERTO RICO
About this event
JOIN US!
The event will feature a sneak preview of the new film LANDFALL, live performances from Puerto Rican artists and an audience Q&A with top experts centered on climate change, the current economic & political challenges facing Puerto Rico and a vision of a just recovery.
LIVE Performances and Special Guests
Musical legend Danny Rivera "The National Voice of Puerto Rico ", AND Poetry by Dr. Raquel Salas Rivera— Recipient Recipient of Puerto Rico's Festival de la Palabra New Voices Award.
WATCH the film with a private link, we will provide at the event!
JOIN THE CONVERSATION!
LEARN more about why Puerto Rico is the handbook of our times.
ADVOCATE for a just recovery that respects Puerto Rico's sovereignty, history and people.
CONNECT with resources & organizations by supporting on the ground efforts in Puerto Rico.
This is a BILINGUAL event, live interpretation will be provided by Babilla Colectivo.
PLEASE REGISTER TO RECIEVE EVENT LINK ! SPACE IS LIMITED.
------------------------------------------------------------------------------
ÚNETE A NOSOTRXS !
Este evento presentará un estreno adelantado del nuevo documental LANDFALL, performances en vivo por artistas Puertorriqueñxs y una sesión de preguntas y respuestas para la audiencia con expertxs de calibre en temas centrados en el cambio climático, los retos actuales económicos y políticos de Puerto Rico y una visión de una recuperación justa.
Performances en VIVO! Leyenda musical Danny Rivera "La Voz Nacional de Puerto Rico"; Poesía por el Dr. Raquel Salas Rivera—Recipiente del Premio Nuevas Voces del Festival de la Palabra de Puerto Rico.
¡MIRA la película LANDFALL con un enlace privado que proporcionamos en el evento!
¡ÚNETE A LA CONVERSACIÓN!
APRENDE más sobre porqué Puerto Rico es la guía para nuestros tiempos.
ABOGA por una recuperación justa que respete la soberanía, la historia y el pueblo de Puerto Rico.
CONECTA con recursos y organizaciones al apoyar esfuerzos autogestionados en Puerto Rico.
FAVOR REGISTRARSE PARA RECIBIR EL ENLACE PARA EL EVENTO. LOS ESPACIOS SON LIMITADOS.
Este es un evento bilingüe con interpretación en vivo proporcionada por Babilla Colectivo.