Land Resource Evaluation On-Farm Workshop (Salmon, ID)
Description
Interested in starting a small farm? Finding a good piece of land is key to a success.
Whether you are looking to purchase land or already have land, this workshop will give you the tools to evaluate a piece a property and determine if it is right for your farming enterprise. This workshop would also be a valuable resource for those with land who are interested in keeping it in agricultural production and communicating its traits to potential land owners/renters.

You will learn to assess site characteristics such as: natural resources (soils and water); microclimates (slope, growing degree days); physical assets (buildings and fences); site history (and how it may affect future farming); and, legal considerations (easements, zoning, lease arrangements, liability).

We will visit Swift River Farm in Salmon, ID. We will go over site history, current land use, soil testing and how to interpret results, existing structures and infrastructure, and future possibilities.

Where to meet:
> Please meet at Swift River Farms (directions: http://bit.ly/2sqFdrB)
Register by September 1st!
$10 registration fee for individual or $15 for farm partners group/a family. **Rural Roots members receive a 20% discount, email for your discount code.**

**please note a minimum of 5 registrants will be required for this event to happen**
Pre-Workshop Homework
Upon registration, you will receive an email with links to pre-workshop videos and questions about the topics of; Physical Assets, Natural Resources, Site History, and Legal Considerations. It is recommended that participants complete these prior to the event so that organizers can gain better perspectives into your unique situation.
To enrich education through diversity the University of Idaho is an equal opportunity employer and educational institution. In compliance with the American Disabilities Act of 1990, anyone attending this program that requires auxiliary aids or services should contact info@cultivatingsuccess.org at least two weeks prior to the event.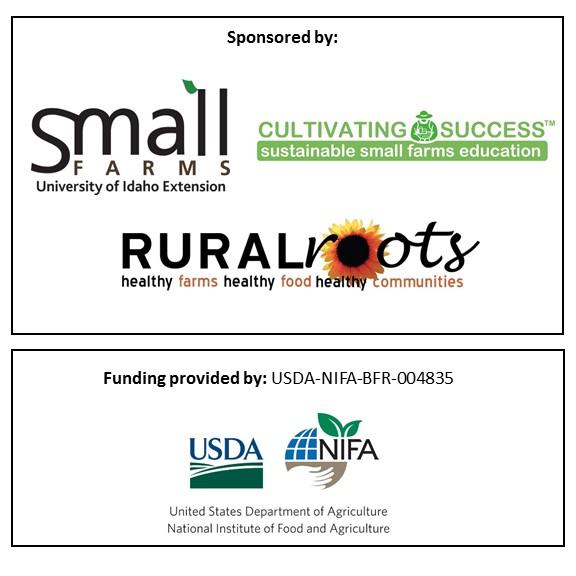 Organizer of Land Resource Evaluation On-Farm Workshop (Salmon, ID)