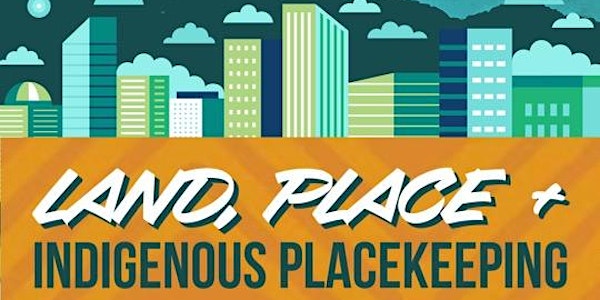 Land, Place and Indigenous Placekeeping
Public gather and panel to share ideas about Indigenous knowledges and practices of placekeeping.
When and where
Date and time
Wednesday, March 22 · 6 - 8pm MST
Location
CahokiaPhx SocialTech + ArtSpace 707 North 3rd Street #Suite 130 Phoenix, AZ 85004
Refund Policy
Contact the organizer to request a refund.
Eventbrite's fee is nonrefundable.
About this event
Join Cahokia Art Space, InSite Consultants, Mass Liberation AZ for an evening of art, storytelling and public discussion about land, place and gentrification and the power of Indigenous placekeeping projects to sculpt narratives of liberation and land rematriation in the desert. This panel will also raise questions about Black and Indigenous solidarity in the co-creation of a decolonized future.
Panelists: Stephanie Guillermina Castro, Carry "CC" Curley (San Carlos Apache), Ebone Johnson (Mass Liberation AZ)
Moderators: Eunique Yazzi (Cahokia), Collette Watson (Black Rvr Collective)
Bios:
Carrie (CC) Sage Curley, resides on the San Carlos Apache Reservation. She received her AA degree in 2015 from Gila Community College. CC has also been an active artist for years. She does live art as well as commissioned work. CC completed a mural at the historic Indian Alley in Los Angeles, She is the first female to grace the wall at Indian Alley. She is actively involved in the Apache Stronghold effort to save Oak Flat. CC believes that environment around her is Creator's art and as such should remain untouched for generations to enjoy and grow from. She worked for 8 years for a nonprofit organization, Nalwoodi Denzhoni (meaning Strength and Beauty)  based in San Carlos her title VP, Community outreach specialist.
Quote:
"I view my art as honoring my ancestors, bringing out the beauty of my people. My work is mostly about women, I see the strength in women and I think women should respect themselves also. You hear a lot about the men as warriors, but women are warriors too, "We are fierce." It is a gift from creator to paint; I pray before I paint. I am inspired by the elders and the youth. The drums, my music, and that is who I am.
Stephanie Guillermina Castro, also known by her peers as Castro, is a first generation Queer Andean woman of Mapuche, Muisca & Embera descent. She is passionate about creative storytelling, event & community organizing and supporting others through birth work and other healing modalities. She is a multi-medium creative guided by her ancestors through the practice of paint, graphic art, performance, poetry, jewelry and event curation. Born and raised on Lenape, Canarsie & Matinecock land, Castro also spent a majority of her upbringing in her parents' homelands of what is currently known as Colombia & Chile. This connection and access to her ancestral lands has deeply influenced her outlook on the human experience and her role as a Condor on Eagle land. In her art she enjoys diving into narratives of Indigeneity & spirituality, the myths of latinidad & the repercussions of colonization, immigration, intergenerational trauma, and gender & sexuality. Castro would like to express deep gratitude towards her ancestors who guide & protect her. 
Ebone Johnson is the Director of Development for Mass Liberation AZ. She has a great passion for youth, the liberation of Black women, racial justice, HBCU (Historically Black Colleges and Universities) advocacy, educating and volunteering with teen girls of color, and all things art related.
Collette Blakeney Watson is a writer, musician and communications strategist based in Phoenix, Arizona. Collette spent six years in the New York office of J. Walter Thompson Company where she earned the American Advertising Federation's MOSAIC Awards 2013 Grand Prize for Workforce Diversity Communications. She later served on the communications team of Black Alliance for Just Immigration (BAJI), advocating at the intersection of racial justice and immigrant rights. Today she serves as director of the Media 2070: Media Reparations project as well as Vice President of Cultural Strategy at Washington DC-based advocacy group Free Press, and co-founder of Black River Life Media.
Eunique Yazzie is a Designer and a Co-founding Member whose roots are from Navajo Nation and emerges from Phoenix, Arizona. Her 19-year creative career has honed her technical skill, challenged perspectives, and established her artistic dimensions. If art imitates life, Eunique's palette breathes new life and purpose into the arts and culture community; she is a poet and storyteller with the Mujeres Del Sol collective; a board member of Roosevelt Row CDC; a working artist, muralist, and illustrator; founder of Indige Design Collab; and owner of euniQue Design LLC. Her creative work is centered around placemaking and placekeeping, emphasizing social impact design. She is a dynamic organizer, workshop facilitator, speaker, and art curator who is now pivoting towards tech. She currently works as a Creative Consultant and Application Analyst focusing on design systems, collaboration, and Indigenizing space.
_________
100% of total sales from ticketing go to Cahokia Art Space. If you are able to afford a ticket, please consider paying to support Cahokia.
"Land, Place & Indigenous Placekeeping" is part of the Politics of Place programming by InSite Consultants. Politics of Place is a methodology InSite uses to orient ourselves and others to the multiple narratives of place through walking and storytelling. We work with organizers and residents to develop a place-based approach to equity and justice. There are multiple histories and methodologies to articulate a politics of place rooted in liberation. InSite Consultants is consultant group whose work focuses on place, racial justice and systems change. www.MarginsToCenter.com.
*This gathering is made possible with funding from LISC Phx as part of their Turning The Corner initiative.
About the organizer
​Politics of Place is a methodology InSite crafted to orient ourselves and others to the multiple narratives of place through walking and storytelling. We work with organizers and residents to develop a place-based approach to equity and justice. In essence, we treat place as another facilitator in our trainings. To participate, please contact us.