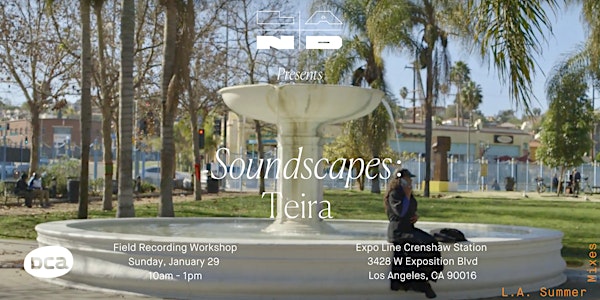 LAND (Los Angeles Nomadic Division) Presents Soundscapes: Teira
Join LAND on Sunday, January 29th, 10am - 1pm for a field recording workshop in celebration of the release of Soundscapes: Teira
When and where
Location
Expo Line Crenshaw Station 3428 W Exposition Blvd Los Angeles, CA 90016
Refund Policy
Contact the organizer to request a refund.
Eventbrite's fee is nonrefundable.
About this event
LAND (Los Angeles Nomadic Division)  invited interdisciplinary artist Teira to create a mix for the debut programming series, L.A. Summer Mixes in November 2022. As a continuation of this collaboration, we are thrilled to present a field recording workshop created by Teira that embodies the cultural mapping practice she developed from daily public transit commutes.
Participants will learn how to create their own field recordings while visiting historic locations along the 210 Metro bus line, providing deeper insights into their relationship to the sounds of the city. The sites reflect Teira's formative years in South LA and elements of her practice such as being in transit, infrastructure, and environmentalism.
Participants will ride the 210 Metro bus, the Metro K-Line, and walk to three locations, recording what they hear along their route.
Space for this workshop is limited and RSVP is required.
This program was made possible in part by a grant from the City of Los Angeles, Department of Cultural Affairs. Special thanks to Metro Art.
The program will begin and end in the same location. Please be sure to bring a phone with recording capabilities, notebook, pen, and wear comfortable shoes as we will be moving around throughout the day. LAND will provide Metro TAP cards for all participants.
Teira
Teira is a multidisciplinary artist whose works incorporate music performance, sound installation, and sculpture. Her practice explores the connectivity between the body and sound, the ephemeral nature of technology, and spirituality. Teira creates immersive performances using analog instruments and found objects to recreate her inner world, from a dilapidated swap meet to an abandoned baptism pool in South Los Angeles.
Soundscapes
LAND (Los Angeles Nomadic Division) is proud to introduce Soundscapes, our new programming series dedicated to experimental music and audio practices, inviting artists to consider how location and sound in its various modalities are deeply intertwined. This series champions artists prioritizing audio and the sensorial over the ocular to facilitate unique experiences widely available to the public.
Soundscapes joins LAND's existing series, Nomadic Nights, dedicated to performance and socially-engaged practices, and Frame Rate, presenting film and moving-image work. These three series demonstrate LAND's dedication to supporting artists in immediate and responsive ways, while providing the public with access to works in process or newly-created.
L.A. Summer Mixes
LAND's L.A. Summer Mixes is a monthly series that will span the four summer months and include a variety of elements that will tie into each mix. Artists will be invited to document their neighborhood and will also create a list of recommendations to accompany the mixes. Both the documentation and the neighborhood list will be released alongside the mixes to offer a more in depth perspective into the artist's relationship with the places around them. To culminate this work, each L.A. Summer Mixes will be released at a LAND Members listening party at a local venue of the artist's choosing that further celebrates the richness and various landscapes of the city.
LAND's 2022 exhibitions are made possible with lead support from the Offield Family Foundation, the Jerry and Terri Kohl Family Foundation, and The Perenchio Foundation. Additional support is provided by the Fran and Ray Stark Foundation, the Los Angeles County Board of Supervisors through the Department of Arts and Culture, the LA Arts Recovery Fund, Wilhelm Family Foundation and LAND's Nomadic Council. Special thanks to Artist Sponsors Karen Hillenburg, Liana Krupp, Brenda Potter, Abby Pucker, Ben Weyerhaeuser, Jay and Deanie Stein Foundation Trust, and the Poncher Family Foundation.
LAND is a member-supported organization. Support LAND's free, public programming by becoming a member today.