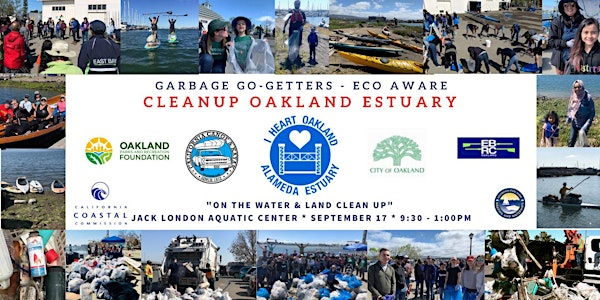 LAND EVENT IS AT CAPACITY - I Heart Oakland-Alameda Estuary Cleanup
AT CAPACITY - REGISTRATION IS CLOSED Jack London Aquatic Center On-the-Water and Land GARBAGE Cleanup! A Grand-Garbage-Go-Getting-Adventure
When and where
Location
Jack London Aquatic Center 115 Embarcadero Oakland, CA 94607
About this event
We invite you on a Grand-Garbage-Go-Getting-Adventure, connect with nature, protect and clean your waterways, love your land while having FUN with your community.
We'll have cleanup teams working "On the Water" via kayak and stand-up paddle board and "On the Land" via foot.
Hosted by I Heart Oakland-Alameda Estuary, Mary Spicer and the City of Oakland. Event Partners: California Canoe & Kayak, the East Bay Rowing Club and the Oakland Parks and Recreation Foundation.
Registration
LAND VOLUNTEER IS FULL - CLOSED - IF YOU WANT TO VOLUNTEER ON LAND > REGISTER THROUGH THIS EVENTBRITE PAGE FOR "ON THE LAND".
"On the Water" volunteers can bring their own watercraft - OR - rent super discounted kayaks from California Canoe & Kayak to paddle to hard-to-reach garbage hotspots.
IF YOU ARE BRINGING YOUR OWN KAYAK OR SUP TO JLAC > REGISTER THROUGH THIS EVENTBRITE PAGE. SELECT "ON THE WATER" BRINGING KAYAK/SUP If you are bringing your watercraft you must load in your gear, sign waivers and be ready to get on the water by 10AM at Jack London Aquatic Center at 115 Embarcadero, Oakland, CA 94606.
IF YOU ARE RENTING A KAYAK FROM CALIFORNIA CANOE & KAYAK > REGISTER FOR KAYAK RENTAL > Call CCK to reserve 510-893-7833. Plan to get your watercraft ready at California Canoe & Kayak. Give yourself time to park, get your gear and get down to the dock and on the water by 9:00 AM. Our event guides will meet you at CCK to guide you to the JLAC.
Event Must Haves:
Wear shoes with sturdy soles to protect your feet when you walk and paddle the shores.


BRING:
Water, snacks, sunscreen, an extra layer, mask and sturdy shoes (even if you are paddling). We'll have cleanup supplies on site, but feel free to bring your own gloves/buckets/bags if you'd rather use your own!
SCHEDULE:
9:00 AM CCK RENTAL KAYAKERS - Renting from California Canoe & Kayak please be on the water and ready to LEAVE for JLAC.
9:30 - 10:00 AM SIGN IN - All volunteers "On Land" and "On Water" sign waivers at JLAC. Including paddlers that rented and paddled from CCK to JLAC.
10:00 AM- WELCOME ORIENTATION & SAFTEY TALK Please don't clean until you listen to the safety talk. Clean up teams will be assigned at this time. All "On the Water" teams must be ready to get on the water after safety talk.
10:00 AM to 12:30PM - TRASH CLEAN UP. We have a lot of garbage to GET.
12:30 - 1:00 PM THANK YOU! We'll come back together and load up the City of Oakland trash truck. MOST IMPORTANTLY TAKE PICTURES OF YOU BEAUTIFUL PEOPLE.
1 PM - DONE - CCK Paddlers paddle back to CCK.
PLEASE SHARE THIS ON YOUR SOCIAL & INVITE YOUR FRIENDS. WE NEED YOUR SUPPORT.
DEVINA - IHEART'S "ON THE WATER" CAPTIAN - ROCKING GOOD "ON THE WATER" CLEANUP PROTECTIVE GEAR >
DONATE
Your 100% tax-deductible donations support our growth. We'd like to purchase marine radios, clean up and event supplies and spend more time expanding our efforts. IHEART_OAE is fiscally sponsored by the Oakland Parks and Recreation Foundation - your donation will show up as Oakland Parks and Recreation Foundation.
https://www.oaklandparks.org/i-heart-oakland-alameda-estuary/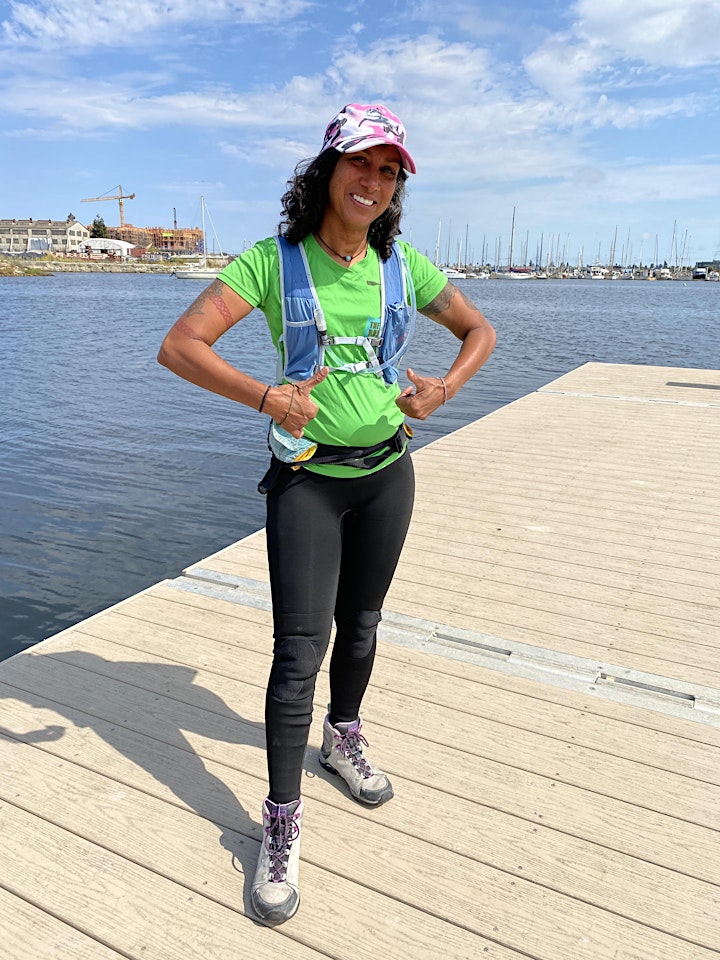 QUESTIONS
Message the organizer at hello@iheartoaklandalamedaestuary.com or text 510 283 4224.
If you have questions about CCK kayak rentals call (510) 893-7833 and reference the Clean Up on Saturday, Sept 17th 2022.
CLEAN-UP PARTNERS
I HEART OAKLAND ALAMEDA GARBAGE CLEAN UPS We organize public waterfront and land cleanups. Our cleanup events draw anywhere from 50 to 200 volunteers, and we gather an estimated 600 to over 2000 pounds of garbage PER cleanup. This groups efforts have been recognized by the City of Oakland and the County of Alameda's Clean Water Project for it's outstanding efforts. This is a volunteer group organized by Mary Spicer. Join our group here > https://www.iheartoaklandalamedaestuary.com
CALIFORNIA CANOE AND KAYAK: www.calkayak.com California Canoe and Kayak has been getting folks out paddling on the Bay since 1972! They're a tried and true local treasure, and generously support this clean up and provide SUPER discounted watercraft rentals to our Estuary Paddle Cleanups and have for 5 years. They have 2 locations on the Oakland Estuary at Jack London and their new SUPER cool store at Brooklyn Basin.
EAST BAY ROWING CLUB: www.eastbayrowingclub.org The East Bay Rowing Club is dedicated to making rowing accessible to all. We believe in creating enduring relationships among our rowers as we serve our diverse community. We are proud of sponsoring and encouraging scholastic rowing programs in Oakland schools.
CITY OF OAKLAND: www2.oaklandnet.com We're proud to be part of the City of Oakland's Creek to Bay Day Cleanup effort! The City encourages stewardship of Oakland year-round, providing supplies and services (including our trash-pick-up) for volunteer events.
OAKLAND PARKS AND RECREATION FOUNDATION: www.oaklandparks.org We believe that parks change lives by empowering communities to play, celebrate, recharge and engage. Every Oaklander and every Oakland community should have access to these transformative experiences.