Sales Have Ended
Registrations are closed
Thank you for your interest in our event, but unfortunately ticket sales have ended. We hope you'll join us for a future event!
Sales Have Ended
Registrations are closed
Thank you for your interest in our event, but unfortunately ticket sales have ended. We hope you'll join us for a future event!
Brought to you by the University of Cologne New York Office, the DWIH NY, and partner organizations.
About this event
In Southern and Eastern Africa, rural communities face an increased frequency and intensity of disasters. From extreme drought to locust infestations and crop destruction – disasters and extreme events that used to occur once every 10 years – now deprive thousands of people of their fundamental existence on an almost annual basis.
The international community's goal of protecting 30% of the world's land by 2030 is intended to mitigate the effects of climate change, to protect biodiversity, and to support rural and tribal populations. But will it really?
Against the backdrop of the 2021 UN Climate Change Conference in Glasgow (COP26), and pending the second Kunming conference in the spring of 2022, join us for an expert discussion by Professors Michael Bollig (University of Cologne) and J. Terrence McCabe (University of Colorado Boulder) on the intersection between climate change and conservation in Southern and Eastern Africa.
RSVP for Tuesday, December 7th to learn:
How rural and tribal communities are impacted by large-scale conservation with all its opportunities and challenges
Outcomes of the COP26 climate change summit and visions for the United Nations Biodiversity Declaration of Kunming
The management of natural resources and the transition of pastoral societies to more diverse economies in response to climate change
About Our Experts:
Michael Bollig is Professor of Social and Cultural Anthropology at the University of Cologne where his key interests lie in the environmental anthropology of sub-Saharan Africa. He is currently speaker for the Cologne Global South Studies Centre. He has done work in northern Namibia and northern Kenya, working in both cases with nomadic pastoralists on topics ranging from conflict management to adaptation to drought-prone environments. His current research projects focus on the social-ecological dynamics connected to large-scale conservation projects, the commodification of nature and the political ecology of pastoralism. He is the author of "Shaping the African Savannah. From Capitalist Frontier to Arid Eden in Namibia" (2020), "Risk Management in a Hazardous Environment" (2006), co-author of "African Landscapes" (2009) with O. Bubenzer, "Pastoralism in Africa" (2013) with M. Schnegg and H.P. Wotzka, and "Resilience and Collapse in African Savannahs" (2017) with D. Anderson.
In April 2021, he was awarded the ERC Advanced Grant for his REWILDING project, which focuses on the complex and ever-changing interactions among humans, flora, and fauna in the Kavango-Zambezi Conservation Area. The ERC Advanced Grant is considered the most important funding award in the European research landscape.
J. Terrence McCabe has been working among pastoral people in East Africa for over 40 years. His primary research emphasis has been on how people adapt to the arid and semi-arid rangelands of Kenya and Tanzania, and how they cope with changing environmental, social, economic, and political conditions. From 1980 to 1996 he worked among the Turkana of Kenya and from 1989 until the present among the Maasai of northern Tanzania. His book on Turkana pastoralism won the 2004 Julian Steward Award for the best book written in ecological anthropology. In 2009, Professor McCabe won an Alexander von Humboldt Research Award, which allowed him to spend the academic year working with colleagues at the University of Cologne. In 2020, Professor McCabe was elected as a fellow to the American Association for the Advancement of Science.
With Welcome Remarks by:
Dr. Eva Bosbach, Executive Director, University of Cologne New York Office
Christiane Biehl, Vice-Head International Office, University of Cologne
Prof. Dr.-Ing. René Haak, Minister-Counselor, Head of Section Science and Technology , German Embassy, Washington, D.C.
Moderated by:
Dr. Kathrin DiPaola, Program Manager, DWIH New York
This event is part of the Transatlantic Tandem Talks series:
The Transatlantic Tandem Talks are hosted on the occasion of the 10th anniversary of the North America office of the University of Cologne in New York in the year 2021 in cooperation with its partners the Consulate General of the Federal Republic of Germany in New York, the German Embassy in Washington D.C., Deutsches Haus at NYU, DAAD New York, the German Research Foundation (DFG) North America, the German Center for Research and Innovation (DWIH) New York, 1014 Space for Ideas, the Goethe Institute New York, AmerikaHaus NRW e. V., and Wunderbar Together.
Technical Details:
The web-talk and Q&A will be held online on Webex Meetings. The event is free, but registration is required; a special access link to the meeting will be sent out the morning of the event. For help on how to join a Webex Meeting, see our step-by-step guide.
Please note: If for any reason you are uncomfortable registering yourself via Eventbrite but would still like to attend, contact our team at events@dwih-newyork.org and we can send you the event link separately.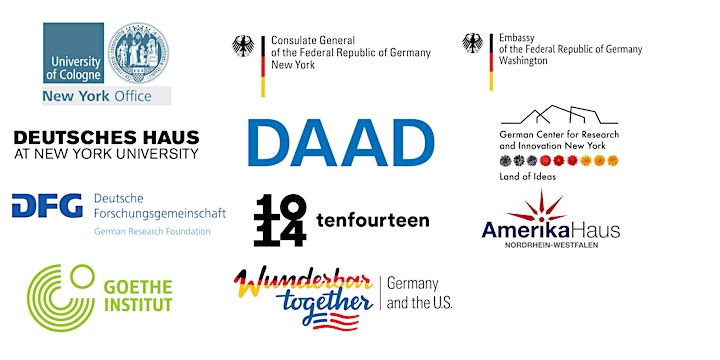 Organizer of Land Conservation to Counter Climate Change? Lessons from Africa
The German Center for Research and Innovation (DWIH) New York promotes German-American exchange on science, research and technology. We host regular free events with innovators and academics on issues such as artificial intelligence and climate change with the aim of fostering greater transatlantic collaboration and knowledge-exchange. We hope you'll join us!