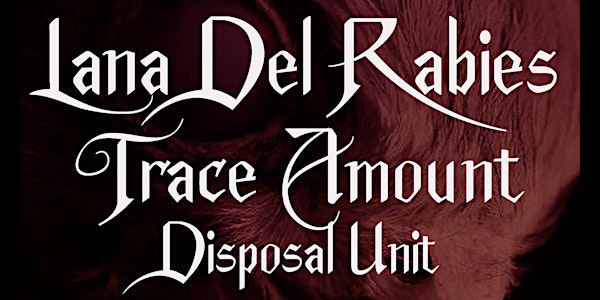 Lana Del Rabies/Trace Amount/Disposal Unit/Soros @ Small's 7/27/23
Lana Del Rabies Trace Amount Disposal Unit Soros DJ Noir Solringen Visuals by Remnant
Date and time
Starts on Thursday, July 27 · 8pm EDT
Location
Small's 10339 Conant Hamtramck, MI 48212
Refund Policy
Contact the organizer to request a refund.
Eventbrite's fee is nonrefundable.
About this event
Lana Del Rabies is the dark electronic, genre-bridging solo project of Phoenix based musician, producer and multimedia artist Sam An. With origins as an experimental project that re-contextualized the more ominous aspects of modern pop music made by women (like that of Lana Del Rey), Lana Del Rabies' music incorporates industrial, gothic noise and metal, with experimental, darkwave and ambient elements. Her work thematically embodies discordant spaces between the occult and the political, personal trauma and collective grief, and brutality and benediction.
Trace Amount is the solo project of Brooklyn-based producer, vocalist, and visual artist, Brandon Gallagher. First conceived in 2019, Trace Amount took shape during the early stages of the pandemic, inspired by the grim realities of life in New York City at that time, and has evolved at a lightning pace ever since. The sound is a harsh strain of industrial music, evoking apocalyptic dread through primal rhythms, layers of synth and noise, and Gallagher's distorted moans and screams. Decibel Magazine has hailed Trace Amount as a "one-man sonic demolition unit"; CVLT Nation has termed it, an "experimental industrial onslaught"; Post-Punk.com has warned, "Trace Amount is not for the faint of heart."
Disposal Unit is grinding Industrial Sludge that was birthed from two separate scrapheaps known as Dayton and Lima Ohio. Bonded thru a mutual love of Godflesh, Today Is The Day, Nailbomb, Throbbing Gristle and Hanatarash, songs were crafted, scrap metal was distorted and manhandled and performances have been seen by some. The debut album "For The Leeches" came out August 2022 and the second album "78.88.98" will be out July/ August of 2023 on Phage Tapes.