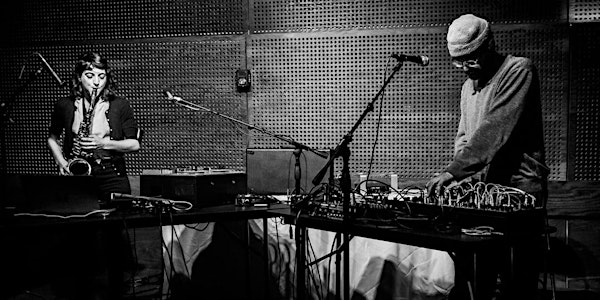 Lampo: Ben Vida and Lea Bertucci
Ben Vida and Lea Bertucci perform "My Words Came Out Slow and Odd"
When and where
Location
Graham Foundation Madlener House 4 West Burton Place Chicago, IL 60610
About this event
Lea Bertucci and Ben Vida will present "My Words Came Out Slow and Odd," a text-based composition for voices and electronics, trumpet and reeds.
The duo's new work pushes the boundaries of language and intelligibility and extends the human voice through the aid of creative electronic processing. What new modes of communication emerge when language is in a constant state of morphology? How quickly can we recalibrate to allow for complex meaning to be projected onto abstraction? "My Words Came Out Slow and Odd" is a clattering, psychedelic whirl of heteroglossia, smears, and stutters.
Ben Vida and Lea Bertucci began collaborating during the summer of 2021, while living on opposite sides of the same mountain outside of Woodstock, New York. What started as a conversation between friends slowly developed into a unique form of nonhierarchical improvisation, one that examines the very nature of creative dialogue.
Ben Vida (b.1975) is a composer, improviser and artist. His work explores aural phenomena, language, durations and systems. Lea Bertucci (b.1984) is an artist who works with sound. In addition to her longstanding practice with woodwind instruments, her work incorporates multichannel speaker arrays, radical methods of free improvisation, and creative misuses of audio technology.
Note that seating for this performance is limited. Reservations are required for entry. If you make a reservation and then are no longer able to attend, please cancel your reservation through Eventbrite or contact us to release the spot to someone on the waiting list. Masks are strongly encouraged.
Since 2010 the Graham Foundation has partnered with Lampo to produce an international performance series held at the Madlener House. Lampo, founded in 1997, is a nonprofit organization for experimental music and intermedia projects.
Photo: Peter Ganushkin
Lampo, established in 1997, supports artists working in new music, experimental sound and other interdisciplinary practices. The Chicago-based organization's core activity has been and remains its performance series. Rather than making programming decisions around tour schedules, Lampo invites selected artists to create and perform new work, and then the organization provides the space, resources and curatorial support to help them fulfill their vision. Lampo also organizes artist talks, lectures, screenings and workshops, and publishes written and recorded documents related to its series.
Visitor Guidelines: Masks are strongly encouraged. Visitors to the Graham Foundation understand that there is an inherent risk of exposure to COVID-19 in any public space where people are present. Chicago's current COVID-19 Community Risk Level is LOW.
Should the Chicago COVID-19 Community Risk Level rise, masks may be required. Learn more about the Centers for Disease Control and Prevention (CDC) and Chicago's Community Levels here. When masks are required, they must cover the nose and mouth at all times and meet CDC standards. Disposable masks are available upon request and will be provided to visitors as required.
Accessibility: Events are held in the ballroom on the third floor, which is only accessible by stairs. Please contact us at 312.787.4071 or info@grahamfoundation.org to make arrangements.