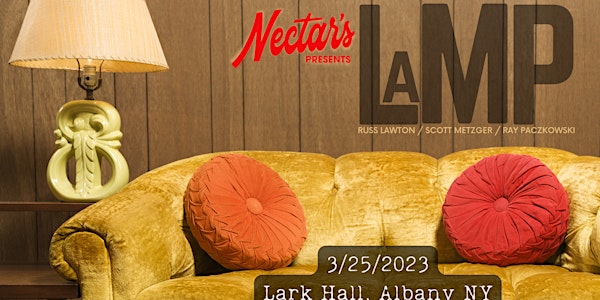 LaMP (Russ Lawton, Scott Metzger, Ray Paczkowski) w/s/g FUNGKSHUI
Nectar's Presents LaMP featuring Ray Paczkowski & Russ Lawton, Trey Anastasio Band/Soule Monde band mates and JRADs, Scott Metzger.
Date and time
Starts on Saturday, March 25 · 8pm EDT
Location
Lark Hall 351 Hudson Avenue Albany, NY 12210
About this event
Nectar's Presents: LaMP — the project featuring Trey Anastasio Band/Soule Monde band mates, keyboardist Ray Paczkowski and drummer Russ Lawton, and Joe Russo's Almost Dead guitarist Scott Metzger. In case it's not obvious, the band takes its name from the first letters of each members' surname.
The trio debuted at a show in December 2018 at Nectar's in Burlington, Vermont. They then reconvened last summer and held recording sessions with Roger Stauss at Sugarhouse Soundworks in Burlington.
Quote from Jambase from Metzger:
"With Russ and Ray being so much of a team as they are they've done who knows how many gigs together? It's been a good challenge to join them to try and add something to their Vulcan mind-meld level of music-making while adding something to the foundation they've built.
I'm in Brooklyn, and Russ and Ray are up in Vermont. We wrote everything via the internet. We figured out telecommuting and working from home before it was fashionable [laughs]. We'd usually start with Russ sending around a drumbeat he was working on, then Ray and I would put down ideas and we'd send them back and forth, editing everything as we went along. When we finally found some time to record, I drove up to Vermont, we took a day to flush everything out and rehearse, then spent two days recording."
Artist website/socials:
https://soulemonde.com
Asbury Park, NJ based Psychedelic funk Quartet FUNGKSHUI has a lot to offer considering their short existence. This band has quickly developed an unbreakable chemistry that is quite noticeable on stage. Seamless grooves and segues combined with mind shattering peaks make this band one to look out for. Finalizing their lineup in 2021 FUNGKSHUI consists of Jack Reed on Guitar/Vocals, Jon Schepis on Bass/Vocals, Kyle Donovan on Drums/Vocals and Max Vitale on Guitar/Vocals.
With well over 200 shows under their belt & 7+ states visited the FUNGK shows no signs of slowing down...In just a few years time the band has opened for notable touring acts such as Pink Talking Fish, Eggy, Daniel Donato & Cosmic Country, Kick the Cat, Particle, Kung Fu, Pimps of Joytime, Consider the Source, as well as performing the official after party Inside the Stone Pony following Umphrey's McGee summer stage show in 2022. Ending their year in November, the band sold out their first ever headlining show at the world famous Wonder Bar in their hometown of Asbury Park, NJ. FUNGKSHUI is continually proving that they are a force to be reckoned with. Catch them in a city near you in 2023!