Lamond-Riggs Citizens Association Spring 2017 Scholarship Fundraiser
Description
The Lamond-Riggs Citizens Association invites you to our Spring 2017 Scholarship Fundraiser featuring Shirleta Settles on May 20, 2017!

Every year, the LRCA awards academic excellence scholarships ranging in amount from $500 to $1000 to deserving neighborhood students to support their pursuit of higher education.

Enjoy a wonderful afternoon of blues, jazz, and gospel with acclaimed singer and Riggs Park resident Shirleta Settles, while helping to support scholarships for deserving high school students in our community. To preview the wonderful voice of Ms. Settles, visit shirletasettlessings.com.
The cost* of your ticket ($30/ticket + online fees**) provides table seating and light refreshments, so gather a few friends and neighbors and come on out!
You can also make a donation of any amount to the LRCA by clicking on the "Tickets" button.
Visit the LRCA website to learn more about how the LRCA serves the community and how you can help! And check us out on facebook and twitter.
*The LRCA is a 501(c)(3) tax-exempt nonprofit organization. The cost of your ticket and any additional donations are tax-deductible to the extent permitted by law.
**To avoid paying online ticket fees, purchase tickets in person at an LRCA meeting on April 3 or May 1, 2017, at 7:00 pm at LaSalle Backus EC (501 Riggs Road NE) or contact Barbara Rogers at lamondriggscainfo@gmail.com.
We appreciate your support.
Pictured below are two of three LRCA 2016 scholarship recipients (center) with LRCA officers and scholarship committee.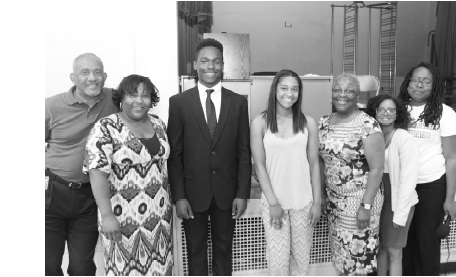 Date and Time
Location
People's Congregational United Church of Christ
4704 13th Street NW
Washington, DC 20011