"a Seed is useless and impotent unless it is put in its appropriate matrix."
About this event
JOIN US for the release of our SECOND QUARTERLY JOURNAL -- SEED -- at XIX STUDIOS in GLASSELL PARK// MARCH 23RD // 8PM // FREEEE
Art Exhibit ~ Astrological Readings + Short Talk on 'Unfolding' ~ Aura Photography ~ Tarot ~ Video Projections
JOURNALS + secret gifts will be available for $15!!<33
Contributors:
Frances Cocksedge, Sarah Manuwal, Julie Weitz, Isa Radojcic, Katya Usvitsky, Jessica Dean Harrison, Sabina K. Yannone, Jasmine Little, David Orr, Russell Sadeghpour, Gillian Masland, Harmony Ellington, Zac Monday and FemmeBit artists Anna Garner, Ahree Lee, Kate Parsons, Anna Luisa Petrisko, Mitra Saboury, Nina Sarnelle, and Sarah Zucker.
.
.
Los Angeles Metaphysical Library Bio:
We are a 501c3 nonprofit lending library focused on collecting and sharing esoteric literature and art. Along with a growing collection on subjects ranging from magick, mysticism, astrology, UFOs, ancient civilizations, and mythology - we also offer original publications and host installations, lectures, workshops, film screenings, and much more at various locations throughout Los Angeles.
All of the proceeds from these events are going towards the renovation of a school bus to permanently house our collection so that we can visit all neighborhoods and be accessed by all regardless of age, race, sex, gender, and socio-economic status.
.
.
.
IG: @LA_metaphysical
FB: @LAmetaphysical
Twitter: @LA_metaphysical
LAmetaphysical.com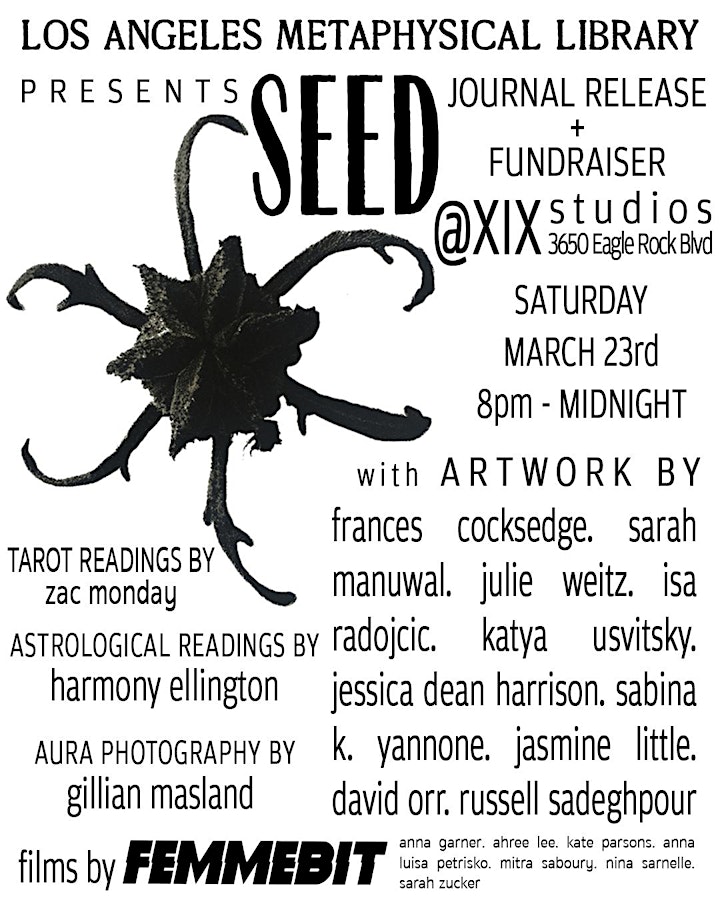 Organizer of LAML presents: Journal Release Party & Fundraiser!!