Description
Lama Tsultrim Allione launches
Wisdom Rising: Journey into the Mandala of the Empowered Feminine
This evening talk is based on Lama Tsultrim Allione's new book: Wisdom Rising: Journey into the Mandala of the Empowered Feminine. A dynamic spiritual model based on 1000-year-old tradition from Tibet meets the gale force winds of the current world situation. She masterfully shows us the secret to harnessing the energy of the fierce wise dakini a previously forbidden aspect of the feminine, whose juicy potency is so needed now.
Through the Dakini Mandala, a universal template of wholeness, each of the five dakinis, embodiments of the fierce feminine, transforms an emotional encumbrance into wisdom. The mandala brings strength from the inside out giving a practical method to become an effective agent of transformation in your world.
After an introduction to the mandala and the dakini principle you will be guided in a short experiential journey into the mandala of your innermost being, where the empowered feminine resides.
Your ticket includes a copy of the book & an opportunity to have your book signed by Lama Tsultrim Allione.
• • • • • •
"Like our mother Tara who knew she could attain enlightenment in a woman's body, Wisdom Rising is a stunning call to women to trust our bodies and beings to manifest the energy, vision, and spirit to heal and transform these terrible times. A book full of wisdom, experience, stories, dakinis, mandalas, practices and possibility." -Eve Ensler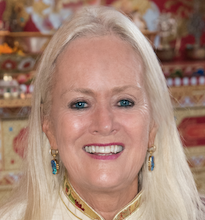 Lama Tsultrim Allione is an author, internationally known Buddhist teacher, and the founder and resident lama of Tara Mandala. She is author of Women of Wisdom and Feeding Your Demons: Ancient Wisdom for Resolving Inner Conflict and has just completed her new book, Wisdom Rising: Journey into the Mandala of the Empowered Feminine, to be published in May 2018. At the same time, Lama Tsultrim continues to guide Tara Mandala and thousands of students around the world. For more information on Lama Tsultrim Allione watch her biography "Feeding Your Demons" and visit the Tara Mandala website.