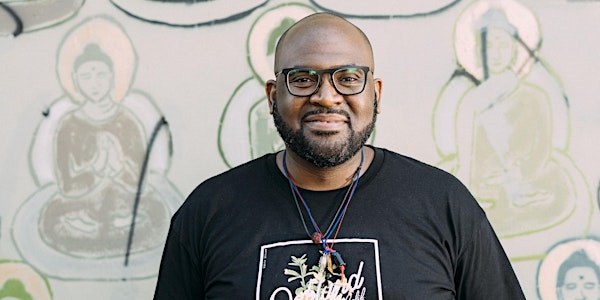 Lama Rod Owens at East Bay Meditation Center
East Bay Meditation Center warmly invites you to an evening with Lama Rod Owens!
When and where
Location
ONLINE ONLINE Oakland, CA 94610
About this event
East Bay Meditation Center warmly invites you to 
Going to the Edge: Exploring the Dharma of Grief in Times of Struggle
We are living through a period of apocalypse, a chaotic period of truth telling and unveiling. Many of us are struggling to make sense of the impact we are experiencing in our personal lives, relationships, and in our communities.
To move through this period, we must rely on our capacity to grieve, to touch into the sadness of change and loss and tend to it with compassion. In this compassion we can allow our hearts to break and in the breaking be held by the understanding that we are not alone in this grieving.
Once we allow ourselves to be in relationship with our grief, then it can begin to teach us how to move through sorrow and hopelessness into clarity and connectedness. Yet most importantly, our relationship to grief through compassion opens up the space for joy and gratitude. In this talk, Lama Rod will explore this liberating relationship with grief through guided practice and discussion.
Saturday, October 23 5:00PM - 7:00PM PST
5:00 - 6:00 Dharma Talk (for all ticket holders)
6:00 - 6:30 Q&A Session (to submit a question, please email generosity@eastbaymeditation.org)
6:30 - 7:00 Reception (For ticket holders $100+)
+ ASL Interpretation Provided, Closed Captioning Provided.
+ Event will be recorded and sent to ticket holders within a month of the event.
Why is the reception only available to certain ticket holders?
This event is a major community fundraiser for the East Bay Meditation Center, and we ask that you give as generously as you are able to support our programs, for the benefit of all. In able to provide accessible programming to all throughout the year, we hold a few fundraising events throughout the year to resource our center.
Thank you for your practice of generosity!
Can I attend if I can't afford a ticket to the Dharma talk?
If you would like to receive a Generosity Ticket to attend the event without charge, please email generosity@eastbaymeditation.org.
How can I support someone who is unable to purchase a ticket to attend the Dharma talk and/or Reception?
If you would like to make an offering to support someone who is unable to give financially to attend, please purchase a Generosity Ticket below. East Bay Meditation Center will distribute these tickets as needed.
Please Read!
Zoom links will be sent out to all registered guests in the ticket confirmation email after your purchase and again 48 hours before the event. The main Zoom link and ASL Interpretation Zoom link are the same. The link for the Reception will be sent 48 hours before the event. Please check your spam folder on that date, as Eventbrite messages may end up there!
About Lama Rod Owens: 
Lama Rod Owens is a Buddhist minister, best selling author, activist, yoga instructor and authorized Lama, or Buddhist teacher, in the Kagyu School of Tibetan Buddhism and is considered one of the leaders of his generation of Buddhist teachers.
He holds a Master of Divinity degree in Buddhist Studies from Harvard Divinity School and was included in the 2021 GOMES STB '68 Distinguished Alumni Honorees List. He is the co-author of Radical Dharma: Talking Race, Love and Liberation. Owens is the co-founder of Bhumisparsha, a Buddhist tantric practice and study community.
Lama Rod has been featured on Good Morning America, the BBC, and Sirius XM Radio's Urban View. Has also been featured in the Washington Post Magazine and published in Buddhadharma, Lion's Roar, Tricycle and The Harvard Divinity Bulletin. He has offered talks, retreats and workshops in more than seven countries. A book for these times, Love & Rage: The Path to Liberation Through Anger was published in June 2020 and featured in the L.A Times Top Ten Best Sellers list for 2021. Critically acclaimed for its prophetic truth, timing and honesty and wisdom, in dealing with the multiplicity of challenges this generation is waking up to.