LAM Inspire: Entrepreneurship

Thursday, July 30, 2015 from 6:00 PM to 9:00 PM (PDT)
Event Details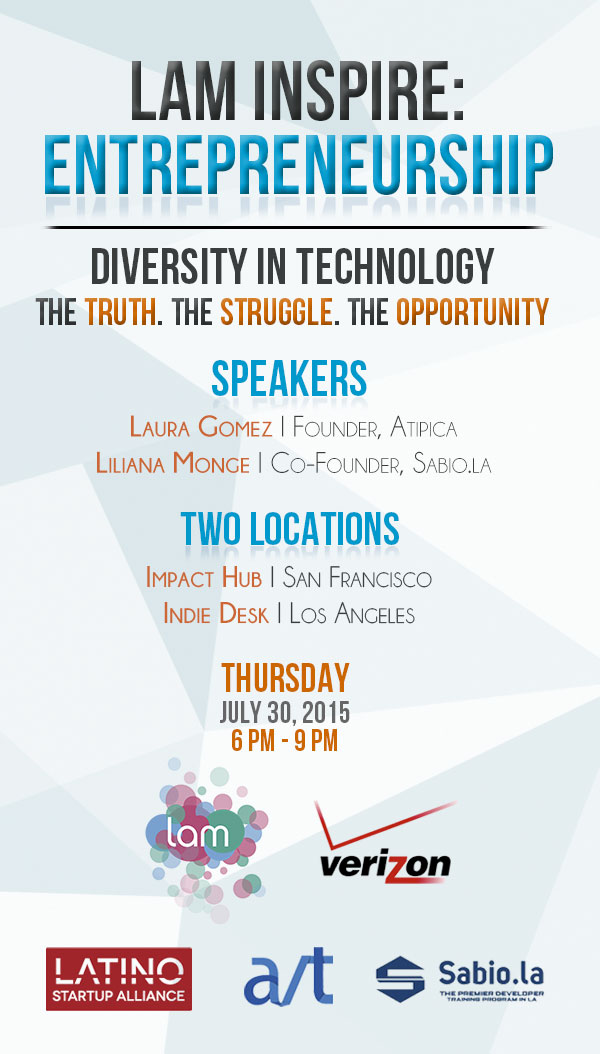 Technology and diversity have been topics of interest in today's news. What is the importance of having diversity? Does increasing diversity in technology really make a difference? What do we have to do to make the change happen?
LAM invites you to a discussion with two entrepreneurs who are set out to change today's standard of diversity in technology. LAM Inspire will curate a discussion on how individuals look at technology & diversity, the need for diversity today, and what people are doing to make the change.
LAM Inspire will presented in two locations at the same time and be live streamed for people to interact at both locations with both speakers and guests:
Impact Hub: 901 Mission St Suite 105, San Francisco, CA 94103
Indie Desk: 816 S Broadway, Los Angeles, CA 90014
Be inquisitive and come with an open mind.  Join the conversation at #LAMInspire
About the Entrepreneurs

Laura Gomez | Founder, Atipica | San Francisco
Laura is the founder and CEO of Atipica, a startup with technologies of APIs, consumer web, executive and university software for optimized, actionable and diverse top of the funnel talent acquisition. This is her second startup, she has a successful consulting business as well. Laura has worked at Twitter where she was a founding team member of the International team and lead Twitter's product expansion into 50 languages and dozens of countries. She has also worked at Jawbone, YouTube, Google Brasil and AKQA. Laura has been featured in dozens in publications and television programming around the world, including USA Today, Forbes México, where she was named as one of the most Powerful Women. She was recognized by the Department of State and Secretary of State Hillary Clinton for involvement in the TechWomen Program - only female leader at Twitter to participate in 2012. Currently she is serving on the board of Institute for Technology and Public Policy alongside Lt Governor Gavin Newsom and former Secretary of State George P Schultz.
Follow her at @Laura

Liliana Monge | Co-Founder, Sabio.LA |  Los Angeles
Liliana Aide Monge is the Co-Founder of Sabio.LA, and innovative social enterprise working to increase the number of women, and people of color that become professional software engineers.  Since its inception, 75% of its graduates are either Latino or African American, and 40% are women, which is 10% higher than the industry average. Sabio offers training to anyone that is highly motivated and no prior technical experience is needed.  Liliana was born in Northern Mexico, and came to the states when she was 5 years old.  She lived in Los Angeles for most of her childhood with her mother and older Sister.  She attended Wellesley College and graduated with a BA in Biology in 1999. Since then she has made Los Angeles her home, alongside her Co-Founder, and husband, Gregorio Rojas.
Follow her at @wesabio
---
About the Hosts
LAM Network
LAM Network is a multi-platform network connecting Latino professionals online and in person.  Through a social media network and inspiring events, LAM creates strong and dynamic opportunities for like-minded individuals to foster valuable relationships. For more information, visit http://www.lam-network.com
Latino Start-Up Alliance
Latino Start-Up Alliance is committed to building the foundation that fosters an ecosystem to support Latino tech entrepreneurs and future innovators by providing a community of peers, resources, mentors, & investors. For more information, visit  http://latinostartupalliance.org
Verizon
Verizon is committed to supporting and enhancing Latino Small Business' productivity, profitability and growth. Learn more at Crea Futuro.
Organizer
LAM Network
LAM Network is a multi-platform network connecting Latino professionals online and in person.  Through a social media network and inspiring events, LAM creates strong and dynamic opportunities for like-minded individuals to foster valuable relationships.  LAM is an exclusive community of influencers, highly educated, newly affluent, and urban Latinos engaging and interacting in social, educational and political advocacy activities. For more information, visit http://www.lam-network.com
If you're not a member, apply for membership: http://lam-network.com/register
LAM Inspire: Entrepreneurship