Description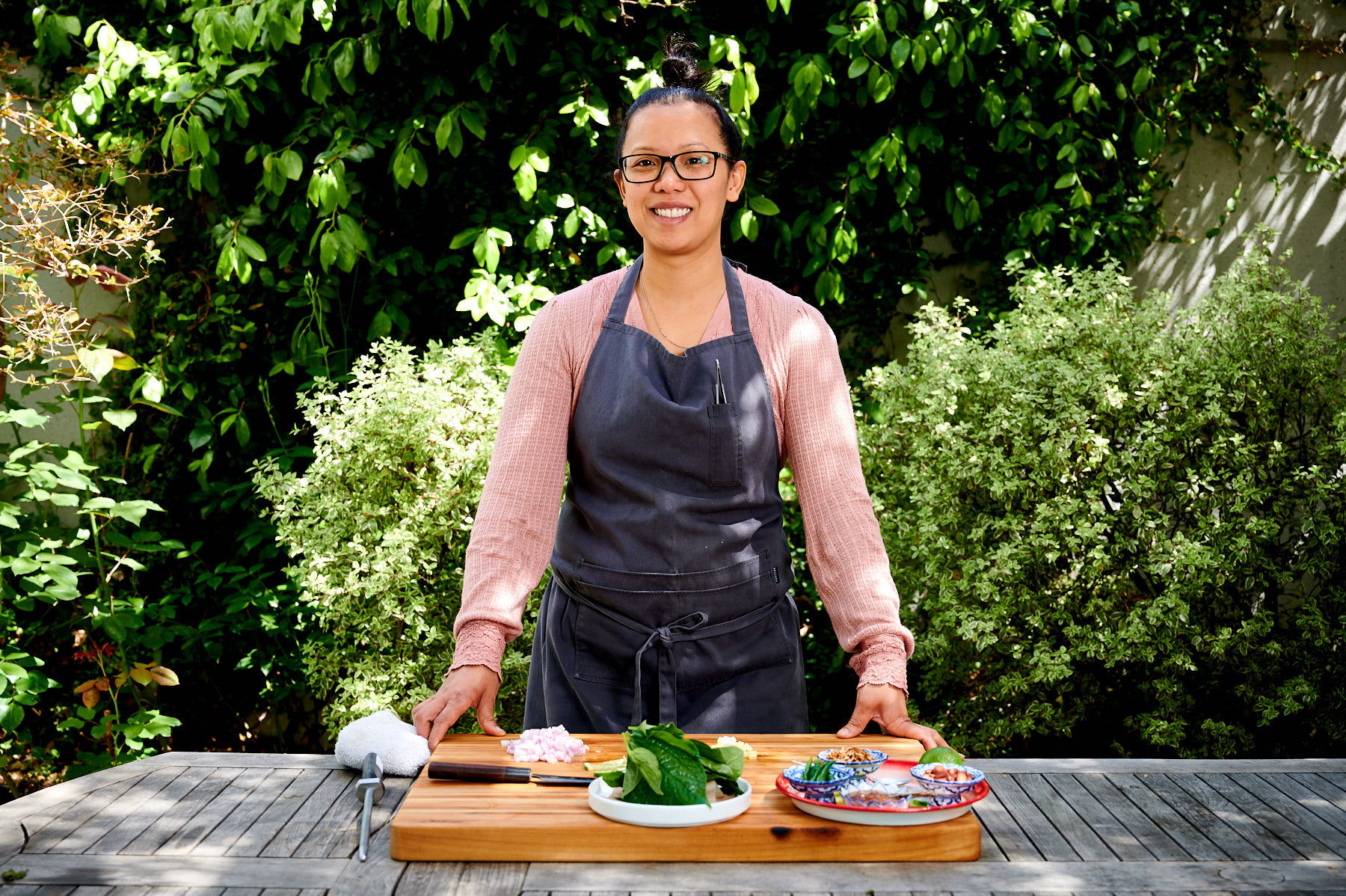 Yes she's back again! For those of you who missed Lalita's last event with us in May, this is your second chance to try her cooking this year, this time inspired by the flavors and cooking techniques of Northern Thailand. Chef Lalita Kaewsawang is the one-woman engine behind the widely popular Santa Cruz pop-up, Hanloh Thai Food. Lalita came to the US as a 13-year-old, expecting to only stay for a year but ended up building a life and career in food in this country. Her pop-up venture and its focus on Thai comfort food is an ode to the street vendors of her childhood who fed her and inspired her with their craft and dedication to the trade. Learn more about Lalita's story on our blog and read about her last event with us on The Six Fifty.

Hanloh's August menu featured many dishes from Austin Bush's cookbook, The Food of Northern Thailand. It was such a huge hit among her customers, she's delighted to bring some of that Hanloh magic to Tapestry Suppers for our first Fall event!


---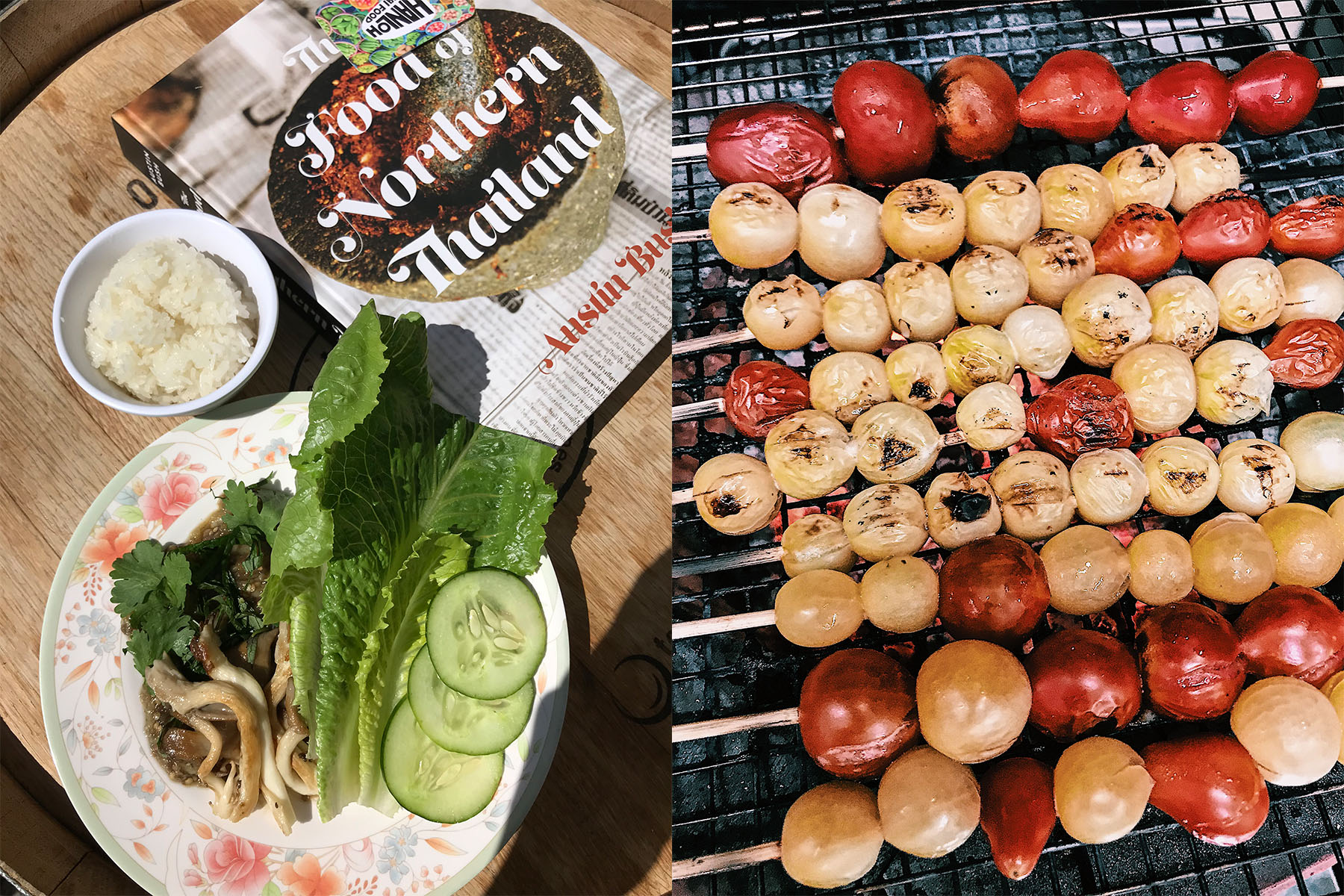 "I love "The Food Of Northern Thailand" cookbook. I am from Ampoe San Pa Tong in Chiang Mai, which falls in the broader region that Austin focused on for this book. No one actually knows that town except for a handful farangs (foreigners) who really spend their time to explore that region beyond the Night Bazaar and elephant tours. I did not expect it, but I ended up learning more about the history and foodways of a place I grew up in through this book.

A first reading of the book left me feeling unsure about my ability to cook from it. Then I reread it more carefully with an open mind, but I still worried about being unable to find certain ingredients such as fermented bean disks or mak kuen, a type of pepper. I was delighted to discover that most of the ingredients required are easily available at my local markets, inspiring me to feature the book's recipes at my pop-ups and for this Tapestry Suppers event.

For example, this summer, we have an abundance of eggplants (whether Japanese, Chinese or Italian - they all do the job!), tomatoes and peppers at the market. Spring onions with green tops and bulbs are so sweet and tender right now, they are a perfect substitute for Chinese onions used in the book. We are serving Akha-style mashed potatoes with Akha-style meat loaf, dishes that sound familiar to us but are also very different in their seasoning and cooking techniques. Even the mushrooms and yu choy in this menu are cultivated locally in Santa Cruz County. The meat is from Llano Seco Ranch, its already so flavorful and sweet and it gets even better when cooked in banana leaves over a charcoal fire.

I encourage you to use just a spoon and your hand with this meal. Grab a piece of vegetable and scoop up a little dip (don't double dip, of course). Peel a charcoal-roasted egg. Grab a piece of meat and sticky rice for a one-bite delight. Then chase it all down with a very tart soup!"


MENU:
NAM PRIK // Relish (vegan & gluten-free):
served with raw and cooked market vegetables and charcoal roasted eggs

Roasted Eggplant
Pounded grilled eggplant, bird's eye chili, garlic

Akha-Style Grilled Tomatoes & Chilies
Fire-roasted chives, spring onions, mild peppers

CHARCOAL-GRILLED MAINS:

Akha-Style Pork Loaf
Llano Seco pork cooked in banana leaf, mint, cilantro, garlic chives

Pounded Beef
Tamarind Sauce

Akha-Style Mushroom Loaf (V, GF)
Mushrooms cooked in banana leaf, mint, cilantro, garlic chives


SIDE DISHES (vegan & gluten-free):

Akha-Style Mashed Potatoes
Garlic chives, spring onions, chilies

Sour Rice Brine Yu Choy Soup

Sticky Rice


---

ADOPTED CHARITY:

We commit to donating a portion of our proceeds from all events in 2019 to The Center for Investigative Reporting. Founded in 1977 as America's first nonprofit investigative journalism organization, The Center for Investigative Reporting has developed a reputation for being among the most innovative, credible and relevant media organizations in the country. Their mission is to engage and empower the public through investigative journalism and groundbreaking storytelling that sparks action, improves lives and protects democracy.

Learn more about their award-winning work at Reveal News.


---
FAQs
Is my ticket transferable?
Yes. If you are unable to attend an event you are welcome to pass this along to a friend who can take your place. Please send a note to hello@tapestrysuppers.org informing us of this change.

What's the refund policy?
For cancellations up to a week (7 days) prior to event date: 100% refund minus $3 cancellation fee.
For cancellations up to 3 days prior to event date: 50% refund minus cancellation fee.
No refunds for cancellations made less than 3 days prior to the event.

How can I contact the organizer with any questions?
Send an email to: hello@tapestrysuppers.org.