Description
50 years--Time to celebrate!

Beginning on October 19, 2018 the Lakewood High School Class of '68 will gather to spend a few days sharing memories (and perhaps a few toasts) with our former classmates. Our location is the newly reimagined downtown St. Pete. Activities will include a poolside reception, the traditional dinner dance with a fabulous band we all know and love and some very special activities. Plus plenty of time to hang out and reminisce.
If you cannot picture St. Petersburg without rows of green benches filled with old people, you may be surprised. There is now an active art scene, a score of craft breweries and very hip restaurants. Central Avenue is now filled with coffee bars and murals. Everything downtown is easy to reach from our central location and still not too far from the beaches if you need a bit of sun and sand. If you just want to chill out and chat, our hotel has a great pool area and a convenient bar/restaurant/bakery.
Our 50th reunion is very special. Since we first announced it, we have heard from classmates near and far. We expect a great turnout. And the crew has been working hard to put together a program that is both inviting and affordable.
We are now selling tickets to two events: a casual get-together on Friday night and a slightly more dressy/casual Saturday night dinner dance with live entertainment. Come to one or--for the full 50-year reunion experience--come to both. Lots of other activities are being organized at no cost. So please join us for the weekend, or make it a mini-vacation and stay a little longer.
---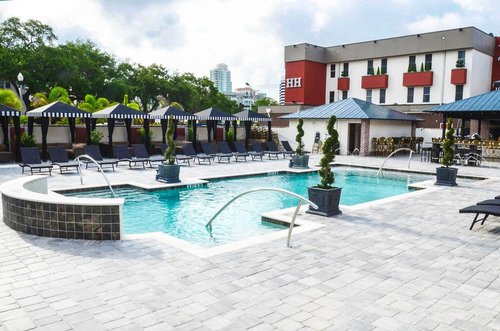 Location:
The Hollander Hotel is our base for reunion activities. It is in downtown St. Pete and has free parking, free shuttle service, a restaurant, a terrific pool/pool bar and a coffee shop/bakery. This is a historic hotel that has been completely renovated with all new features, including free wifi, a mini-fridge, micro-wave and coffee maker in each room. Check them out at www.hollanderhotel.com
There is no obligation to stay at the Hollander. If you choose to stay, we have negotiated a discounted rate for all those attending the reunion. The rates start at $107 for a standard queen and go to $159 for a deluxe suite. These are Friday night rates, Saturday night will be $10 higher. As a courtesy to our group, no deposit will be required.
To make your reservation, call the hotel at 727-873-7900 and be sure to tell them you are part of the "LHS 50th Reunion" group. Call now, our block of rooms is selling out fast!
---
Events:
Friday, Oct. 19: Registration will begin in the lobby of the Hollander on Friday afternoon and continue throughout the evening around the pool area. Check in at the hotel. Reacquaint yourself with old friends. That evening we will have a casual meal at the hotel. Tickets are required.

Saturday, Oct. 20:

During the day we will have several special activities led by our classmates. Please check back here, or follow us on FaceBook, or read our newsletter for updates on the activities.

On Saturday night we will go to a nearby banquet facility for a dinner dance with music by the Tempests. Tickets are required.

Sunday, October 21: We wind up with a brunch, more time to hang out and enjoy St. Pete and all those long-lost Spartans!
What will it cost?
Friday night tickets are $40 which includes a light meal and a cash bar, in a beautiful setting at the Hollander pool with some sixties tunes to set the mood

Saturday night tickets are $65 which includes a multi-course buffet dinner and a cash bar, with a special reunion program and dancing to music by the Tempests.

On Sunday the hotel offers a $12 all you can eat brunch and we will have an area for our class to sit together. This is totally optional and will be paid directly to the hotel.

Click on the "tickets" tab on this page to buy your tickets directly.
Do it your way--come to one event, come to both events, and we urge you to come to all our free special activities, to be announced.
Donations are requested
We are trying to make this reunion accessible to all. We are pricing tickets for our two paid events as low as we can, just enough to cover the costs. But there are some other, necessary costs to put this together. So, if you can, please contribute a few dollars to cover ticket processing costs or maybe more than that to cover other expenses. It would be much appreciated!
Want more information?
We will be adding information to this site regularly, so please do check back.
And we would love to chat with you, so please join our Facebook group, LHS Class of 1968 Reunion, https://www.facebook.com/groups/1969176049992445/
Do read 'the beat goes on," our reunion newsletter: http://conta.cc/2GbqBan. ,https://conta.cc/2JqWpGM and https://conta.cc/2BOXaKx. Three issues have been published so far and there are more to come.
Be sure we have your most recent contact information: Send an email to Vicki Hyams Johnson (vjohnson333@hotmail.com) to be sure we know where you are.