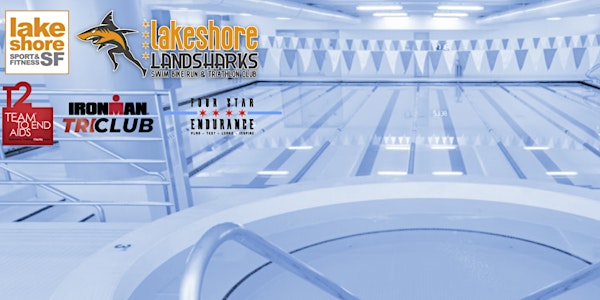 Lakeshore Landsharks Adult Group SWIM TECHNIQUE: 2023 Season
Learn to build endurance, speed, and master the freestyle swim stroke - for all ages and ability levels of swimmers and triathletes!
Date and time
May 8 · 5:30pm - December 25 · 7:30pm CDT
Location
Lakeshore Sport & Fitness 211 North Stetson Avenue Chicago, IL 60601
Refund Policy
Contact the organizer to request a refund.
About this event
231 days 3 hours

Mobile eTicket
2023 "SPRING SEASON" NOW OPEN FOR REGISTRATION AND OPEN TO THE GENERAL PUBLIC!
2023 MONTHLY START DATES:
SPRING SEASON: "Week of" Feb 6th, Mar 6th, Apr 3rd
SUMMER SEASON: "Week of" May 8th, June 5th, July 3rd, July 31st
FALL SEASON: "Week of" Sept 5th (no class Memorial Day), Oct 2nd, Nov 5th, Dec 4th
SWIM TECHNIQUE CLASSES: MONDAYS @ 5:30pm & 6:30pm!
Join our beginner-friendly SWIM TECHNIQUE classes to develop greater ENDURANCE and SPEED with FREESTLE focused drills & skill development with an overall focus on the finer points of "functional freestyle" swimming technique - including monthly underwater swim video analysis! Some of our SWIM TECHNIQUE classes will feature lower total yardage and more drill work compared to MASTERS SWIM classes, but each class will also have lanes broken up by ability level and workouts tailored based on who signs up and shows up for each training block with all ability levels accommodated. Total workout yardage will generally target the following, especially for our faster swimmers:
5:30pm = SWIM TECHNIQUE I (up to 1,500 - 2,400 yards per class)
6:30pm = SWIM TECHNIQUE II (up to 2,500 - 3,000 yards per class)
LEARN MORE AND SIGN UP AT: http://swim.eventbrite.com
✶✶✶✶ ADDITIONAL SWIM CLASSES ✶✶✶✶
Not sure if SWIM TECHNIQUE classes are for you? Check out our ADULT LEARN TO SWIM (ALTS) program for true beginners and our TRI CLUB COMMUNITY SWIM program for more advanced and experienced triathletes!
ALTS GROUP CLASSES: http://alts.eventbrite.com
ALTS PRIVATE LESSONS: http://www.4starendurance.com/swim-lessons
TRI CLUB COMMUNITY SWIM: http://triclubswim.eventbrite.com
✶✶✶✶
NOTE: LAKESHORE SPORT & FITNESS (LSF) MEMBERS - select "TICKETS" then click on "ENTER PROMO CODE" to use code "lakeshore" for your additional members-only discount for DROP IN and SINGLE MONTH options!
SIGN UP FOR 2+ MONTHS AND SAVE 20%! Simply select the 2 or 3 months options to save! Other clubs and charity partners please contact us at COACH@4STARENDURANCE.COM to inquire about additional group discounts that may be available for drop in and single month options!
SEASON PASS (SUMMER & FALL BONUS)! Sign up for 3 months and get your 4th month free during our summer and fall season!
✶✶✶✶
✶✶✶✶ NEW LANDSHARK CLUB OPTION ✶✶✶✶
Join in all of our programs via the new LAKESHORE LANDSHARKS club unlimited-class "TRIATHLON TRAINING PACKAGE" options for additional discounts, the best rates, added team perks, bonus swag, and pro-rated options at RunSignUp.com/Landsharks!
✶✶✶✶ LAKESHORE CLUB DISCOUNT ✶✶✶✶
NOTE: Both Lakeshore Sport & Fitness (LSF) health club members and Lakeshore Landshark triathlon club members can use code "lakeshore" to sign up for DROP IN or SINGLE MONTH packages at a reduced rate! Anyone can sign up for 2 or 3-month packages to save 20%!
✶✶✶✶ SUMMER SCHEDULE NOTICE ✶✶✶✶
SUMMER SCHEDULE NOTE: THURSDAY CLASSES MOVE TO OHIO STREET BEACH (WEATHER PERMITTING) DURING OUR JULY-AUGUST SUMMER "PEAK SEASON" for "DISTANCE SWIMS" at 6:30pm so arrive early to get ready for these! Check TEAMREACH.COM phone app (group code "4Star") to RSVP and receive weekly push notifications & alerts due to weather.
✶✶✶✶ #SwimSafe #LadybugProject ✶✶✶✶
Participants in our summer season can receive a free #LadybugProject open water swimming buoy! Learn more about our this initiative at: http://www.4starendurance.com/ladybug
Are you part of a USA Triathlon (USAT) or IRONMAN TRI CLUB? Or want to join one?
We want you... and your friends to join us!!!
CHECK OUT OUR NEW OFFERING AT:
http://triclubswim.eventbrite.com
TRI CLUB COMMUNITY SWIM: THURSDAYS 6:30pm shared-lane "masters swimming" for triathletes!
Join in our weekly TRI CLUB COMMUNITY SWIM at LAKESHORE SPORT & FITNESS (LSF) - ILLINOIS CENTER... presented by Tri312.com, 4 STAR ENDURANCE, BFF BIKES, and the LAKESHORE LANDSHARKS triathlon club! These shared lane swimming group workouts are less "stroke instruction" focused and more of a typical "masters swimming" format with a heavy priority on higher volume freestyle training. These classes are ideally suited for experienced swimmers and triathletes looking for camaraderie to "have fun and train hard" with other like-minded multisport athletes. These classes are fun, very social, and typically will feature a TIME TRIAL swim "fitness check" test challenge each week to maintain focus on fitness gains!
If you're not already part of an IRONMAN TRI CLUB community, you can join our free "Chicago united" team of triathletes by selecting "CHICAGO IRONMONSTERS - p/b 4 STAR ENDURANCE" as your TRI CLUB AFFILIATION under the settings of your profile account when you log in at IRONMAN.COM to start to enjoy tri club benefits as part of our larger community! (please ensure that you use the same email address for your account that you register for Ironman branded races with)
PARTNER CLUB DISCOUNTS AVAILABLE!
Are you a member of one of our charity & partner organizations such as 4 STAR ENDURANCE, CHICAGO TRI CLUB (CTC), TEAM TO END AIDS (T2), WELL-FIT, VISION QUEST, or the LAKESHORE LANDSHARKS club? If so, please contact us at COACH@4STARENDURANCE.COM with your membership affiliation and we'll send you a special members-only discount code for a SINGLE MONTH or DROP IN class!
4STAR CARES - THE 4% BACK PLEDGE
At least 4% of all proceeds from 4 STAR ENDURANCE programs are donated back to local endurance sports charity partners and programs. We also encourage all of our athletes and coaches to be "four star citizen athletes" and give or volunteer back to the community however you can every year! Learn more about how you can give back or get more involved at www.4starendurance.com/charity
4 STAR ATHLETE CLUB: Make no small plans... dream big!
Consider joining our 4 STAR ATHLETE CLUB for a complete TrainingPeaks PREMIUM training program upgrade and a special discount code to save up to 20% off this training program + receive additional VIP perks to help you PLAN. TEST. LEARN. INSPIRE! Join today at http://www.4starendurance.com/club
If you have any questions or concerns, please don't hesitate to contact us at COACH@LANDSHARKTRIATHLON.COM
✶✶✶✶
LSF NON-MEMBERS:
If you are not a member of LAKESHORE SPORT & FITNESS (LSF) - ILLINOIS CENTER, please plan to arrive early your first time to sign a waiver at the front desk and feel free to call ahead to arrange for a tour of the facility. If you'd like to become a LSF member, simply mention that you are part of a 4 STAR ENDURANCE "preferred partner" program to enjoy an exclusive discount and special offer to join through our training programs!
LSF WAIVER: https://waiver.fr/p-RYsHN or http://tinyurl.com/lsf-waiver
COVID INFO: https://www.lakeshoresf.com/reopening/
LOCATION INFO (parking, etc.): https://www.lakeshoresf.com/illinois-center/club-info/
✶✶✶✶
PARKING INFO:
Discounted parking is available via a connected public parking garage at 221 N. Stetson with discounted validation tickets available for purchase at front desk for both GUEST and MEMBER rates, but cash not accepted (rates subject to change, but generally guests can pay a discounted rate of $10 for 2 hours, $13 for up to 3 hours, $16 for up to 8 hours). Metered street parking is also available out front of the facility along N. Stetson, and nearby garages feature plenty of readily available discounted parking options via SpotHero.com
LSF LOCATION INFO (parking, etc.):
https://www.lakeshoresf.com/illinois-center/club-info/
LSF PARKING GARAGE (221 N. Stetson):
#SPACEISTHENEWSAFE.... SAFETY IS OUR PRIORITY!
In order to provide a safe & fun training environment, we follow local guidelines that may include mask wearing (except actually when swimming - that would be tough!) and social distancing based on current guidelines. LSF has one of the largest and spacious facilities, complete with HEP Air Filter systems with MERV-13 filters, etc. but note that due to policy changes masks are no longer required (as of March 2022) but may become necessary whenever required by local guidelines. With a massive facility, you'll also enjoy training in one of Chicago's largest 8-lane indoor lap swimming pools with safe social distancing and "Return to Sport" best practices as outlined by the CDC, USA TRIATHLON, and US MASTERS SWIMMING.
Learn more at:
✶✶✶✶
ADDITIONAL NOTES & INFO:
Masks are no longer required (as of March 2022), but this is subject to change based on local guidelines. Must sign COVID WAIVER when you enter facility for first time - so please be ready to use phone to take photo of QR code for link to complete a "contactless" waiver on your phone - or see link above.
✶✶✶✶
LSF CHECK IN, POOL & LOCKER INFORMATION
Non-members must sign in at the front desk. The pool is located on lowest level (B5). Maintain social distancing when stopping at end of lanes whenever lane sharing with a partner. Whenever mask requirements are in place, please wear a mask on pool deck (when not actively swimming) - so we recommend bringing 2 masks in case one gets wet!
Locker rooms are available on level B2. The Men's lockers requires you to bring your own lock. The Women's lockers can be accessed via a key card (available from front desk when you check in). Additional showers & restroom available off the pool deck on level B5 (2 showers per gendered restroom) - so if you are coming in for a swim class and don't want to use the main locker rooms on level B2, simply come directly to the pool deck and you can change in the restrooms off the pool deck area. Towels provided on pool deck and in locker rooms. Please shower to rinse off before entering pool. Leave shower curtains open for disinfecting (see posted instructions in-club). Shower curtain closed means shower was disinfected by staff.