Description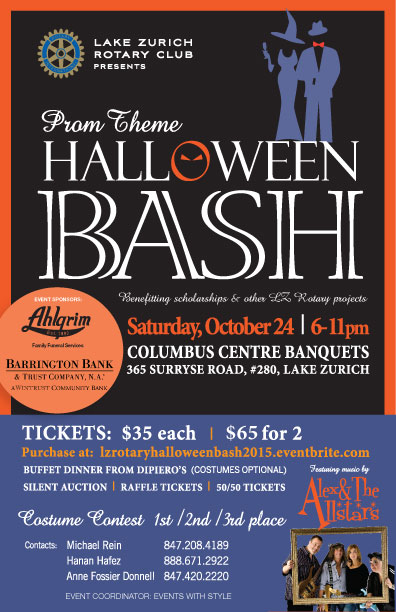 Organizer of Lake Zurich Rotary Annual Halloween Bash!! Event Sponsors, Ahlgrim Family Funeral & Barrington Bank & Trust!

The Rotary Club of Lake Zurich 
was chartered on September 27, 1979, having been sponsored by the Rotary Club of Barrington.
Membership represents a broad cross-section of community leaders and business men and women.
The Rotary Club of Lake Zurich meets every Friday at The Holiday Inn Express and Suites,197. S  Rand Road, Lake Zurich at 12:15 p.m. 
Weekly lunch programs typically feature speakers on a variety of topics.
In addition, there are a number of social events held throughout the year.
These include dinners, social gatherings, Rotary events, all of which are attended by members, spouses and guests.
The Rotary Club of Lake Zurich is governed by an elected board of directors led by the club president.