Event Information
Location
Lake Fanny Hooe Resort and Campground
505 2nd Street
Copper Harbor, MI 49918
Refund policy
Contact the organizer to request a refund.
Eventbrite's fee is nonrefundable.
The Lake Effect Bar & Grill's LAKE FANNY HOOE-DOWN 2, starring Ricky Skaggs & Kentucky Thunder , and Joe Nichols!
About this event
The Lake Effect Bar & Grill in beautiful Copper Harbor, Michigan proudly announces Lake Fanny Hooe-Down 2! Presented by Incredible Bank, & The Nicholas Agency, representing Auto Owners Insurance! It's a two-day event Friday, August 26 & Saturday, August 27, 2022 featuring food, drink, fun, and music headlined by multi-Grammy nominated hit-maker Joe Nichols on Friday, & legendary Country Music Hall of Fame member Ricky Skaggs & Kentucky Thunder on Saturday!!
This is an EXCLUSIVE event with a limited number of 2-day passes available, so reserve yours today! The festivities take place right on the banks of beautiful Lake Fanny Hooe, on the grounds of Lake Fanny Hooe Resort & Campground in Copper Harbor. Campsites & lodging accommodations available by calling 1-833-FANNYHOOE (326-6946).
Beer, wine, sodas, water, food & music starring Ricky Skaggs & Kentucky Thunder, plus Joe Nichols!. Bring your lawn chair or blanket! Pets, large umbrellas or sunshades, food & drink carry-ins prohibited.
Friday, August 26 on the Northern Specialty Health Stage/Gates open at 3:30PM
5:00PM On the Spot Blues Band, sponsored by Copper Country Connect.
6:15PM Chad Borgen & The Collective, sponsored by Glacia Tavern.
8:00PM Joe Nichols
Saturday, August 27/Gates open at 1:00PM
2:30PM Keweenaw Brewgrass, sponsored by the Keweenaw Convention & Visitors Bureau
3:45PM Tom Katalin & Highway 41, sponsored by Northern Hardwoods.
5:00PM Carson Peters & Iron Mountain
6:15PM Shawn Lane & Richard Bennett, sponsored by UPPCO.
8:00PM Ricky Skaggs & Kentucky Thunder, sponsored by Ferrellgas.
*Band lineup & times subject to change. Advance tickets also available at the Lake Fanny Hooe Resort & Campground office or by calling 1-833-FANNYHOOE (326-6946).
The Lake Effect Bar & Grill, 174 Gratiot Street, Copper Harbor, reopens for summer on Monday, May 16. Breakfast 8AM-Noon/Lunch & Dinner Noon-8PM. Bar open Noon-2PM.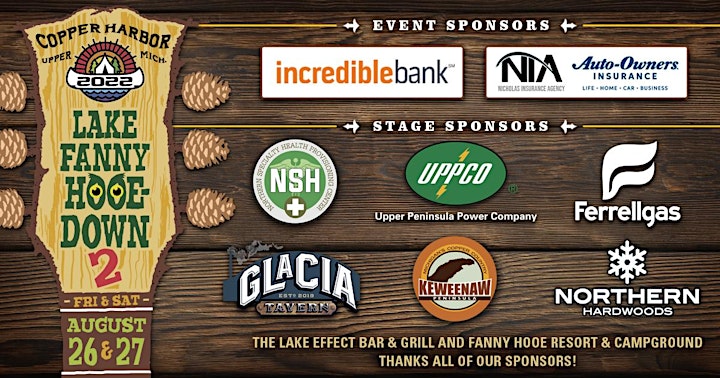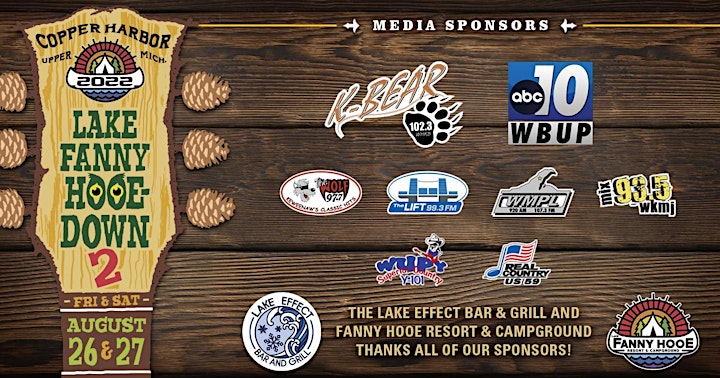 Thank you to our Lake Fanny Hooe-Down 2 Media Partners!
ABC 10 Friday & Saturday nights
Houghton Community Broadcasting - Friday night
J&J Broadcasting - Saturday night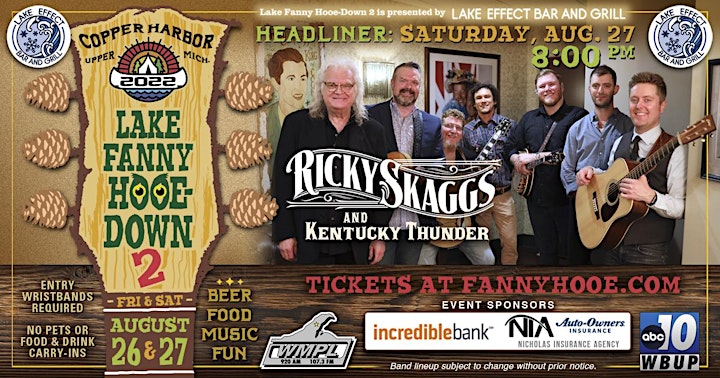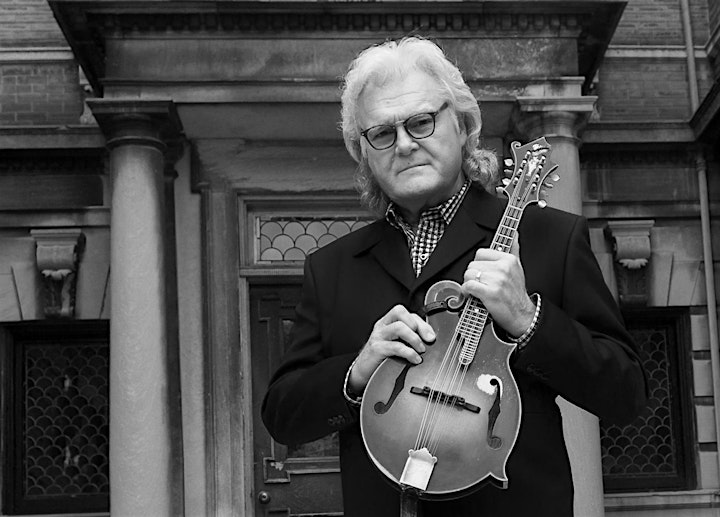 Ricky Skaggs struck his first chords on a mandolin over 50 years ago, and this 15-time Grammy Award winner continues to do his part to lead the recent roots revival in music. The diverse and masterful tones made by the gifted Skaggs come from a life dedicated to playing music that is both fed by the soul and felt by the heart.
Ricky received his first mandolin at the age of five after his father, Hobert, heard him harmonizing with his mother from across the house as he played with his toys. Two weeks after teaching him the G, C and D chords, Hobert returned from working out of town shocked to see his young son making chord changes and singing along. He soon earned a reputation among the locals in his community. When the legendary Bill Monroe came to Martha, Kentucky for a performance, the crowd wouldn't let up until "Little Ricky Skaggs" got up to play. The father of bluegrass called six-year-old Skaggs up and placed his own mandolin around his neck, adjusting the strap to fit his small frame. No one could have imagined what a defining moment that would be in the life of the young prodigy. By age seven, Skaggs performed with bluegrass legends Flatt & Scruggs on their popular syndicated television show, for which he earned his first paycheck for a musical performance.
In 1971, he entered the world of professional music with his friend, the late country singer, Keith Whitley, when the two young musicians were invited to join the band of bluegrass patriarch Ralph Stanley. Ricky soon began to build a reputation for creativity and excitement through live appearances and recordings with acts such as J. D. Crowe & the New South. He performed on the band's 1975 debut album for Rounder Records, which is widely regarded as one of the most influential bluegrass albums ever made. A stint as a bandleader with Boone Creek followed, bringing the challenges of leadership while giving him further recording and performing experience.
In the late 1970s, Ricky turned his attention to country music. Though still in his 20s, the wealth of experience and talent he possessed served him well, first as a member of Emmylou Harris' Hot Band and later as an individual recording artist on his own. With the release of Waitin' for the Sun to Shine in 1981, Skaggs reached the top of the country charts and remained there throughout most of the 1980s, resulting in a total of 12 #1 hits. In 1982, he became a member of the Grand Ole Opry, the youngest to ever be inducted at that time. As his popularity soared, he garnered eight awards from the Country Music Association (CMA), including "Entertainer of the Year" in 1985, four Grammy Awards, and dozens of other honors. These achievements also placed him front and center in the neo-traditionalist movement, bringing renewed vitality and prominence to a sound that had been somewhat subdued by the commercialization of the 'Urban Cowboy' fad. Renowned guitarist and producer, Chet Atkins, credited Skaggs with "single-handedly" saving country music.
In 1997, after Ricky's then-current recording contract was coming to an end, he decided to establish his own record label: Skaggs Family Records. Since then, Skaggs and Kentucky Thunder have released an amazing 12 consecutive Grammy-nominated classics, (8 of which went on to earn the revered award) while also opening the label to a variety of other musical artists, all the time keeping emphasis on bluegrass and other forms of roots music.
2018 was a stellar year for Skaggs, with the addition of three more Hall of Fame inductions:the National Fiddler Hall of Fame, IBMA's Bluegrass Music Hall of Fame and country music's greatest honor, the Country Music Hall of Fame. Along with his three previous inductions into the Kentucky Music Hall of Fame, the Gospel Music Association's Gospel Music Hall of Fame and the Musicians Hall of Fame, all six awards display his ability to masterfully cross genres with versatility in styles and instruments. In 2020, Ricky was awarded the prestigious National Medal of Arts for his contributions to the American music industry. It is the highest award given to artists and arts patrons by the United States government. As a virtuoso of the mandolin and fiddle, Ricky Skaggs creates and produces bluegrass music that preserves the musical legacy of the most talented artists of his generation.
Ricky Skaggs has often said that he is "just trying to make a living" playing the music he loves. But it's clear that his passion for it puts him in the position to bring his lively, distinctively American form of music out of isolation and into the ears and hearts of audiences across the country and around the world. Ricky Skaggs is always forging ahead with cross-cultural, genre-bending musical ideas and inspirations.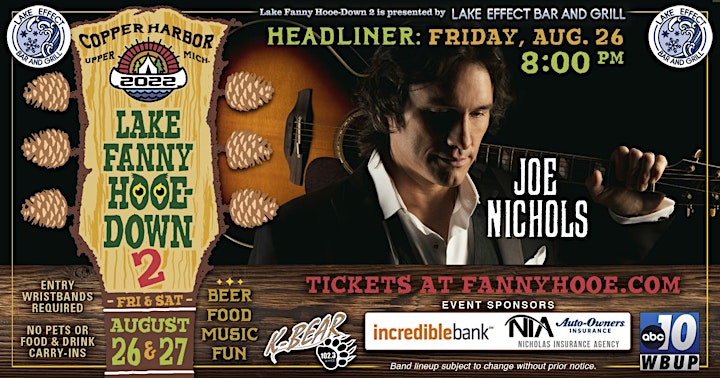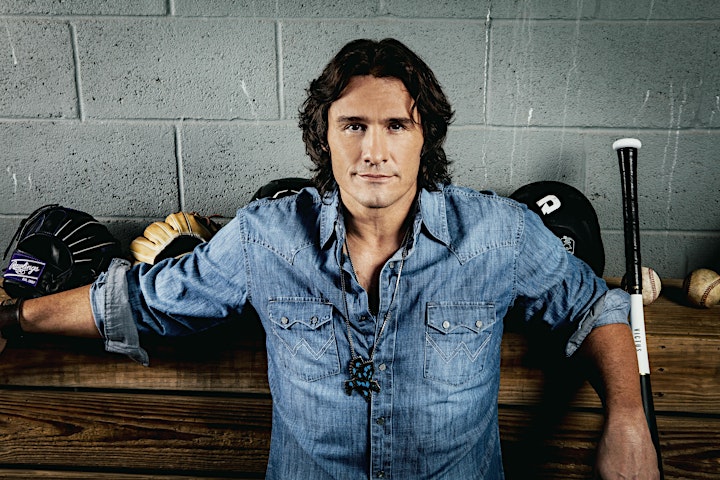 Joe Nichols has been a mainstay of country music for two decades, bridging the gap between the genre's old-school roots and contemporary era. He's a 21st century traditionalist — an artist who's both timely and timeless, racking up a half-dozen Number 1 singles and ten Top 10 hits with a sound that honors his heroes. From his first radio smash, 2002's "The Impossible," to 2021's Home Run," Nichols has proudly done things his own way, blurring the boundaries between country music's past and present along the way.
It's an approach that has earned Nichols multi-platinum success, three Grammy nominations, a CMA award, an ACM trophy, and — perhaps most importantly — the support of his idols. He still remembers the day he received a letter from Buck Owens, who passed away the same week his message arrived in Nichols' mailbox. The two had previously crossed paths in Bakersfield, California, where Owens complimented Nichols on his classic sound… and gave him some good-natured teasing about the length of his hair.
"He wrote me the day before he died," remembers Nichols, who was still riding high on the success of his gold-selling fourth album, III, and its chart-topping single "Tequila Makes Her Clothes Fall Off." "It was so nice of him to do that. He said, 'I'm really proud of you. I love the way you're keeping it country. And thank you for cutting that daggum hair!' An honor like that is irreplaceable. It's got nothing to do with winning awards or having your songs on the radio. It's much more than that. It's the kind of thing you pass down to your grandkids."
For Nichols — an Arkansas native who grew up listening to icons like George Strait, Merle Haggard, George Jones, and Buck Owens — keeping things country has been a lifelong mission. He made his major-label debut with 2002's Man With A Memory, a platinum-selling album rooted in southern storytelling and honky-tonk hooks, then continued blending the worlds of neo-traditionalist country and modern twang with follow-up records like Real Things, Crickets, and It Never Gets Old. Between duetting with Dolly Parton on "If I Were a Carpenter," serving as Garth Brooks' hand-picked opening act, and numerous other career milestones, Nichols also kept things lighthearted, showcasing his easy-going humor with "Tequila Makes Her Clothes Fall Off" and a slow, shuffling cover of Six Mix-a-Lot's "Baby Got Back." At the core of his sound, though, remained a serious commitment to a bigger goal: making genuine country music that nodded to his influences while still breaking new ground.
"It's a fine line to walk," he admits. "How do you stay fresh while also honoring your roots? I've always admired people like Merle Haggard and Buck Owens, who built their careers on timeless songs and created their own sound by electrifying traditional country music. It's one thing to have hit songs, but it's something else entirely to have hits that still sound timeless 15 years later. That's always been my goal. I'm a country singer who loves the old-school stuff. I throw it back and pay homage to the guys I grew up listening to, while hopefully bringing that sound into the modern world."
Nichols swings for the fences once again with his newest single, "Home Run". It's a song about reconnection and rebirth — an anthem for anyone looking to turn life's curveballs into a straight shot toward the center field seats. "It's more than a great hook; it's a great message, too," says Nichols. "After the year we've had, we could all use a little bit of a break, just to step away from the rat race for a while and get back to our roots. We could all use a reminder of what home feels like."
Carrying the torch for traditional country music is a full-time job, even for a legend in the making. Joe Nichols continues to meet the challenge with the same roll-up-your-sleeves work ethic that helped launch his career decades earlier, mixing sharp songwriting, a palpable appreciation for the genre's past, and modern melodies into his own sound. There's more music to make. More milestones to chase down. More home runs to knock out of the park.
The game is still unwinding. But Joe Nichols has already hit his home run.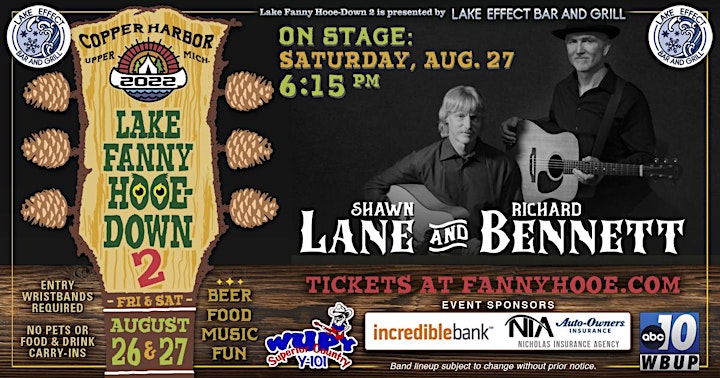 Shawn Lane is a three-time GRAMMY Nominee and 28-time IBMA (International Bluegrass Music Association) Award winner. He has toured or recorded with Ricky Skaggs, Lee Ann Womack, Dan Tyminski, Doyle Lawson, Larry Sparks, Jerry Douglas, Willie Nelson and Alison Krauss, among others. Shawn is an explosive singer and instrumentalist. Shawn is also a respected songwriter, and was nominated as 2015 IBMA Songwriter of the Year, penning such iconic songs as "The Game", "Sycamore Hollow", and "Tears Fell on Missouri". Lane played in the bands of both Ricky Skaggs & Kentucky Thunder, and Doyle Lawson & Quicksilver prior to becoming a founding member of Blue Highway in 1994. As a solo artist he had two number 1 songs, "I Met the Man", and "One More" on the Bluegrass charts in 2019, 2020 and 2021. At Clemson University Shawn serves as the director of the Bluegrass program, head of the Bluegrass Ensemble and teaches Commercial Songwriting.
Richard Bennett is a respected guitarist, vocalist, and songwriter who began his musical journey at the young age of seven. By age 15, the East Tennessee native was touring with former Flatt & Scruggs fiddle player Benny Sims. Gigs at Dollywood followed, with his big break coming in the 1990's as he joined the legendary J.D. Crowe & The New South. Bennett appeared on Crowe's 1995 album "Flashback," which was nominated for two GRAMMY Awards. He went on to tour with greats like Bobby Osbourne, Mike Auldridge and Jimmy Gaudreau. Richard also released several solo and trio albums on Lonesome Day and Pinecastle Records. His projects have garnered radio airplay across the musical genres of Bluegrass, Folk and Americana.
Shawn and Richard started writing songs together in 2019. After writing a few unique songs that naturally fit a duet-style execution, the two decided to spread their musical wings with a duo project showcasing their songwriting, instrumental and vocal chops. Their sound has a slightly more folk and jam feel than the music Shawn and Richard release with their respective primary bands. Their debut performance was at the heralded Joe Val Bluegrass Festival in Boston, Massachusetts on February 17, 2019, to rave reviews from fans and music critics alike.
Sponsored by UPPCO (Upper Peninsula Power Company).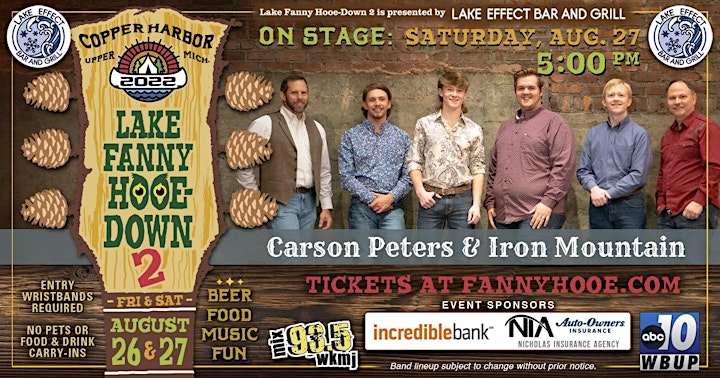 Carson Peters started playing the fiddle at the ripe old age of 3 when his parents bought him a 1/8 size fiddle. By age 4, he was playing in fiddle competitions and jamming at musical festivals. Carson has continued to hone the fiddling and singing talents that God has so graciously blessed him with and has won many competitions along the way. At 12 years old, Carson is a seasoned performer playing numerous venues with his band throughout the region; Bristol Rhythm and Roots, Dollywood's Bluegrass and BBQ, Asheville's Bluegrass First Class, Song of the Mountains, Carter Family Fold and WDVX's World Class Bluegrass concert series to name a few.
Carson has had the honor of playing on national TV as a guest on NBC's The Tonight Show with Jay Leno, Little Big Shots with Steve Harvey, as well as play with Jimmy Fortune on the floor of the Tennessee State Senate. On March 28, 2014, Carson's dream of playing on the Grand Ole Opry stage was realized when he was invited by Ricky Skaggs to come perform with him and his band, Kentucky Thunder. In May of the same year, Carson was asked to make a reappearance at the Opry, but this time with his own band. On July 31, 2014, Carson made his Ryman Auditorium debut playing again with Ricky Skaggs during the 2014 Bluegrass Nights series. Since these appearances, Carson and his band have performed numerous occasions on the Opry Show, & most recently he was a contestant on NBC's smash-hit series "The Voice".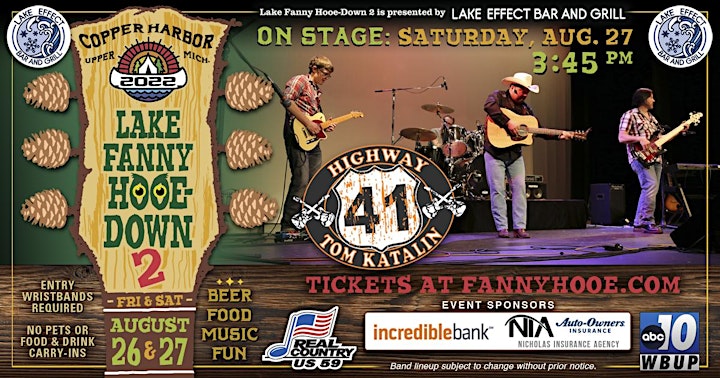 Tom Katalin and Highway 41 was formed in 2017 and has fast become a regional favorite across Upper Michigan and Wisconsin. Tom has played nationwide from stages in Las Vegas, tiki bars in Florida, barns in Iowa, many of your favorite honky-tonks in Nashville & the great state of Texas. Tom has opened for national acts such as David Ball, Little Texas, Buddy Jewel, Bucky Covington, Gordon Lightfoot, David Frizzell, Johnny Rodriguez, and most recently Blackhawk, Rodney Crowell and David Allan Coe.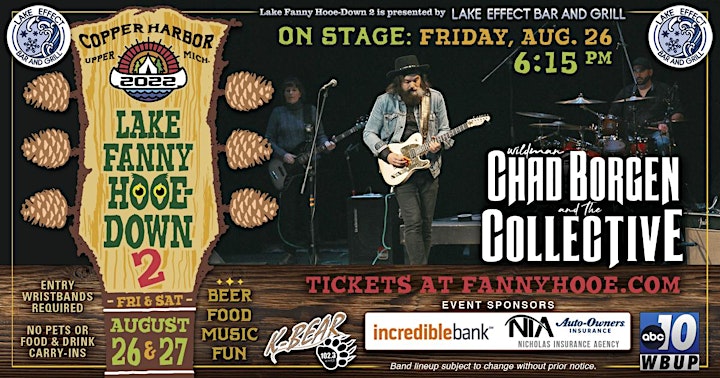 Chad Borgen & The Collective bring a unique combination of musical influences to every live performance ranging from classic rock & roll, rockabilly, folk, blues and country music. Blended together creating a sound that is distinctively deep rooted, with high energy and humor in a performance not to be missed. Sponsored by Glacia Tavern.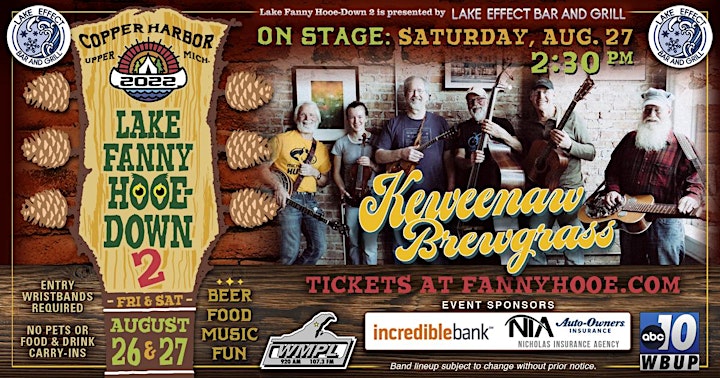 While their name suggests that they play specifically bluegrass music, the members of Keweenaw Brewgrass say they play an eclectic mix of "anything rhythmic." With Bluegrass influenced rhythms & harmonies, Brewgrass can deftly move from traditional Bluegrass into Texas swing and acoustic rock classics. Sponsored by the Keweenaw Convention & Visitors Bureau.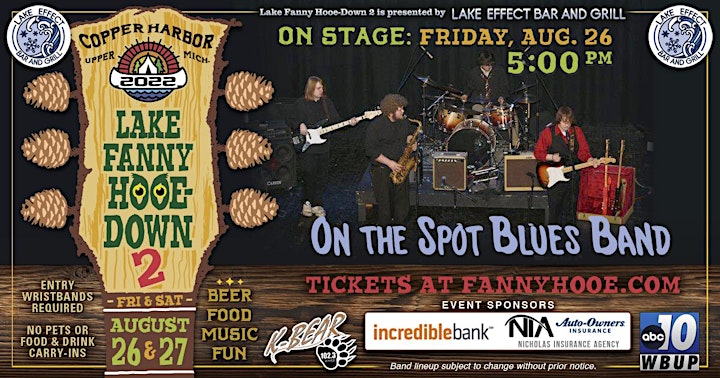 While the Blues may be their musical sweet spot, On the Spot Blues Band also bring some straight-ahead Rock, Southern Rock, Alt Country & more to the party. They've played all over the Keweenaw, plus major festivals such as the Marquette Area Blues Fest, The Joe Bucher Blues Fest in Wisconsin, & the International Blues Challenge in Memphis.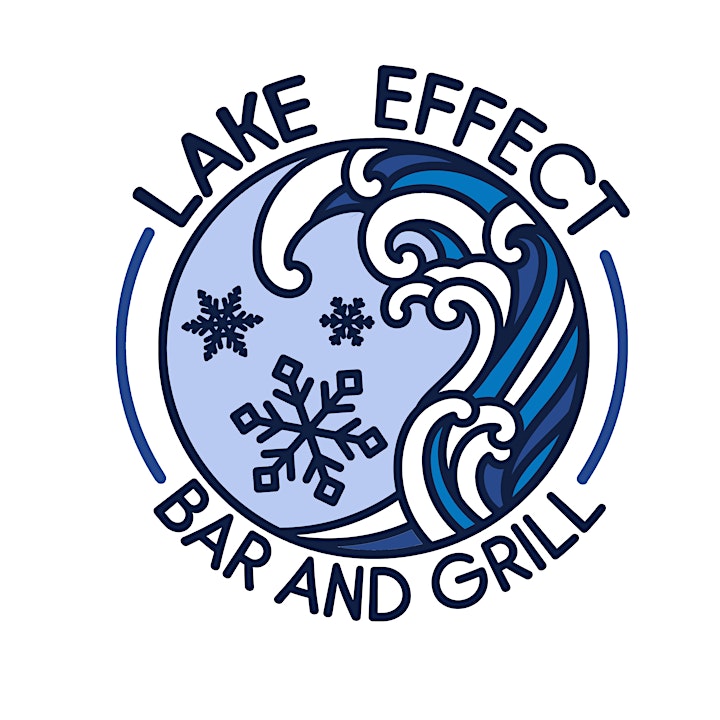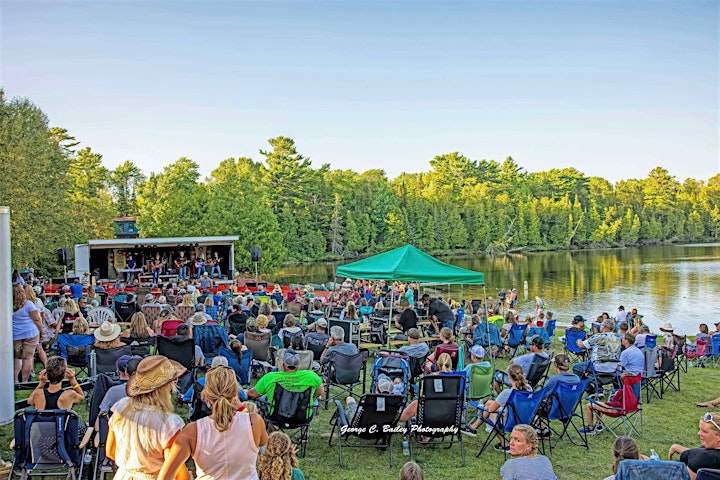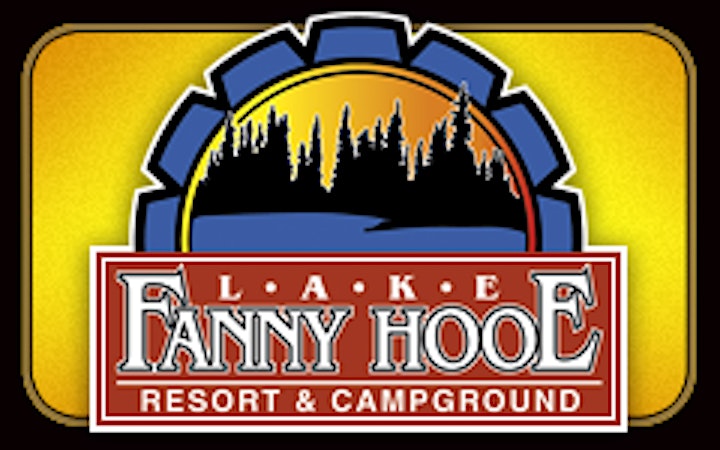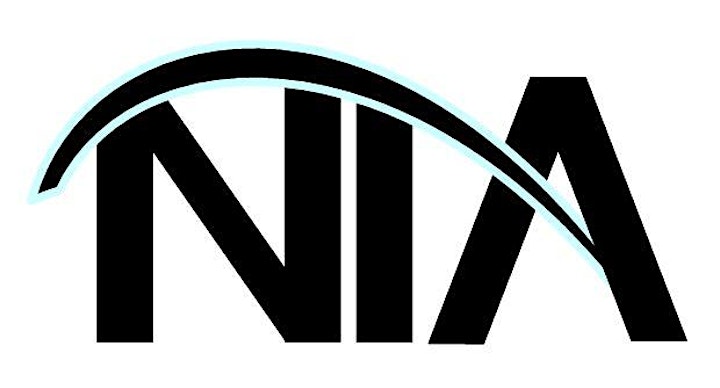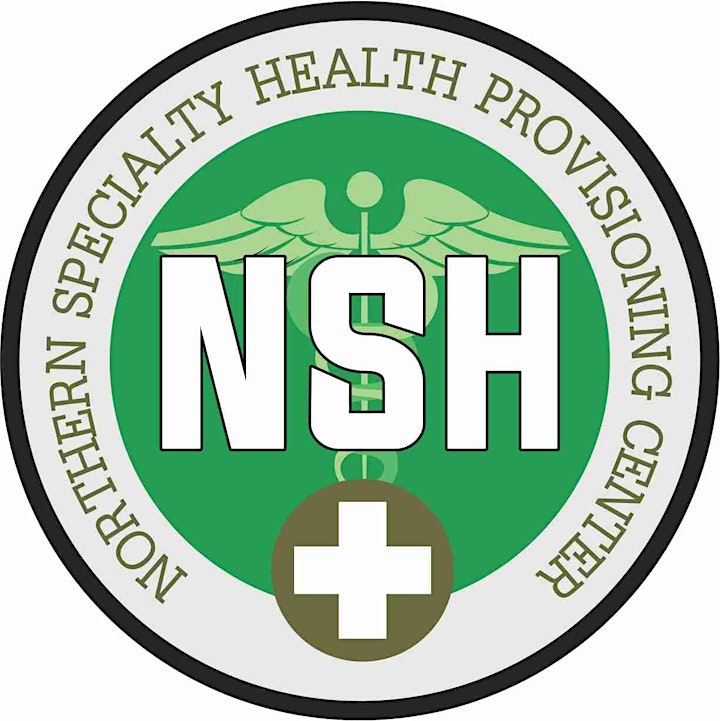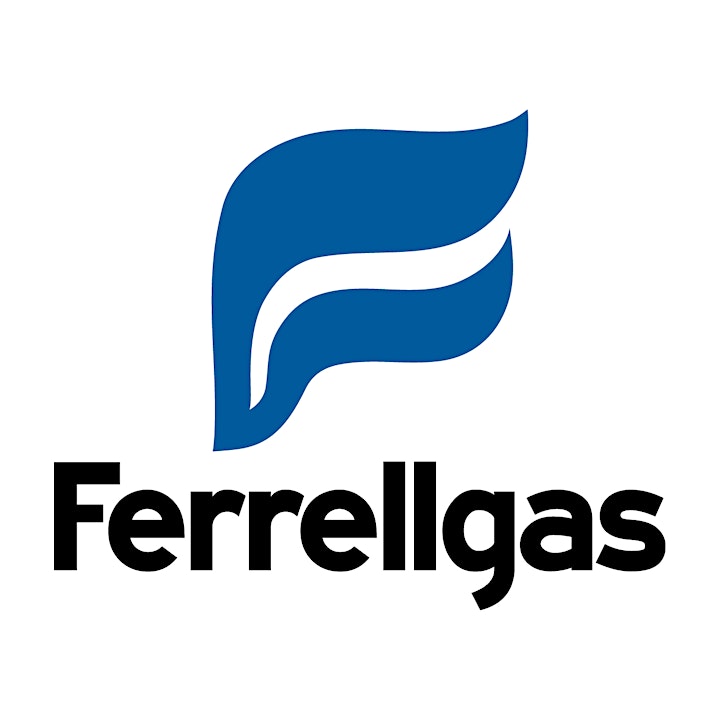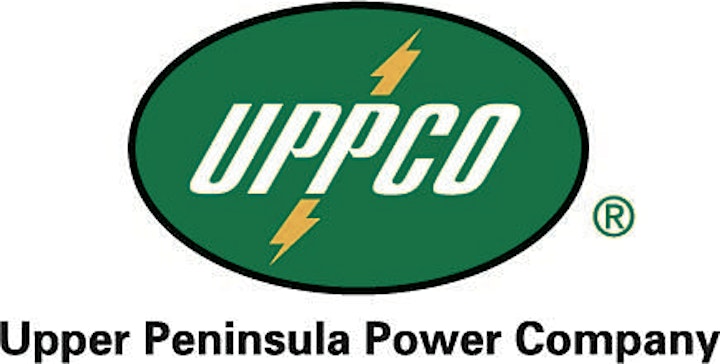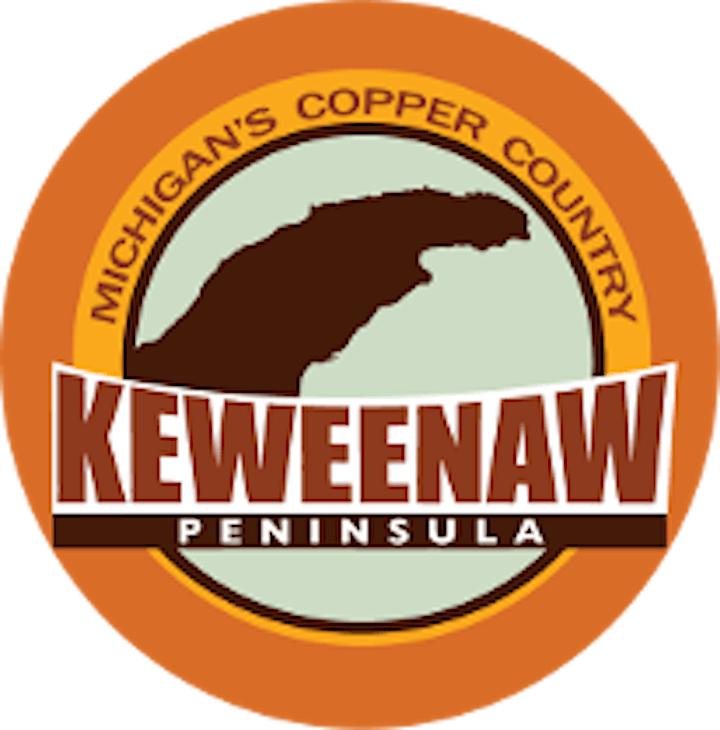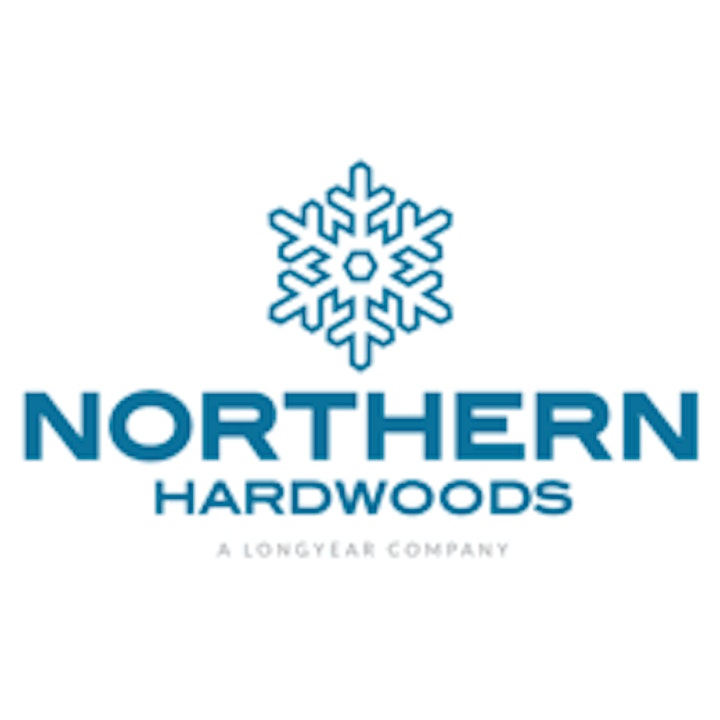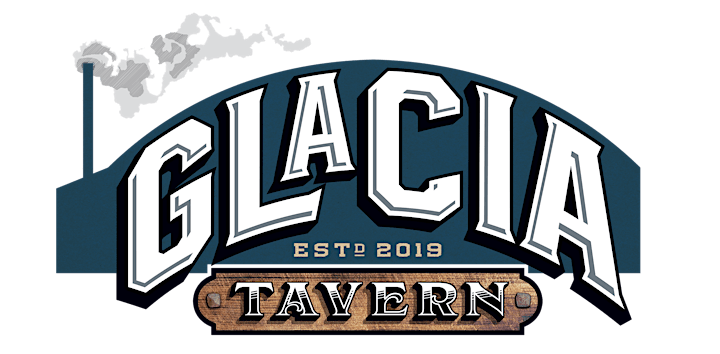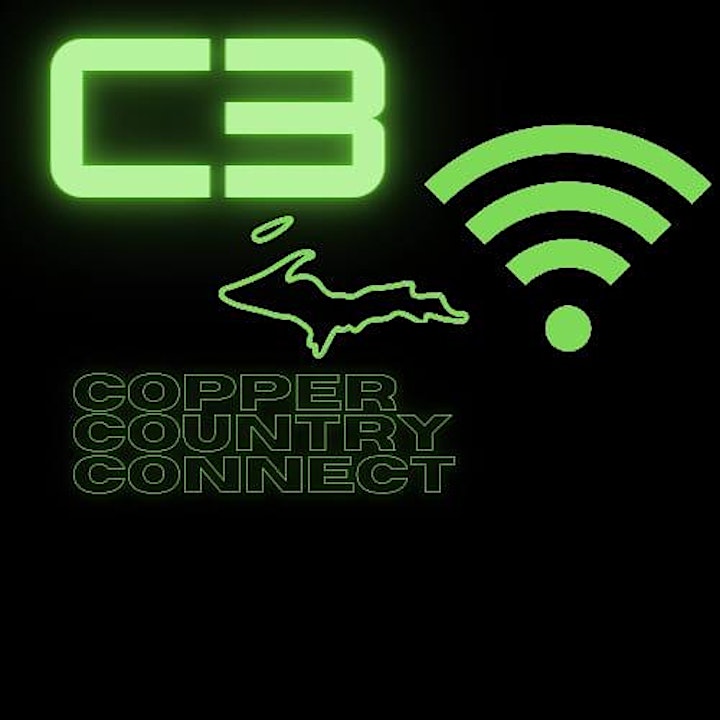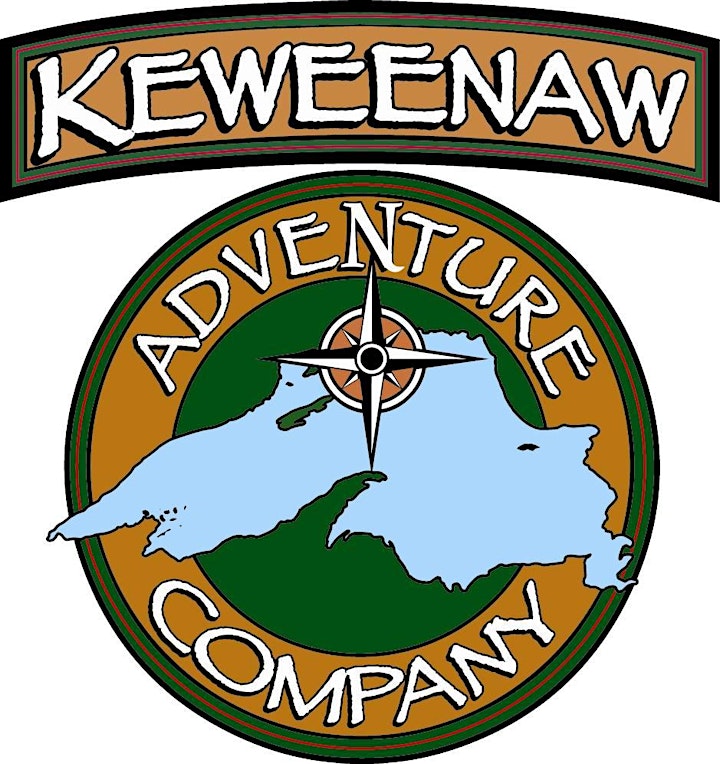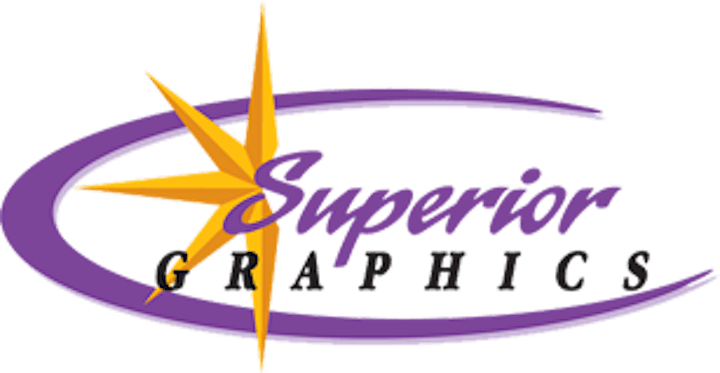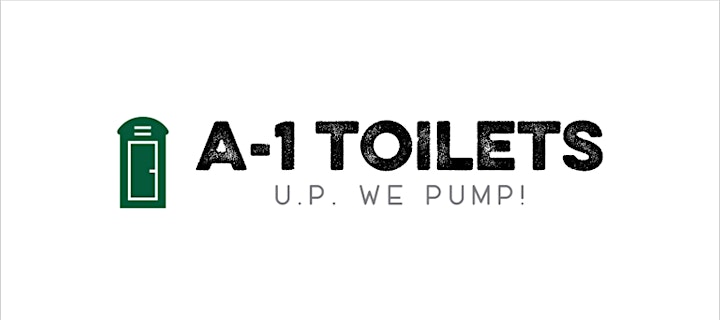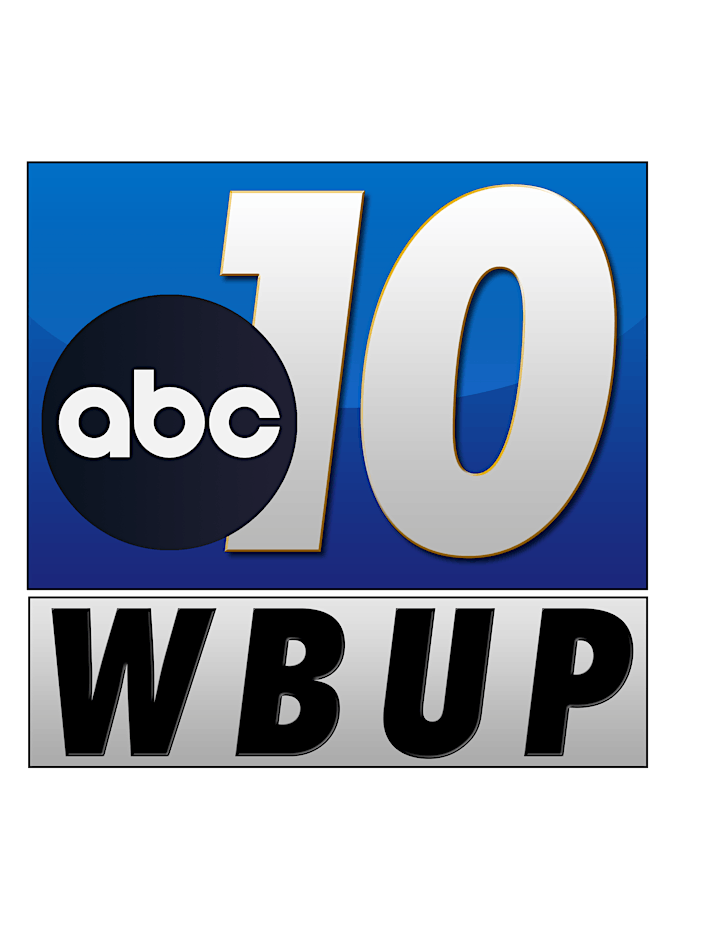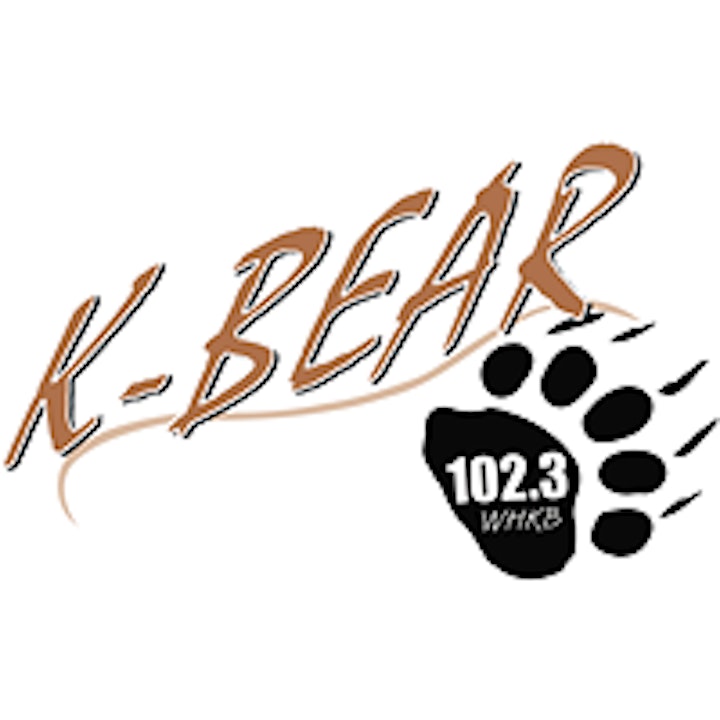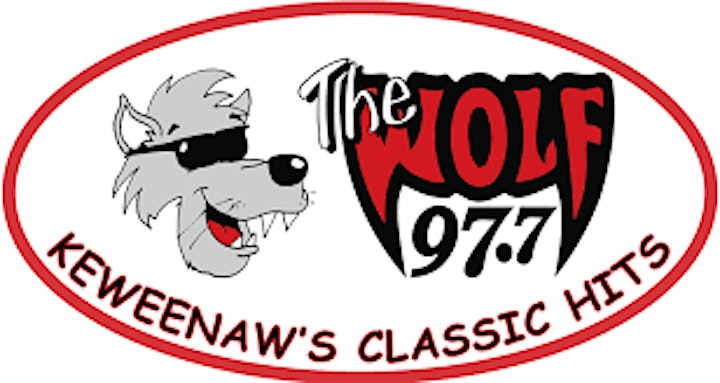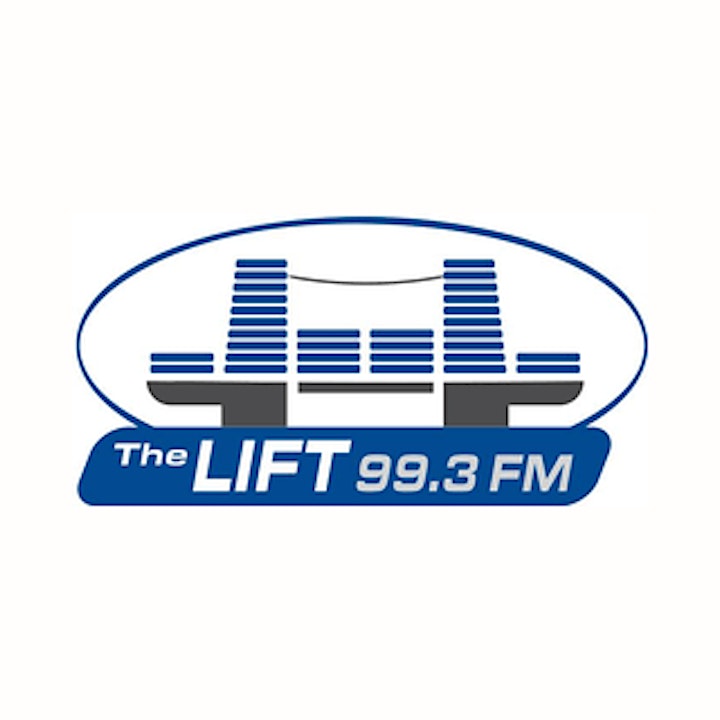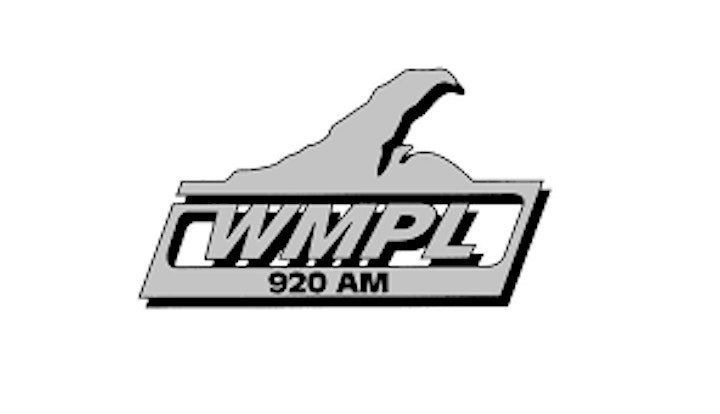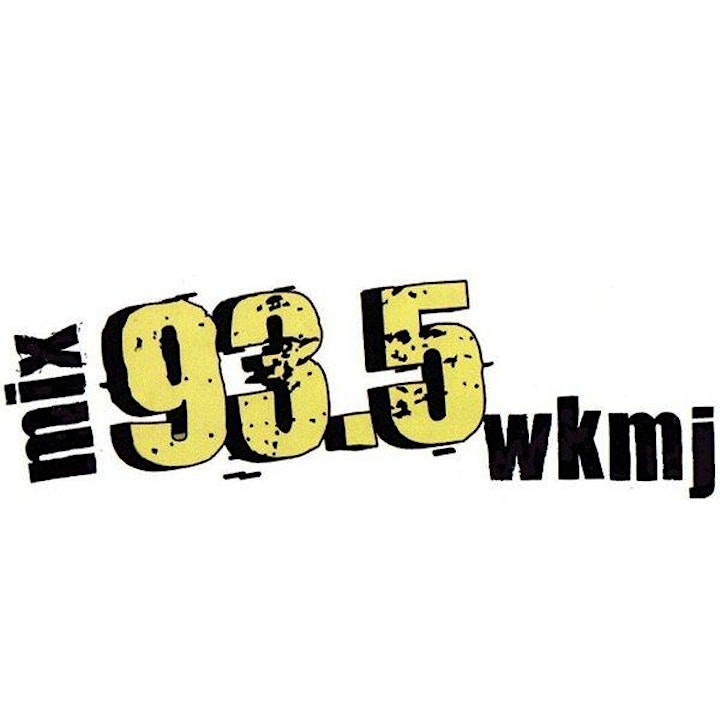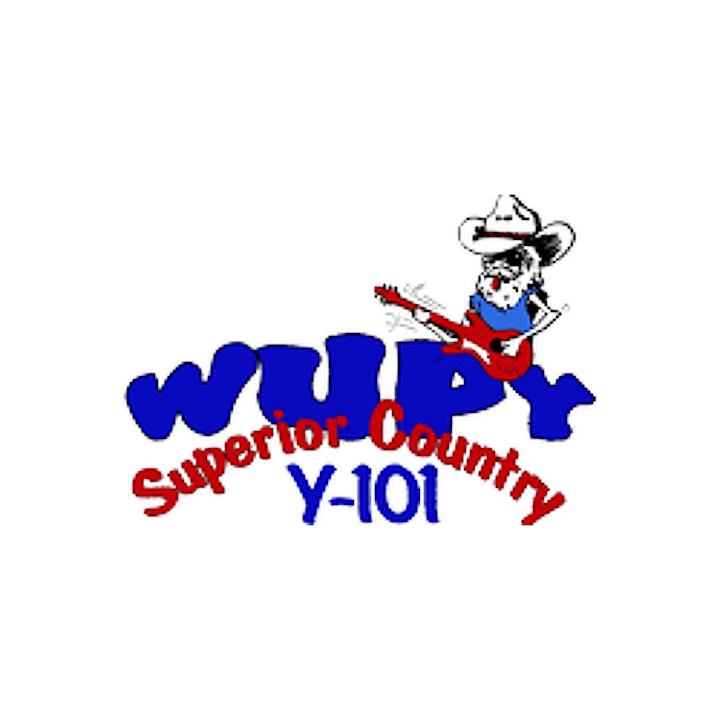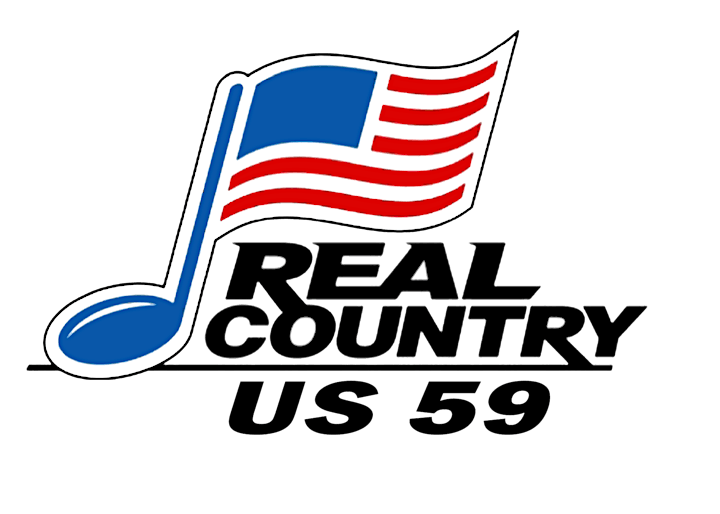 Join our growing list of great sponsors for Lake Fanny Hooe-Down 2, starring Ricky Skaggs & Kentucky Thunder, plus Joe Nichols! For information on exclusive branding/marketing opportunities for your business, email hooedownmarketing@gmail.com.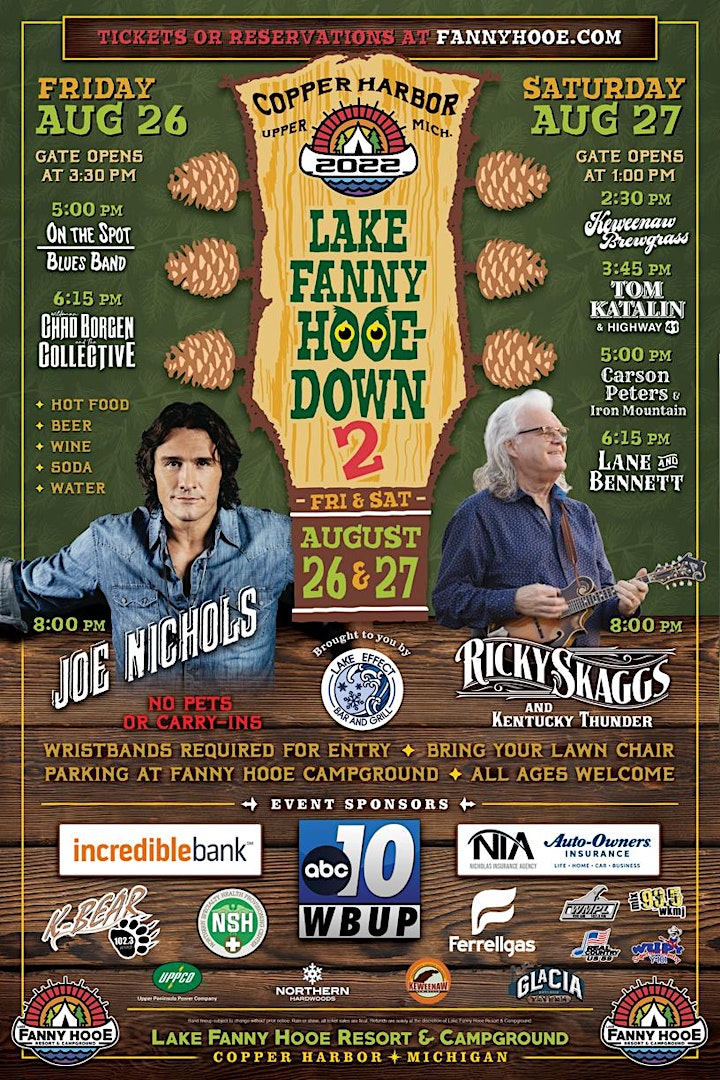 Date and time
Location
Lake Fanny Hooe Resort and Campground
505 2nd Street
Copper Harbor, MI 49918
Refund policy
Contact the organizer to request a refund.
Eventbrite's fee is nonrefundable.