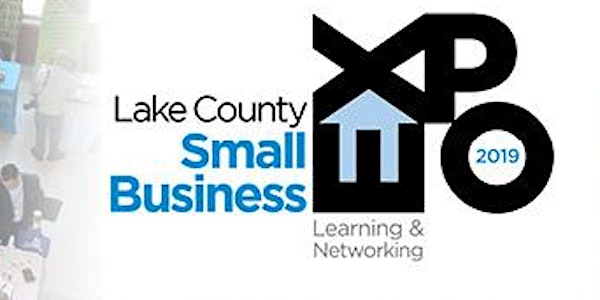 Lake County Small Business Expo
When and where
Location
Lakeland Community College 7700 Clocktower Drive S-Building Kirtland, OH 44094
Description
Join the Lake County Chambers of Commerce on Friday, April 12, 2019 for the Lake County Small Business Expo presented by Anthem Blue Cross Blue Shield! The Expo, held at Lakeland Community College, showcases a variety of businesses throughout Lake County. Sponsors and vendors are able to showcase their company at their own booth. Chamber members and non-members have the opportunity to sit in on seminars and classes of their choice throughout the day.


Timeline of Events
8:00am-8:45am: Keynote Kickoff Presentation/Breakfast
8:45am-1:00pm: EXPO Trade Show Area Open
10:00am-10:45am: Marketing Session/1 HR Session
11:00am-11:45am: HR Session/1 Marketing Session
12:00pm-1:00pm: Networking Lunch
Workshops and Keynote Schedule
8-8:45 a.m. – Keynote Presentation/Breakfast
Following Your Dreams
Let Ryan take you through a journey of how he was able to start his company, Inca Tea, with only $300, a lot of determination and a vision of creating a brand from his trip to Peru and hiking the Inca Trail.
Ryan Florio, Founder and Owner, Inca Tea
10–10:45 a.m.
7 Steps to Running a Successful Small Business
It is easy to get "lost in the weeds" when you are running a small business! Sometimes you end up spending time on actions that aren't producing results for your business.
This fast-paced session will cover seven steps that truly deserve your time and attention. Implement these and revenue will follow.
Speaker: Matthew R. Renfro, Owner, The Cleaning Authority of Mentor
Winning with LinkedIn to Grow your Business and your Brand
LinkedIn works, but only if you focus on what matters. In this session we'll cover the critical elements of a professional profile, the importance of connections and whether you need premium. Plus we'll dig into the search function and the power of LinkedIn groups.
Speaker: Dale Stefancic, Owner, The EOC Group
11 – 11:45 a.m.
Internships: The Win-Win Partnership
Experiencing difficulty finding and retaining talent for your company? Does your company have limited
resources? Interns can save your company time and money by reducing initial recruitment and training costs. They can also add to your productivity by accommodating short and longterm workforce needs. Learn the core concepts needed to establish a successful internship program, engage college students who will help increase profit and aid in cultivating your next generation of employees.
Speaker: Rhonda Butler, Lakeland Community College
Blogging 101: How to Help your Small Business Increase Online Visibility
For most businesses, an online presence needs to extend beyond simply owning a website. Your competition is everywhere and your buyers are only a click away from taking their business elsewhere. One way to stand out from the online noise and leverage your expertise
is through blogging. In this session, we will guide you through the entire blogging process—how to create and setup a blog, where to start, how to manage your blog and how to build an engaged following. You will understand and learn how to attract readers, and how to market your blog to grow and build your business.
Speaker, Susan Licate, Moda Communications
For more information, please visit www.mentorchamber.org/smallbusinessexpo