Sales Have Ended
Ticket sales have ended
Visit www.UnitedWayBemidji.org/Caravan
Come together as a community, while staying safely apart!
About this event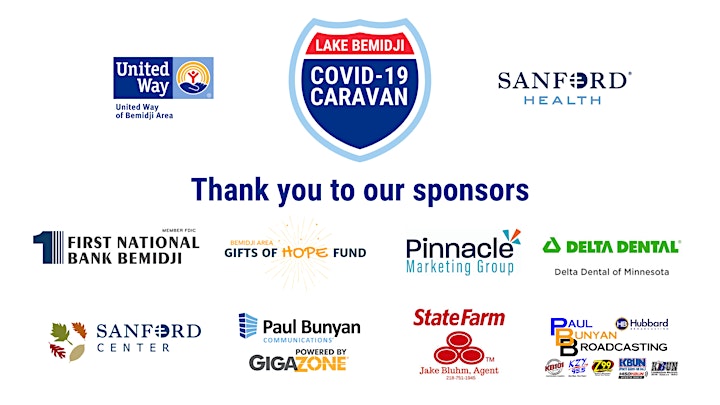 Caravanning around the lake with your family . . .
Learning accurate COVID-19 information . . .
Supporting local businesses . . .
All while having fun!
Please select the free Activity Kit through the ticket page to download the event agenda & car games. Bar 209 dinner options are also available to pre-order to pick up after looping the lake!
May 28, 2020
AGENDA:
5:00pm – Event starts at the Sanford Center parking lot. Please stay in your car.
5:05pm – Welcome from Jake and Melissa Bluhm and Kev Jackson on KZY 95.5.
5:15pm – Caravan around Lake Bemidji while listening to KZY 95.5. Complete activity sheets with your car, making sure to take special note of the super-secret code words you hear on the radio.
5:45-6:00pm – Pick up and enjoy your meal from Bar 209 in the Sanford Center parking lot, if you pre-ordered dinner. Show your completed super-secret code words on the BINGO page to a volunteer to receive a coupon for dessert at Dairy Queen