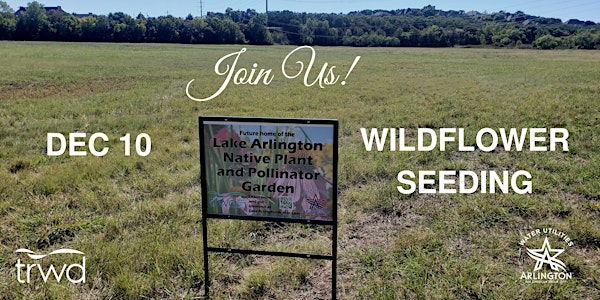 Lake Arlington Wildflower Meadow Seeding
Come help us spread seed on the new wildflower meadow!
When and where
Location
5500 Lake Arlington Dr 5500 Lake Arlington Drive Arlington, TX 76013
About this event
Arlington Water Utilities and Tarrant Regional Water District are working with local conservation stakeholders and community groups to restore native prairie and wildflowers to 2.75 acres of land adjacent to the Lake Arlington Dam. This gated area at 5500 Lake Arlington Drive will also feature demonstration garden beds with native plants and a gathering area for gardening classes, field trips, and other community events. For more info on the project: SaveArlingtonWater.com
We'll need lots of volunteers to spread native grass and wildflower seed on 3 acres of field.
We also were provided with 200 native Milkweed plugs from Monarch Watch to support Monarch Butterflies that need to be planted. - UPDATE: We are disappointed to announce that there will be no Milkweeds to plant. The crop for this season was lost :(
Please join us in creating a wildflower meadow at Lake Arlington spillway!
Volunteers will be helping prepare the land and spread native wildflower and grass seeds.
There are 2 time slots available. You can sign up for as many as you like.
9am to 12pm
12pm to 3pm
We're even planning a back-up activity at our South Service Center, so we'll be able to keep volunteers busy, rain or shine!
All necessary equipment will be provided.
Watch your email for more information and a release form after you register.
Visit SaveTarrantWater.com/events to learn about other events like this!
This event is brought to you by Arlington Water Utilities and Tarrant Regional Water District. To learn more about TRWD's water conservation efforts and water-saving tips, visit SaveTarrantWater.com. To learn more about TRWD's mission and the work that we do, visit TRWD.com.