Description
*** Vendor Booth Registration and Sales Begin March 1, 2020 ***
(Vendor Registration Information/Form will be available from March 1, 2020 through June 14, 2020)
Don't miss your opportunity to be a vendor at the 2020 Lake Arbor Jazz Festival!!!
Taking place on Saturday, July 11, 2020, 12:00 - 8:00 pm on the grounds of the Lake Arbor Community Center in Mitchellville, MD, this event showcases top flight local and regional jazz artists from the greater Washington, DC and Baltimore areas.
The Festival will bring together a diverse audience for a one-of-a-kind event in a neighborhood community environment!
Become a food vendor or showcase your art, clothing, jewelry, books and other merchandise to an audience of over 5,000 jazz music lovers, young and old!
Food Vendor - Regular ( 10x10 ) $275.00
Food Vendor - Large ( 10x20 ) $450.00
Merchandise Vendor ( 10x10 ) $250.00
Merchandise Vendor ( 10x20 ) $425.00
Information Vendor ( 10x10 ) $175.00
PGCC Merchandise ( Table ) $100.00
NOTE: Merchandise Vending opportunities are also available for the Friday, July 10th Summer White Affair and the Sunday, July 12th Jazz Experience both event being held at the Center for Performing Arts, Prince Georges Community College. Merchandise vendors will be provided booth space for an 8 foot table. All merchandise booth spaces for these events are $100.00.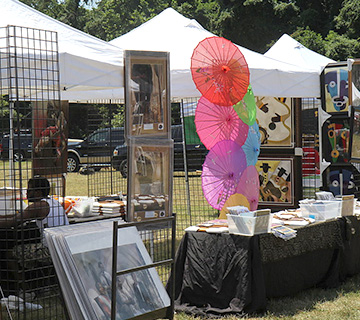 (Please note: Vendor Registration Information and Form will be available from March 1, 2020 through June 14, 2020 at at www.lakearborjazz.com)
For information, contact our Vendor Coordinator, by email at vendor@lakearborjazz.com.
In order to purchase your vendor booth, you MUST obtain an approval access code once your participation has been approved by our Vendor Coordinator. Once you obtain your code, proceed to purchase your vendor "ticket". A decision will be provided within 5 business days of receipt.
Lake Arbor Jazz Festival reserves the right to decline vendor requests at its sole discretion. ***