Description
Paddlers (kayak, canoe, SUP) *NMV (Non-Motorized Vessels only)
This is a five-card poker run on the water from Canyon Dam Boat Launch to Plumas Pines Resort along the west shore of the 8th largest reservoir (Lake Almanor) in California. It's 10 miles roundtrip! See Course Map below!
So what's a Poker Run?
Paddlers will make 5 shore stops at 3 different locations to pick up 5 poker cards, which make up the poker hand. First and second place prizes awarded to the paddlers with the best poker hand.
Bring your own non-motorized vessel (NMV) and safety equipment to the starting/finish line at the Canyon Dam Boat Launch. Equipment is also available for rent in our area.
Why travel to Lake Almanor?
Lake Almanor is a stunningly beautiful lake in the Sierra/Cascade Mountains, with a maximum surface elevation of about 4500 feet (see our website for pics: www.yourARPD.org). The surface water temperatures can reach 65 to 70 + degrees. The west shore of Lake Almanor has great campgrounds, RV parks, cabins and associated resort restaurants, cafes, bars and swimming areas.
POKER PADDLE EVENT STARTS AT 9 AM
Tickets available at event beginning at 8:30 AM
PADDLERS MUST HAVE A COAST GUARD APPROVED PERSONAL FLOATATION DEVICE
We will monitor VHF Channel 16 during event hours.
Course Map: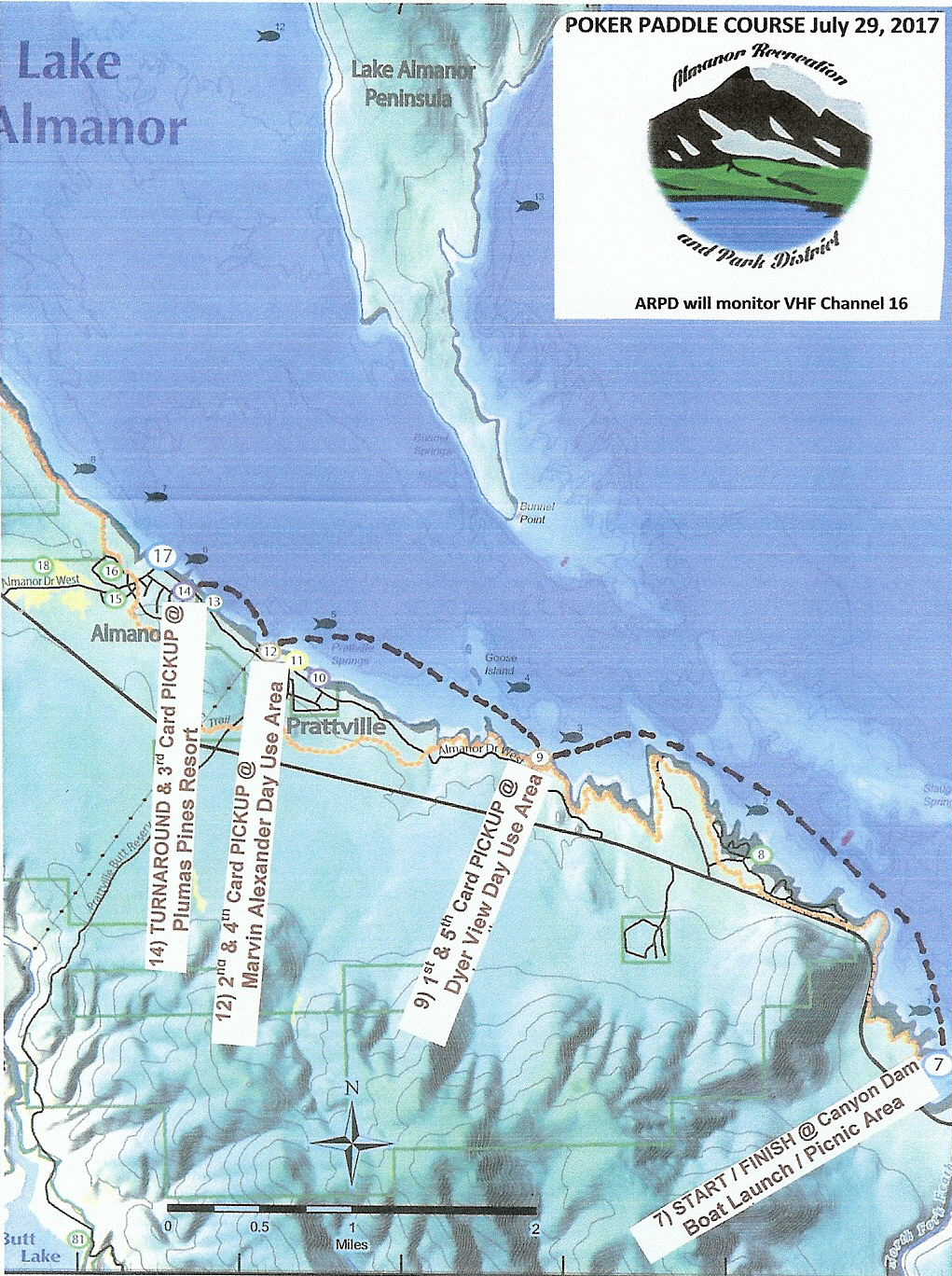 ---