Description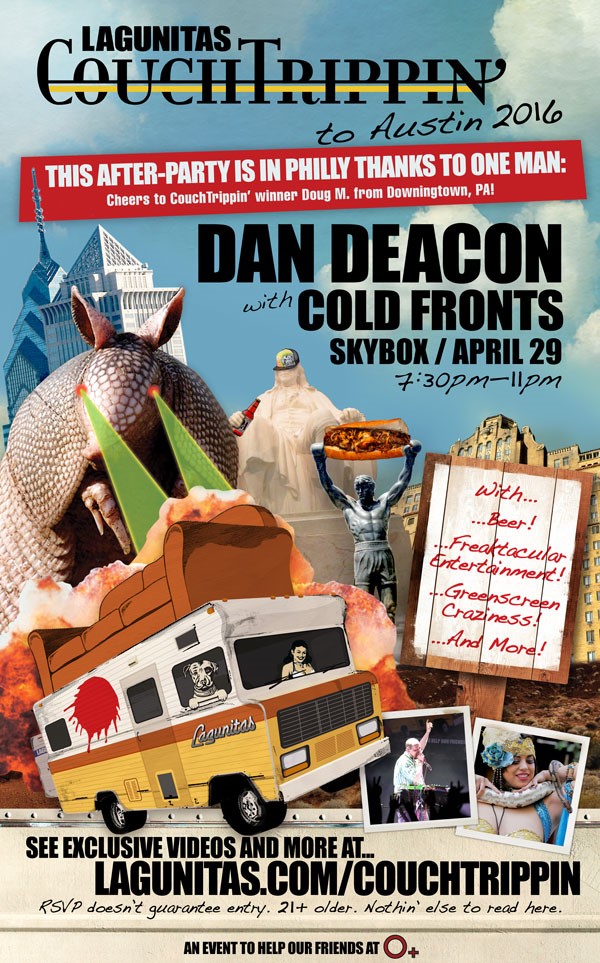 Earlier this year, Lagunitas Brewing Company held a nationwide search for one random city to bring the CouchTrippin' to Austin 2016 After-Party. Thanks to the lucky winner—Doug M. in Downingtown, PA—the party's gonna be in PHILLY!
Just like all the other stops on the CouchTrippin' tour, Lagunitas is using it to help our friends at O+Positive … For Philly we're bringing DAN DEACON to the Skybox Event Center with a special opening guest, freaktacular entertainment from our Beer Circus, GreenScreen Craziness, and more. It wouldn't be a party without a few of our brews, so expect a delicious lineup on draft, too!
PAST GRAPHIC HERE!!!!!!!!!!!!!!!!!!!!!!!!!!!!!!!!!!!!!!!!!!!!!!!!!!!!!!!!!
RSVP now so you can hear our friend DAN DEACON, and take in a whole truckload of fun.
Parties are 21+ over only, with valid ID. Be sure to show up early 'cuz RSVP only gets you on the list … once the party's full, it's full. RSVP DOES NOT GUARANTEE ENTRY!!!!
REMINDER INFO
• 21 and over only (must have valid ID)
• You must RSVP here
• Tickets: Bring your paper ticket or have email handy
• Arrive Early! Entry is on first-come first-served basis.
• Doors at 7:30pm
Lagunitas CouchTrippin' 2016 has partnered with our friends at O+ Festivals. This Non-Profit organization (pronounced "Oh-Positive") connects musicians, artists, and heath & wellness providers for weekend long celebrations featuring concerts and performances, art making, and wellness offerings for the entire community. learn more about O+ Festivals at our CouchTrippin' shows or at...
also learn more about CouchTrippin', our beers, and all the other fun stuff we are part of at....