Description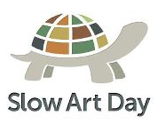 Art viewing: 11:00 AM - 1:00 PM
Lunch: 1:00 PM - 2:00 PM
At Madison's
Host: Peter Clothier and Hedy Buzan
Email: peterclothier@mac.com or hedybw@me.com
Slow Art Day is a worldwide celebration of art that encourages people to look at art SLOWLY – and thereby experience art in a new way. You can see more about Slow Art Day and the mission behind it on our website: http://SlowArtDay.com.
Laguna Art Museum is a museum of California art.
It collects, cares for, and exhibits works of art that were created by California artists or represent the life and history of the state. Through its permanent collection, its special exhibitions, its educational programs, and its library and archive, the museum enhances the public's knowledge and enjoyment of California art and encourages art-historical scholarship in this field. Unlike any other museum in the state, it collects California art and
only
California art, and ranges across all periods and styles, nineteenth-century to present-day.
As Slow Art Day approaches, you'll hear from your host with more information, as well as instructions about what to do when you arrive for Slow Art Day.
More info about Slow Art Day movement: facebook | twitter | tumblr