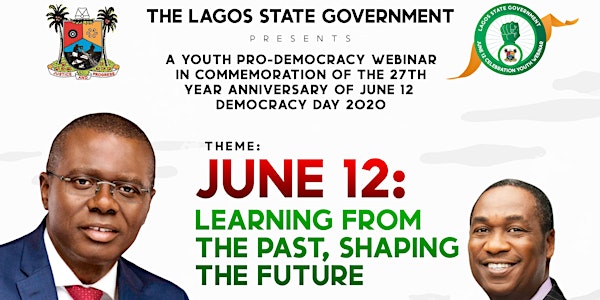 Lagos State Democracy Day Youth Webinar with Gov Sanwoolu & Asiwaju Tinubu
In Commemoration of the June 12 Democracy Day 2020, the Lagos State Government is hosting a Youth Webinar for Youth and Student Leaders
About this event
THE June 12, 1993 presidential election has become a watershed in Nigeria's political history. The election that was adjudged as the fairest and the freest the country has ever witnessed and will remain a historical reference when a discuss centres around 'free and fair elections'.
The election was widely believed to have been won by Chief Moshood Abiola and his running mate, Alhaji Babagana Kingibe. The uproar that greeted the annulment of the election by military President Ibrahim Babangida forced him to 'step aside' from the seat of power. Afterwards, Gen Sani Abacha took over, until his demise and later that of Chief MKO Abiola, in 1998.
The Oodua States (Lagos, Ogun, Osun, Ondo, Oyo and Ekiti) all declared June 12th as a public holiday, to make a strong pitch for what they considered to be the real "Democracy Day." For southwesterners, June 12 is not just a day to remember, it is a rallying point for those in service to continuously strive to entrench true democracy and good governance which is what Chief MKO Abiola totally exemplified.
In 2018 President Muhammadu Buhari made a profound statement by apologizing to the family of Chief M.K.O Abiola and conferring a posthumous award on him as the Grand Commander of the Federal Republic of Nigeria, GCFR. Now, all around the nation, June 12 is officially recognised as the date of commemorating civil rule. By this act, May 29 has given way to June 12 as the country's democracy day.
In this light, as part of the activities of the Lagos state to celebrate the June 12 2020 Democracy day, this High-level youth webinar is being organised, featuring Heroes past that contributed in the Pro-democracy struggles and advocacy; as well as Emerging leaders at the forefront of Development advocacy.